Chevrolet Korea has recently unveiled the new 2013 Chevrolet Cruze in Korea and as per the expectations of buyers, media and dealers, the same model was expected to make it to India in 2012. But against the expectations, Chevrolet (General Motors) India has decided otherwise. They have take a middle way by bringing performance upgrades with a new improved engine and minor feature changes in the 2012 Chevrolet Cruze India but they have not brought the facelift or the new visual elements of the 2013 New Chevrolet Cruze to India.
Many potential buyers may feel disappointed by it, but the car still has a strong case in its favour as it is still one of the most value for money offering in the segment considering the features, power, performance and space. The interiors of the Cruze are already very high quality and the feature set is also quite impressive which makes it a preferred choice even without the expected facelift or cosmetic upgrades on the exteriors. The New Chevrolet Cruze 2012 has been priced between Rs. 13.85 Lakhs to 15.67 Lakhs.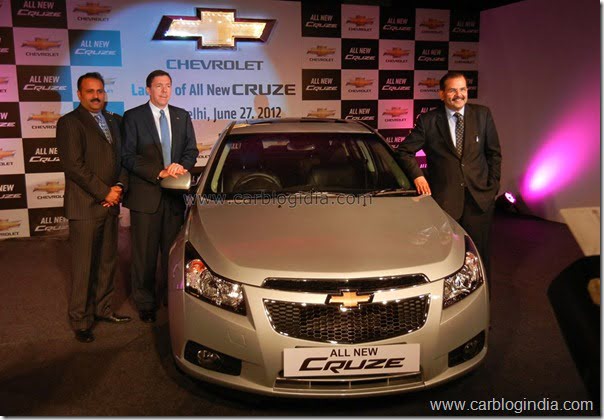 image – 2012 Chevrolet Cruze India
What Is New In 2012 Chevrolet Cruze India?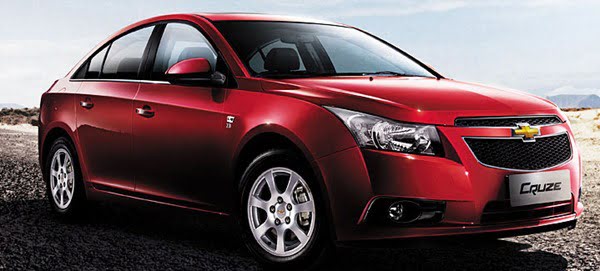 Now lets talks about what has changed – the major change is the performance change with a much improved engines. The displacement of the engine has not gone up drastically, rather the new engine is also a 2 litre VCDi Diesel units but it is a new generation engine with lots of improvements which translated into more power, torque, refinement and lower turbo lag which improves the drivability to great extent.
New Engine and Performance Improvements
The new 2012 Chevrolet Cruze gets a 1998 CC new generation VCDi engine with Dual Overhead Camshaft (DOHC) mechanism for improved control of engine valve timings. The position of the variable geometry turbocharger has been changed inside the engine compartment to provide better thermal efficiency. The engine and engine mounts have also been strengthened coupled with higher injector pressure in the engine to provide lower NVH levels which makes the engine feel more refined and cuts vibrations. With improved engine configuration, tuning, DOCH valve train and overall improvements, the total power output of the new engine is 166BHP @ 3800 RPM and peak torque output is 380 Nm @ 2000 RPM. The older engine delivered 150 BHP @ 4000 RPM and 327 BHP @ 2600 RPM. In absolute terms, this is about 11% improvement in power and 16% improvement in torque, but more significant facts is that the peak torque is delivered at much lower RPM of 2000 compared to 2600 which makes the car much easier to drive in slow traffic without much gearshifts and revving, this improves the drivability quite significantly.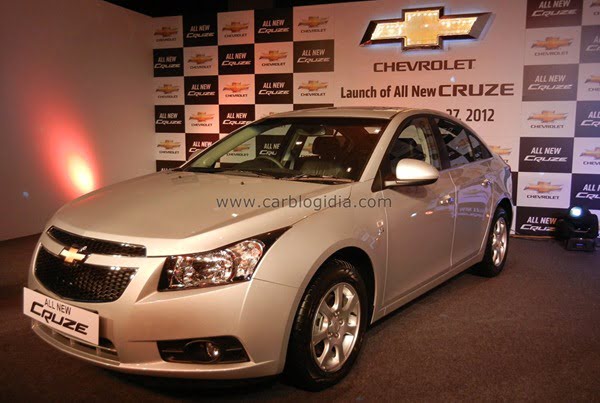 The 2012 Chevrolet Cruze also gets a 6 speed manual transmission compared to the previous 5 speed transmission option, the automatic variant is still coupled to a 6 speed automatic gearbox but with tweaked gear ratios to suit the new engine's output levels. The dimensions of the car has not been changed at all and the exteriors look exactly the same as the previous model. The kerb weight of the car has gone up by a minor 17 Kg. There are no major changes in the dynamics of the car, there is minor suspensions adjustment but its almost negligible.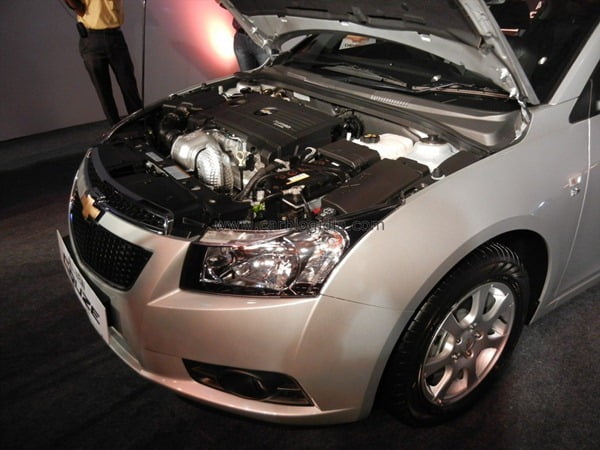 Advertisement

New Features And Design Improvements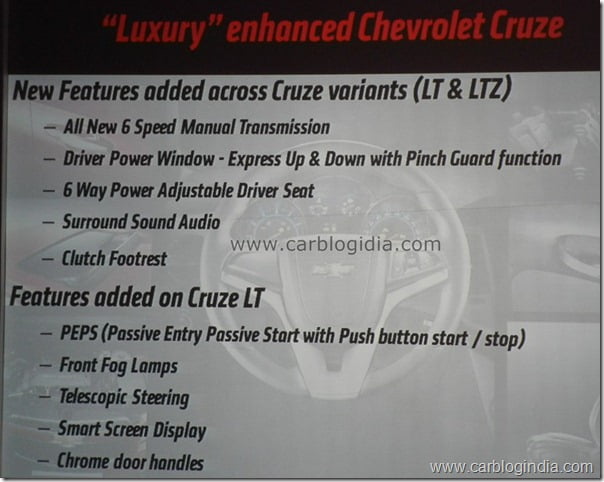 Talking of the feature changes, there are few new features in the new 2012 Chevrolet Cruze which have changed:
Changes in New Chevrolet Cruze 2012 LT & LTZ Variants:
All new 6 speed manual transmission
Driver side power window with express up and down function with pinch guard
6 way power adjustable driver sear
Surround Sound Audio system
Dead pedal or clutch footrest
Changes in New Chevrolet Cruze 2012 LT Variants:
PEPS – Passive Entry and Passive start with push button start stop button
Front fog lamps
Telescopic steering
Smart screen display
Chrome door handles
2012 Chevrolet Cruze Walk Around Video Review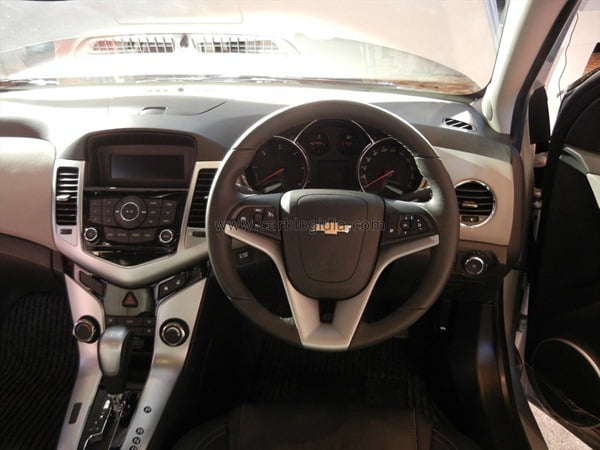 2012 Chevrolet Cruze India Price

The new Chevrolet Cruze prices ex-showroom Delhi are as follows:
Chevrolet Cruze 2012 LT With 6 speed MT is priced at Rs. 13.85 Lakhs
Chevrolet Cruze 2012 LTZ With 6 speed MT is priced at Rs. 14.77 Lakhs
Chevrolet Cruze 2012 LTZ With 6 speed AT is priced at Rs. 15.67 Lakhs
Stay tuned for more updates.
Get latest updates FREE via email by signing up for our Free Email Newsletter, you can also follow us on Twitter or join our Official Facebook Page. You can catch more action on cars and test drive video reviews on our Official YouTube Channel.