As we all know Renault Scala is the latest entry level sedan in the market and with its lucrative looks and decent pricing, it is one of the most appealing entry level saloons in terms of exterior looks. Since it is priced close to other entry level sedans, we found it relevant to compare the Scala with these sedans. We have also recently covered the Renault Scala Vs Honda City comparison and now it is time to compare the same with the next most popular sedan, Hyundai Verna Fluidic, so we bring you the battle of Renault Scala Vs Hyundai Verna Fluidic.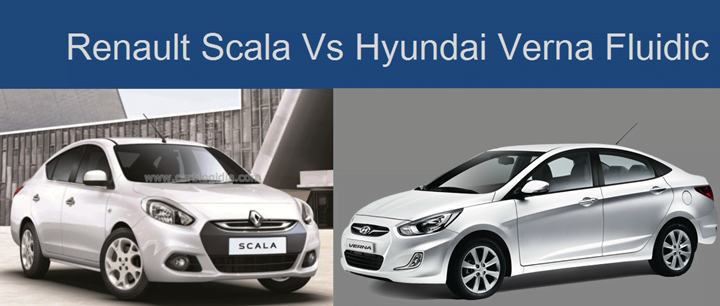 Exterior
Scala is basically a Sunny from inside but to distinguish each other, Renault has used a better styling. Renault's efforts are appreciable as it has given the Scala a Pulse look from the front while the rear is a restyled Sunny. There is even a chrome strip at the rear which enhances the new look.
The Verna Fluidic was the first car to come with the company's latest design language and it created a stir in the market as immediately as it arrived. The character lines give meaning to this car it looks fabulous on road. The only disappointing thing about the new Verna is the fit of body panels but it has not troubled anybody so far which means you can overlook it.
Renault Scala Dimensions
Length: 4425 mm
Width: 1695 mm
Height: 1505 mm
Wheelbase: 2600 mm
Hyundai Verna Fluidic Dimensions
Overall Length (mm): 4370
Overall Width (mm): 1700
Overall Height (mm): 1475
Wheelbase (mm): 2570
Proportion wise the Scala is significantly longer and taller. Even the wheelbase of the same is marginally more than the Verna. So in terms of inside space, Scala is still ahead of its competition.
Interiors
image – Renault Scala Interior
Economies of scale is the in-thing now-a-days and every car manufacturer makes new products in accordance to how many parts it could share with existing models. Nissan and Renault are also doing the same and it is evident from the passenger cabin of Scala that it is actually a Sunny, but with a Renault steering wheel. The Scala is a better car than the Sunny in terms of features and the list includes leather upholstery, automatic climate control, rear arm rests with cup holders, dual airbags, antilock braking system (ABS) with EBD and brake assist, engine immobilizer, fog lamps, rear defroster, audio system with 4 speakers AM/FM, steering mounted audio controls etc.
image-Hyundai Verna Fluidic Interior
Advertisement

Verna's interior design is as sporty as its exterior. The three spoke steering wheel, central console, instrument cluster add to the beauty of this car.  The list of features include include Climate Control System, Integrated multimedia infotainment console, CD/ MP3 / USB / iPod input Audio System, Engine start top button, Optional automatic transmission, Audio auxiliary input, USB slot for stereo, Black and chrome combination around the gear knob, Gear change suggest system, Best in class safety – 5 Star NCAP rating, 6 Air bags – first in segment, Rear camera located inside the rear view mirror with Rear parking assist system etc.
Engine
Renault Scala Engine Options
Renault Scala Petrol Engine
XH2 MPFI petrol engine
Displacement: 1498 CC
Max Power of 98 BHP @ 6000 RPM
Max Torque of 134 Nm @ 4000 RPM
5 Speed Manual Transmission; Automatic Transmission (CVT) model to come later
ARAI certified mileage of 16.95 KMPL
Hyundai Verna Fluidic Engine Options
Hyundai Verna Fluidic Petrol Engine
Type

1.4 Litre VTVT MPFI Petrol engine
1.6 Litre VTVT MPFI Petrol engine

Max Power & Max Torque

1.4 Litre : 107 BHP @ 6300 RPM and 135 Nm @ 5000 RPM
1.6 Litre : 123 BHP @ 6300 RPM and 156 Nm @ 4200 RPM

Transmission: 4 speed Automatic and 5 speed Manual
ARAI Certified Mileage

1.4 Litre : 17.43 KMPL
1.6 Litre : 17.01 KMPL
Hyundai Verna Fluidic Diesel Engine
Type

1.4 Litre CRDI Diesel engine
1.6 Litre CRDI Diesel engine

Max Power & Max Torque

1.4 Litre : 90 BHP @ 4000 RPM and 224 Nm @ 1750 – 2750 RPM
1.6 Litre : 128 BHP @ 4000 RPM and 265 Nm @ 1900 – 2750 RPM

Transmission: 4 speed Automatic and 5 speed Manual
ARAI Certified Mileage

1.4 Litre : 23.5 KMPL
1.6 Litre : 22.32 KMPL
The Verna has a rich engine line-up with 2 options each for petrol and diesel lovers. The power and torque outputs of the Verna engines (petrol and diesel both) are higher than that of Scala's. Even in terms of fuel efficiency Verna is better than the Scala. All in all if you look at the engines only, then Verna does have an upper hand over Scala.
Performance & Handling
Scala is a good handles which is quite comfortable and handles well on bends. It also has appreciable high speed stability. Contrastingly the Verna, which seems to be a car which could be driven the way you like, is great on comfort but has high speed stability issues. It does fairly well on corners but isn't the best.
Price
Renault Scala Price
Renault Scala Petrol RXE with MT is priced at Rs. 6.99 Lakhs
Renault Scala Petrol RXL with MT is priced at Rs. 7.85 Lakhs
Renault Scala Petrol RXL with AT (CVT) is expected to be priced at Rs. 8.50 Lakhs (Estimated)
Renault Scala Diesel RXL with MT is priced at Rs. 8.69 Lakhs
Renault Scala Diesel RXZ with MT is priced at Rs. 9.57 Lakhs
Hyundai Verna Fluidic Price
Petrol
Fluidic Verna VTVT 1.4: Rs.7.11 lakhs
Fluidic Verna VTVT 1.6 EX: Rs.8.02 lakhs
Fluidic Verna VTVT SX 1.6: Rs.8.47 lakhs
Fluidic Verna VTVT SX (O) 1.6: Rs.9.20 lakhs
Fluidic Verna VTVT SX (O) AT 1.6: Rs.9.93 lakhs
Diesel
Fluidic Verna CRDi 1.4: Rs.8.33 lakhs
Fluidic Verna CRDi 1.4 EX: Rs.9.10 lakhs
Fluidic Verna CRDi 1.6 EX: Rs.9.35 lakhs
Fluidic Verna CRDi SX 1.6: Rs.9.80 lakhs
Fluidic Verna CRDi SX (O) 1.6: Rs.10.53 lakhs
Fluidic Verna CRDi SX (O) AT 1.6: Rs.11.26 lakhs
Renault Scala Petrol Vs Hyundai Verna Fluidic Petrol
The Scala petrol line-up starts at 6.99 lakh INR and ends at 7.85 lakh INR. The automatic petrol will be launched next year which is expected to be priced around 8.6 lakh INR. Talking about Verna petrol, the line-up starts at 7.11 lakh and ends at 9.93 lakh which includes an automatic variant as well. Features wise both the cars are quite good but surprisingly the base Verna 1.4 does not feature ABS with EBD and airbags which are available on all the Scala variants. In fact a couple of other features are also there which are absent in Verna base. Going upwards the Verna seems to become a better option considering the features only. One can get 6 airbags, rear parking camera and many more which are not there in any of the Scala petrol but again you have to remember there is a huge difference in the pricing then.
Renault Scala Diesel Vs Hyundai Verna Fluidic Diesel
Renault is offering the Scala diesel only in the mid and top end variants and does not have an entry level diesel version. Prices start at 8.69 lakh and end at 9.57 lakh. The Verna diesel starts at 8.33 lakh which is for base variant, and ends at 11.26 lakh for the automatic top end SX (O) variant. There is no automatic variant for the Scala diesel line-up. Talking about the features now, since the Scala diesel does not have a base variant, you can expect almost all the feature that you may find on the Verna diesel line-up. Having said that, and as mentioned above, features such as 6 airbags, rear parking camera do remain exclusive to the Verna. Pricing wise Verna does seem to be a bit on the expensive side whereas the Scala is value for money.
Car Blog India Verdict– Renault Scala Vs Hyundai Verna Fluidic
First and foremost, both cars have their own strong points and weak points. While the Scala is cheap, adequately powerful and has good features, the Verna is feature packed, a little pricier and is better in fuel efficiency and power & torque output. So if you do not wish to spend much and want a value for money car go for the Scala, whereas if features is your utmost concern and you do not care much about spending, then Verna is the best choice. Before making the final decision, do go and test drive both the vehicles.
Get latest updates FREE via email by signing up for our Free Email Newsletter, you can also follow us on Twitter or join our Official Facebook Page. You can catch more action on cars and test drive video reviews on our Official YouTube Channel.