A breeze of fresh air is all set to refresh all Royal Enfield enthusiasts. As per latest reports the company plans to launch a new bike 2013 Royal Enfield Bullet 500 in a few months. The new Bullet will be introduced in a new shade called Forest Green. It's been almost a decade since Royal Enfield used the badge Bullet for any bike. The first model to be introduced with this name was Machismo 500 that was powered by AVL-engine. This was later followed by others like the recent Classic 500 and its other versions like Desert Storm and Chrome.
The teaser shot of this stunning bike has been recently revealed by Royal Enfield. Although the new bike carries ahead the legendary look of Bullet, it has been equipped with latest machine and mechanisms. Royal Enfield is already trading this bike in foreign markets with a 499cc EFI power mill that has been extracted from the Thunderbird 500 and Classic range.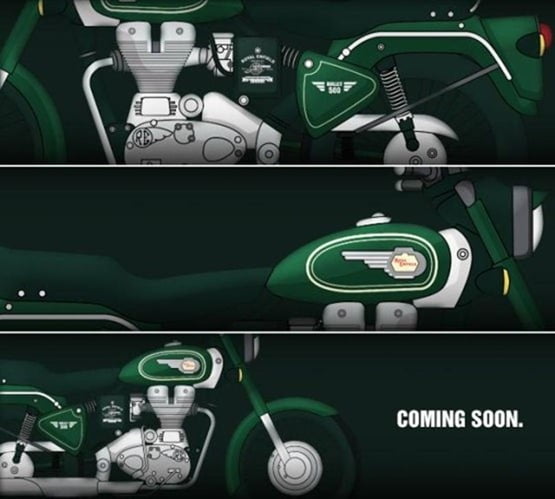 But in terms of India it is being speculated that they might keep the Electronic Fuel Ejection aside and use the carbureted fuel delivery system instead. The EFI technology, despite being latest, has generated number of technical glitches due to which buyers may not appreciate the feature. Therefore, the auto major has decided to keep the engineering of the bike simple, reliable, and cost efficient.
It is being assumed that the carbureted 499cc power mill will carry an efficiency to generate power worth 29 PS against a peak torque of 41 Nm. Till date, Both the wheels of all Royal Enfield use to have a diameter of 19 inches but the latest model with 350cc and 500cc engines will from now on bear a 19 inch front and an 18 inch rear wheel. But what combination will be finally bestowed to the Bullet 500 that is yet to be seen. The Forest Green shade that the bike is endorsing in the picture will be definitely appreciated by Indian buyers. The bike along with all its charm and boldness is expected to bear a price tag of approx. Rs.1.4 lakhs, this figure is Rs.20, 000 lesser than Classic 500 price tag.
via- BikeIndia