Honda SIEL India's smallest car Honda Brio has started a new war in this segment with its value for money offerings with high quality and feature packed variant. In our car comparison series on Car Blog India, in this article we will compared the Brio with a strong contender from this segment, the Ford Figo.
Honda Brio Exteriors Vs Ford Figo Exteriors
image- Honda Brio Left, Ford Figo Right
Honda Brio Dimension
Length = 3610 mm
Width = 1680 mm
Height = 1500 mm
Wheelbase = 2345 mm
Honda Brio is a fresh design which is not so contemporary, quite radical and modern in styling. The sharp lines and right amount of curves give Brio a very attractive looks. Brio looks very sporty and and smart in its form factor. The build quality, fit and finish are high quality.
Ford Figo Dimensions
Length = 3795mm
Width = 1680mm
Height = 1427mm
Wheelbase = 2489mm
Ford Figo is more contemporary and elegant looking design with more of curves and less sharp lines. It looks slightly less sporty and more of a mature design with subtle elegance. I appreciate both Brio and Figo exteriors.
Comparing the two cars, the Figo is longer, has same width and slightly less in height and has a longer wheelbase. In overall exterior appeal, I find Brio slightly more appealing than the Figo, but this liking is very subjective, many of you may not agree with my choice, so I leave it to you.
Honda Brio Interiors Vs Ford Figo Interiors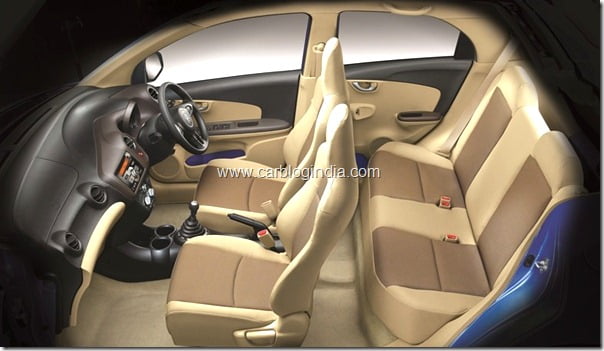 image- Honda Brio Interiors
In terms of interiors, plastic quality, fit and finish, cabin space and overall quality and comfort, the Brio's cabin is a comfortable place to be in this segment of cars.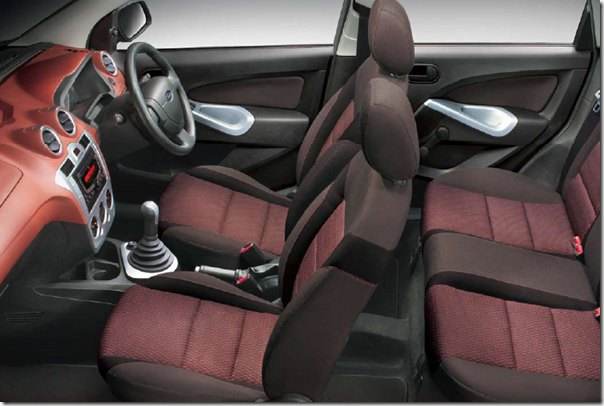 image – Ford Figo Interiors
Ford Figo is a also spacious and nicely designed, but lags in terms of quality of plastics, visual appeal and packaging for space when compared to Brio. In terms of Interiors, Brio seems to be a better bet.
Honda Brio Petrol Engine Vs Ford Figo Petrol Engine
Engine Specifications of Honda Brio
1.2 Litre 4 Cylinder i-VTEC Engine
Engine Displacement 1198 CC
Max power of 86.8 BHP @ 6000 RPM
Max torque of 109 Nm @ 4600 RPM
5 Speed Manual transmission
ARAI Certified Mileage of 18.4 KMPL
Kerb Weight 920 to 940 Kg
Power to weight ratio of 93.3 BHP /1000 Kg
Ford Figo Petrol Specifications
4 Cylinder MPFI Petrol Engine
Displacement 1196 CC
Max Power – 71 BHP @ 6250 RPM
Max Torque – 102 Nm @ 4000 RPM
5 Speed Manual transmission
ARAI Certified Mileage of 15.6 KMPL
Kerb Weight 1040 to 1090 Kg
Power to weight ratio of 66.6 BHP /1000 Kg
In terms of engine performance, peak power, power to weight ratio, agility, fuel efficiency, in all these department, Honda Brio engine comes out to be better than Ford Figo Petrol engine, so Brio is a clear winner here.
Honda Brio Petrol Handling and Performance Vs Ford Figo Petrol Handling and Performance
Handling performance has been a strong point of Ford cars and so is the case with Figo as well. Figo's suspension is nicely tuned, the steering is well weighted and the handling is sharp and precise. The Figo is one of the best handling cars in its segment and comes out be more confidence inspiring when compared to the Brio. Brio also handles well, but it lacks the accurate steering feedback and does have noticeable body roll on high speed cornering, so in this department, Figo takes the lead.
Honda Brio Petrol Price Vs Ford Figo Petrol Price
Honda Brio Petrol Prices in India are as follows:
The prices of Honda Brio Ex-Showroom Delhi are as follows:
Honda Brio E is priced at Rs.3.95 Lakhs
Honda Brio S is priced at Rs. 4.35Lakhs
Honda Brio S (Option Pack) is priced at Rs. 4.90 Lakhs
Honda Brio V is priced at Rs. 5.10 Lakhs
Ford Figo Petrol  Price
The prices of Ford Figo Petrol Ex-Showroom Delhi are as follows:
Price of Ford Figo 1.2L Duratec LXi is Rs. 3.69 Lakhs
Price of Ford Figo 1.2L Duratec EXi is Rs. 4.06 Lakhs
Price of Ford Figo 1.2L Duratec ZXi is Rs. 4.29 Lakhs
Price of Ford Figo 1.2L Duratec Titanium is Rs. 4.67 Lakhs
Honda Brio E Vs Ford Figo Petrol LXi
In terms of pricing, the Figo LXi is a bare bone variant priced about Rs. 26,000 below the Brio E variant. It is a very lucrative priced variant which features  AC with heater and power steering, but no power windows, it is quite a basic variant without any frills, no audio system etc. But comparing the value factor, Brio E does features better engine, front power Windows, fuel consumption display feature, tachometer, central locking etc. to justify this difference in price.
Honda Brio E Vs Ford Figo Petrol EXi
The Brio E and Figo Petrol EXi are priced very close, Brio being about Rs. 9,000 costlier. In this variant, Figo gets front power Windows to match up to Brio, also it gets engine immobilizer, central locking etc. So the Exi and Brio offer similar value in terms of features, but if you consider powerful engine and better fuel economy and interior quality, Brio takes the lead.
Honda Brio S Vs Ford Figo Petrol Zxi
Brio S and Figo Petrol ZXi are priced even closer, with Brio being only Rs. 6,000 costlier, but both cars offer  Integrated audio system with USB, Radio and Aux-input. Figo has additionally the Bluetooth Interface which Brio does not have and has driver seat height adjust feature. Apart from this, Brio steering mounted audio controls, has all four power Windows, while Figo just has power windows on front only. So in this case, Brio offers better engine, all door power windows but lacks on the Bluetooth connectivity and height adjust driver seat. So its your call what is more important for you here.
Honda Brio S Option Pack Vs Figo Petrol Titanium
Ford Figo top end Titanium variant is fully loaded with ABS with EBD, airbags for safety, fog lamps electrically adjustable outside mirrors, lots of chrome on inside and outside, rear wash and wiper with defogger etc. Brio here also leads on all 4 power windows, steering mounted controls, tilt steering, etc. but lags on the Bluetooth connectivity, Fog lamps etc. Brio has a more powerful engine, but lags on handling. Considering the price of Brio S Option pack being Rs. 23,000 higher than the Figo Titanium, Figo seems to be a more lucrative option here.
Honda Brio V Vs Figo Petrol Titanium
At a price of Rs. 43,000 higher than the Figo Titanium, Brio seems pricier in its fully loaded top end variant with Alloy wheels, fog lamps, better Interiors etc. when we compare it with Figo Petrol Titanium variant.
Car Blog India verdict – Honda Brio Petrol Vs Ford Figo Petrol
Brio does come at a higher price, but does offer better exterior appearance and style, better interiors, provides good features, powerful engine and decent handling, so we find Brio to be a more attractive pick.
But if you want a car with better road dynamics and lower price, then Figo is a lower priced car with lower quality fit and finish, but good enough for normal practical commuting needs.
check out more-
Join us for FREE NEWS Updates on our Whatsapp Community or our official telegram channel.