Nissan has made a great attempt to penetrate into the mid-sized sedan segment with the all new Nissan Sunny and for quite a while we are busy comparing the same with the rest of the competitors in the market. We have compared many of the existing sedans which you can view in our car comparison series on Car Blog India and in continuation we will now compare the very popular Fiat Linea with Sunny.
Nissan Sunny Exteriors Vs Fiat Linea Exteriors
The Sunny has been designed keeping in mind the price sensitivity among the Indian buyers and therefore is good enough as a new car. The bold headlamps, nicely styled elongated Nissan Teana resembling body, chrome garnish on the grille make it look decent enough. The overall styling is quite simple but powerful and the overall built of the car is quite solid and is better than most of the cars belonging to the same segment.
Fiat Linea is one of the most beautifully made sedans in the market. The car actually redefines elegance and no other product matches its charm. Some of the highlighting features are parabola headlamps, for lamps, chrome inserts, a contemporary Italian styling etc. The car is a brilliant piece of work and looks very sporty and aggressive. The body lines are quite straight yet extremely expressive and make this car a head turner.
Nissan Sunny Dimensions
Overall Length: 4425 mm
Overall Width: 1695 mm
Overall Height: 1505 mm
Overall Wheelbase: 2600 mm
Fiat Linea Dimensions
Overall Length: 4560 mm
Overall Width: 1730 mm
Overall Height: 1487 mm
Overall Wheelbase: 2603 mm
The Linea is longer by a big margin and also is significantly wider than the Sunny. Height of the Linea is less than Sunny and sits nearer to the ground and hence looks sporty. The wheelbase of both the cars is more or less the same so good legroom is one of the qualities of both the cars. Comparing them in terms of appearance and proportions, the Linea is an obvious choice.
Nissan Sunny Interiors Vs Fiat Linea Interiors

image- Nissan Sunny Interiors
The Sunny is the same Micra from inside and almost everything has been borrowed from the Micra. The seats are quite comfortable and there is enough room for four passengers. If you are going with the Sunny then you will be offered dual airbags, ABS with EBD, engine immobilizer, audio player with AUX-in connectivity, comfortable seats, door ajar warning system, steering mounted audio controls, rear defogger, electrically folding mirror, auto AC, rear comfort fan, intelligent key with push button ignition, chrome inserts on door handles, tilt steering etc. In short one would not be disappointed with the features of this car.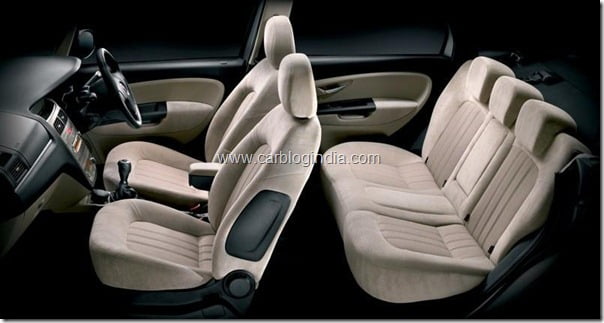 image- Fiat Linea Interiors
The Linea is quite sober and dashboard styling and overall structure and shape is nice. It actually makes you happy just by looking at it. The overall feel is very Porsche and in terms of looks and space it won't you down.  Now let us come to the features of Linea which would simply amaze you  as they include dire prevention system, immobilizer with rolling code, double crank prevention system, exact door opening indicators, automatic door lock, ABS EBD, dual airbags with early crash sensors, 3 point ELR, all four disc brakes etc. Although most of the features mentioned above come with all the variants but some exceptional ones like airbags, ABS EBD etc. come with the top versions only., In fact some other exclusive features like 16 inch alloy wheels, all four disc brakes, and a few others come with the Linea T-Jet variants only and are absent in the other models.
Nissan Sunny Petrol Vs Fiat Linea Petrol Engine
Nissan Sunny Petrol Engine Specifications
Type: HR15DE, DOHC 16 Valves, 4 Cylinder
Displacement(cc): 1498
Maximum Power: 98.6 BHP @ 6000 RPM
Maximum Torque: 134 Nm @ 4000 RPM
Transmission: 5 Speed Manual
ARAI Certified Mileage of 16.95 KMPL
Fiat Linea Petrol Engine Specifications
Fiat Linea

Type: 1.4 Fire Petrol,DOHC  16 Valves
Displacement: 1368 CC
Maximum Power: 88 BHP @ 6000 RPM
Maximum Torque: 115 Nm @ 4500 RPM
Transmission: 5 Speed manual
ARAI Certified Mileage: 14.2 KMPL

Fiat Linea T-Jet

Type: 1.4 Fire Petrol,DOHC 16 Valves
Displacement: 1368 CC
Maximum Power: 113 BHP @ 5000 RPM
Maximum Torque: 207 Nm @ 2200 RPM
Transmission: 5 Speed manual
ARAI Certified Mileage: 14.6 KMPL
The Linea is available in an ordinary 1.4 Litre petrol and one 1.4 Litre Turbo jet petrol engine. Both have same displacement but the power and torque outputs differ to a great extent. The Linea produces 88 BHP of power and 115 Nm of torque and the Linea T-Jet produces a whopping 113 BHP of power and 207 Nm torque at just 2200 RPM.
The Sunny gets a slightly bigger engine producing 98.6 BHP of power and 134 Nm of torque. Also the mileage of the Linea siblings is 14.2 and 14.6 KMPL for the Linea and Linea T-jet respectively but the Sunny is ahead and delivers 17 KMPL.
Nissan Sunny Petrol Performance And Handling Vs Fiat Linea Petrol Performance And Handling
Nissan has done a good job with this new engine which imparts appreciable good driving characteristics in the city and on the highway as well. Although it is slightly less confident around corners but overall it is satisfactory and even the comfort level is also good.
Fiat never compromises on technology and comfort and this shows in the Fiat Grande Punto and the Linea. The Linea is extremely comfortable, and performs wonderfully well. The handling is also brilliant steers like a dream. So on the grounds of performance the Linea is better.
Nissan Sunny Petrol Vs Fiat Linea Petrol Price
Fiat Linea Petrol Prices(Ex-showroom Delhi)
Linea Active: Rs. 6.51 Lakh
Linea Dynamic: Rs. 6.78 Lakh
Linea Emotion: Rs. 7.44 Lakh
Linea Emotion Pack: Rs. 7.57 Lakh
Linea T-Jet: Rs. 8.56 Lakh
Linea T-Jet Plus: Rs. 9.06 Lakh
The Nissan Sunny Ex-showroom Delhi prices are as below:
Nissan Sunny XE Petrol is priced at Rs. 5.78 Lakhs
Nissan Sunny XL Petrol is priced at Rs. 6.88 Lakhs
Nissan Sunny XV Petrol is priced at Rs. 7.68 Lakhs
The Fiat Linea is priced quite high and even the standard model is almost Rs. 80,000 more expensive than the Sunny base which has been priced at Rs. 5.78 Lakh. The top end Sunny with all the features, though way less rich than Linea, is priced at Rs. 7.68 Lakh whereas the Linea top end Emotion PK is slightly cheaper at Rs. 7.57 Lakh.
The Linea T-Jet super luxury variants are quite expensive and therefore should not be compared as they it would not be fair to let them compete even with the top end Sunny.
Car Blog India Verdict- Nissan Sunny Petrol Vs Fiat Linea Petrol
The Linea is a better car if you are looking for comfort and luxury and also new features but the pricing is certainly high. On the other hand the Sunny is cheap and the variants have been positioned in a way to suit the requirements of every type of aspiring buyer.
So if you want to buy an affordable car which has enough features and satisfactory performance and handling characteristics, then go with the Sunny but if you want an upmarket looking car with best in class features and best in class performance and handling then Linea is the one to choose. If one of you is considering the top end variant and mileage is not your concern then again it would smarter to go with the Linea Emotion Pack than the Sunny XV.
check out more-
More Related News