To showcase its capabilities and latest design and gather people's reaction on the same, Ford is showcasing its latest offering for India, the global model of Ford EcoSport 2012 which made its global debut at the Auto Expo 2012 at urban malls of Mumbai from January 20th to 29th.
Mumbai will be the first city to get up close with Ford EcoSport after it won the hearts of  automobile enthusiasts and received rave reviews from experts at its global preview at the Delhi Auto Show earlier this month. The car will also be on display at Infinity mall in Malad starting today till January 25th and then move on to Inorbit mall, Vasi from January 27th onwards.
image- Ford EcoSport At Mumbai
Part of the ever growing Ford story in India, EcoSport – the new compact SUV will further augment Ford's offering in India, as well as in many other markets across the globe. Modern and innovative, the all-new Ford EcoSport was designed to combine best-in-class design, technology, quality and safety aimed at attracting a new generation of consumers in different global markets.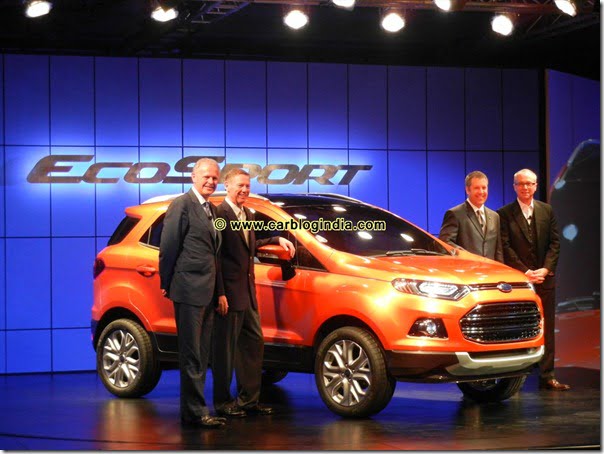 image – Ford EcoSport Global Unveiling In India
"Indian customers have really embraced Ford, particularly since the launch of the hugely successful Ford Figo, and the all-new EcoSport will only further enhance our offerings in India in the near future," said Nigel Wark, Executive Director, Marketing, Sales and Service, Ford India. "As we showcase the EcoSport in Mumbai, we are confident that consumers will be excited to witness and appreciate the aspirational look and feel of this compact SUV.  EcoSport will be Ford's second of the eight new vehicles to be launched by mid-decade in India."
Unveiled by Ford Motor Company President and CEO Alan Mulally during Auto Expo 2012, the global compact SUV is the second of eight new vehicles that Ford plans to bring to India by mid-decade.
Created as the latest One Ford global product, the EcoSport will be a key model in expanding Ford's presence in major worldwide growth markets, including India, Brazil and the ASEAN markets.
Ford is also bringing its global EcoBoost powertrain technology to India for the first time in the form of its newest and smallest-ever EcoBoost engine. With only three cylinders and 1.0 litre of displacement, the latest EcoBoost engine will provide fuel-efficient power for the EcoSport.
Despite its small capacity and proportions, the engine delivers power and performance that will rival a traditional 1.6-litre petrol engine while emitting less than 140g/km CO2.
Downsized EcoBoost engines feature turbocharging, direct injection and other technologies and replace larger engines with no loss of performance and with lower fuel consumption. Ultimately, this all-new engine will be made available in Ford models in China, Europe, North America and other regions.
check out more details here-