Honda SIEL India has had a tough time in past few months but post February 2012, when the production was resumed to normal levels at Honda Cars India Noida plant, the sales chart have started to soar like anything. With the new small car Honda Brio which is generating great volumes for Honda Cars India, the total sales of Honda Cars India in April 2012 crossed over 3 times the sales in April 2012. In the month of April 2012 Honda sold 7075 cars which includes more than 50% of Honda Brio cars which stood at a sales number of 3590. The second best seller is the popular 2012 Honda City sedan which sold 2092 units followed by Honda Jazz hatchback which sold 1300 units in India.The Sales of Honda Civic, Honda Accord and Honda CRV stood at 51, 25 and 17 units respectively which is not a major part of the overall sales numbers.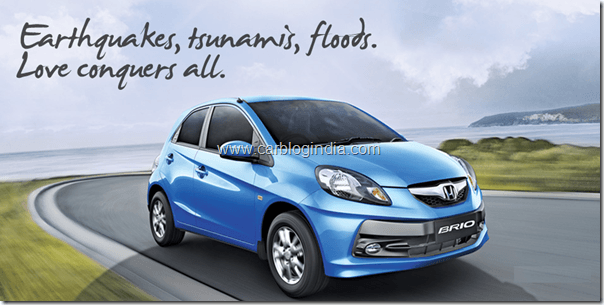 image – Honda Brio Small Car India
Considering the sales numbers from January 2012 to April 2012, HSCI has sold 28731 cars which is 71% higher compared to the same period in last year (16789 units). The Brio does seem to have worked wonders for Honda Cars India and the repositioning of Honda Jazz with new pricing which took place in August 2011 has also created a lot of demand as Jazz is now a much more value for money than it used to be prior to 2011. Check out some more interesting news and reviews about Honda Brio here.