Hyundai Motors India has reported its highest ever domestic car sales in India in the month of February 2012 which stood at 36,805 cars sold with a growth of 12.8% compared to the February 2011 when 32,629 cars were sold. There is however a large dip in Hyundai car exports from India by around 22.3% which caused a cumulative negative sales growth of 0.3% for February 2012 compared to the same month last year. The star sellers among the cars included Hyundai Eon, Hyundai i10, Hyundai i20 and Hyundai Santro which together clocked a sale of 45,124 units in A2 segment while the A3 segment cars – Hyundai Accent and Hyundai Verna clocked a total sales of 6584 units. The mighty SUV Santa Fe clocked a sale of 147 units.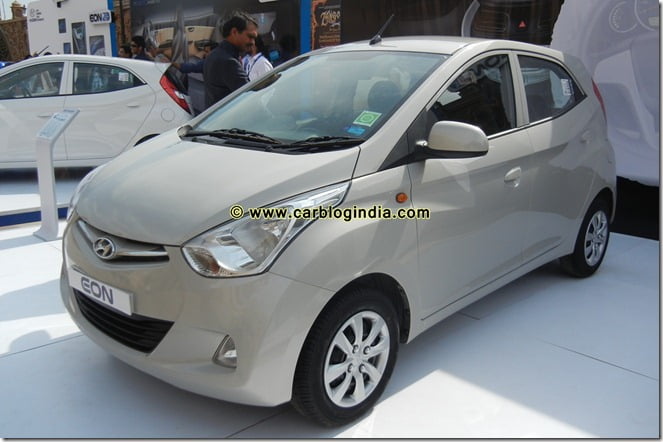 image – Hyundai Eon Small Car India
Commenting on the February sales, Mr Arvind Saxena, Director – Marketing and Sales, HMIL said,
"Even in the tough market situation Eon sales have helped us to achieve the highest ever domestic sales."
Hyundai has recently launched new trim levels of Hyundai Eon along with the LPG version of the same after which the sales have started to improve. Hyundai Eon is a small 800 CC car from Hyundai launched in October 2011 in India and delivers decent power with pleasing interior features. Its direct competition of small cars like Maruti Alto, Chevrolet Spark etc. There is not much of competition in this segment as of now and Maruti Alto is the biggest player of this segment so far. With Eon gaining popularity gradually and Maruti Alto sales growth being sluggish, we will not be surprised to see a stiffer competition from Eon to Alto in near future.
A new Hyundai i20 2012 Fluidic is awaited which is likely to launch around April 2012 in India. A LHD model has been spotted testing on Indian roads, which indicates that it may first be revealed internationally at some event like upcoming Geneva Motor Show 2012. Also there are rumors of improved suspension Hyundai Verna Fluidic 2012 new model which maybe launched in India.
Tata has also announced a more powerful Tata Nano 800 CC car which will also compete in this segment at price point probably lower than both Alto and Eon. For quite some long time we have been hearing about Chevrolet Spark 800, but it seems unlikely that we will see something of that sort soon. We will keep you updated on the same, stay tuned to us by signing up for our free email newsletter and like our official Facebook Page.
check out more-