Updates on 22 March 2012
Hyundai India showcased the all new Hyundai Sonata 2012 aka Hyundai i45 sedan at the Auto Expo 2012 in New Delhi India in January 2012. The new Sonata 2012 is expected to launch in first week of March 2012 in India. The same is re-affirmed by the updated page of Hyundai Sonata 2012 on Hyundai India website. The updated webpage shows all the details including interior pictures, exterior Pictures, features, specifications and image gallery of the new car. The new Sonata gets a better fluidic exterior, more plush interior, better improved engine performance and improved features.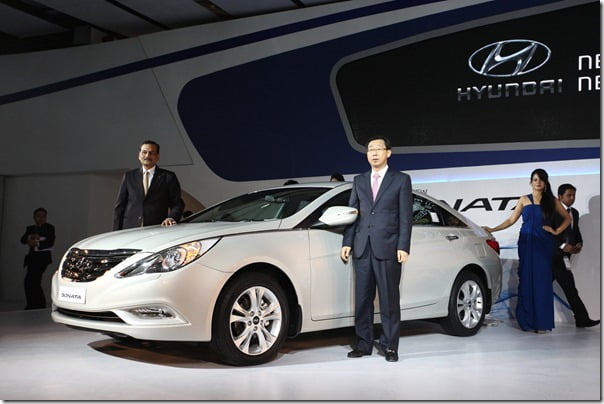 image – Hyundai Sonata 2012 aka i45 In India
Below are some snapshots of Hyundai Sonata 2012 official webpages on the official website of Hyundai India. The launch will reveal the pricing and other details which is likely to be held in India on 7th of March 2012.
image – Hyundai India website snapshot
image – Hyundai India website snapshot
Download Hyundai Sonata 2012 Brochure here. Visit Hyundai Sonata 2012 Official website here.
We will keep you updated on the launch details as it happens. To receive latest details, sign up for our free email newsletter and like our official Facebook Page. You can also add our official Google Plus Page to your circle.
check out more details on Sonata 2012 below: