If there was something very strikingly different about the Mercedes-Benz booth at the 2012 Auto Expo, it has to be the Mercedes A Class concept hatchback model. The showcased model is based on the company's latest design language and proposes the future design cues for the A Class. The A Class is the company's most affordable offering for its fans and its launch in India is expected soon. The expected price of the Mercedes A Class is under Rs. 20 Lakhs which will create a new segment of luxury hatchback in India.
Coming back to the concept A Class, there is no way you would resist yourself from staring at it. The overall design is extremely beautiful and the beautifully carved body lines will not let you take your eyes off it.
image – Mercedes A Class Concept Hatchback Model
In spite of having an all new design the very logo of the brand retains its classic appearance and surrounding it is the radiator grille constituting of countless silver dots for that extra appeal. The wheels give a three dimensional effect and add to the beauty of the car.
image – Mercedes A Class Concept Hatchback Model
The lights have Merc's innovative full-LED high performance technology and incorporate daytime running lamps with a 90 optical fiber arrangement. Coming to the technology the car equips under its hood, it features the 2.0 L, 4 Cylinder BlueEfficiency MPFI petrol engine producing 210 BHP of max power that drive the front wheels. The same is mated to a dual clutch automatic transmission .
image – Mercedes A Class Concept Hatchback Model Interiors
image – Mercedes A Class Concept Hatchback Model interiors
Click here-
Mercedes A Class Concept Hatchback Exclusive Pictures From 2012 Auto Expo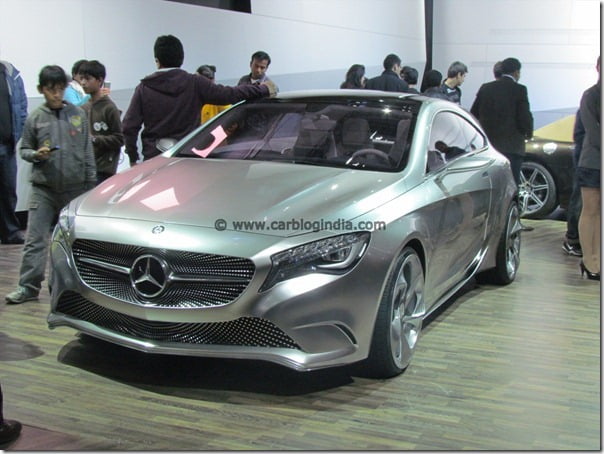 image – Mercedes A Class Concept Hatchback Model
image – Mercedes A Class Concept Hatchback Model
image – Mercedes A Class Concept Hatchback Model
image – Mercedes A Class Concept Hatchback Model
image – Mercedes A Class Concept Hatchback Model
image – Mercedes A Class Concept Hatchback Model
image – Mercedes A Class Concept Hatchback Model
image – Mercedes A Class Concept Hatchback Model
check out more –