Mercedes-Benz is sincerely working on its upcoming products and now that Audi has pushed Mercedes down to the third top seller place in India, the efforts have become even stronger. The latest strategy of Mercedes is to launch 5 compact cars in India and recently it was Dieter Zetsche, chairman of Daimler AG, who stated the following:
"Our compact segment will have five members. A Class, B Class, the concept car we are launching next week in China, a sports SUV and another model we haven't specified yet"
So very clearly and in fact since months it is known that Mercedes A-Class and Mercedes B-Class are heading to India and it has been confirmed now. Mr. Zetsche has mentioned a concept car as the third compact model which is Mercedes-Benz Style Coupe Concept which was recently unveiled in Beijing. The crossover/SUV will be Mercedes-Benz GLC which will be based on company's MFA Platform, the same platform on which B Class is based. The last one of the five models is still unspecified so we will have to wait until the German automaker officially announces the type and name.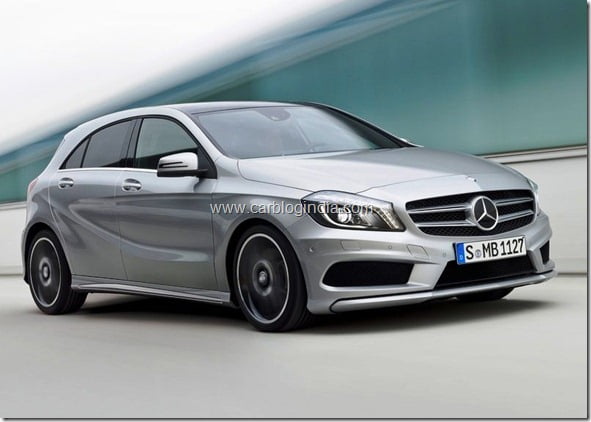 image – Mercedes-Benz A Class Production Version
All the five compact models from Mercedes will share the same components, meaning the expenditure on individuals models will be less and the profits will be high. With the combined sales of these models, Mercedes hopes to regain the top seller spot by the end of the decade.
image – Mercedes Benz B Class
Of the new models, the B-Class is the first one to be heading to India and by the second half we could hear some official announcements regarding the same. Intense Localization strategies is what Mercedes is currently looking at, for the B-Class so as to keep its cost low, and beside this the company will also be busy importing the Mercedes M-Class via the CKD route. The starting price of the compact Mercedes Benz lineup is expected to start around Rs. 20 Lakhs for the A Class.  These cars will debut with both diesel and petrol engines with manual and automatic transmissions options. For more details on these compact cars, check out – Mercedes Benz A Class Hatchback Production Version Unveiled and Mercedes Benz B Class To Debut In India soon.