Mahindra & Mahindra, one of the fastest emerging car maker and the new owner of REVA, showcased the Reva NXR electric small car and Mahindra Verito electric sedan at the 2012 Auto Expo. Though not very attractive, both these cars define practicality and were impressive in a way.
Mahindra REVA NXR
Since the very day when the NXR was first in the news, we have been bringing you all the information that you readers would ask for. As far as the looks are concerned you all have seen enough pictures and i believe the car looks fine. On the technical front the car is a tremendous improvement over the old Reva and now offers a full charge range of 160 km, 106 km/h of top speed, high tech features and better interiors.
Interesting features of the car enlist:
Time-to-full-change display
Pre-heat or pre-cool the car
Sending e-mail to yourself regarding your driving habits
REVive, a technology which enables the driver to use a certain amount of backup charge in case the primary battery has discharged completely etc.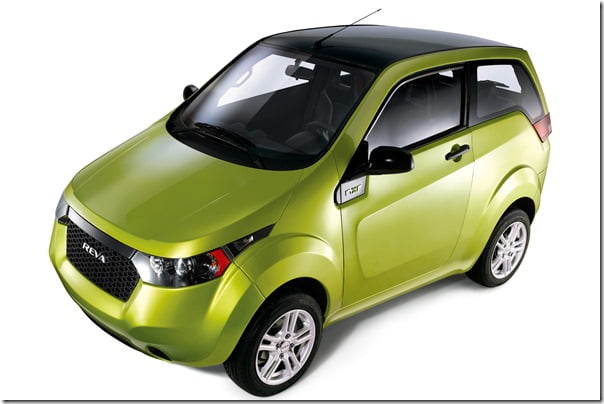 image – Reva NXR
Mahindra Verito Electric At Auto Expo 2012 In India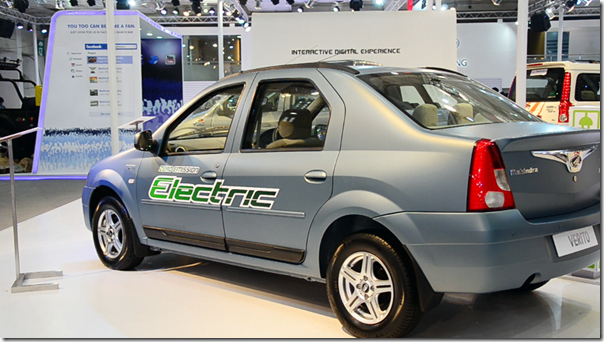 image – Mahindra Reva Electric
Mahindra Verito, earlier known as Mahindra Logan, is a well known sedan and the company showcased an electric version of the same at the Auto Expo. Instead of a conventional internal combustion engine the car has been installed with a 29 KW AC motor that is capable of taking the car to a 100 km in one full charge.
The key features of the Verito Electric include:
Pure electric
Telematics (information gateway – Connects car info to the external world)
Li – Ion Battery
Clutchless easy drive
Noise levels are much lower than current conventional IC Engine vehicle
Fast charging Port Provision (can charge it 1hr 15min)
Normal charging time 6hrs
Technical Data
Motor :  29 KW AC Motor
Controller : Motor controller, control and regulates battery power delivered to the Motor
Charger : Charging from standard Domestic 15A, 230V socket
Battery Type : Li-Ion 72V
Charging Time : 6 Hrs
100% Charge/Km  : 100 kms (MIDC)
Transmission Type : Single Speed, 10.83 Gear Ratio RFNB (Reverse, Forward, Neutral and Boost)Mode
Maximum Speed : 86 kmph
Seating Capacity : 5
Front Suspension : Macpherson-type with wishbone link
Rear Suspension : H-Section torsion beam with programmed deflection-coil spring
Front Brakes : Disc
Rear Brakes : Drum
HVAC : Electric Compressor
Features : Telematics
Reva NXR Electric Small Car And Mahindra Verito Electric Sedan Exclusive Shots From Auto Expo
image – Mahindra Reva Electric
image – Mahindra Reva Electric
image – Mahindra Reva Electric
image – Mahindra Reva Electric
image – Mahindra Reva Electric Spec Sheet
image – Mahindra Reva Electric Interiors
image – Mahindra Reva Electric Interiors
image – Mahindra Reva Electric Interiors
image – Mahindra Reva Electric
image – Reva NXR
image – Reva NXR
image – Reva NXR
image – Reva NXR
image – Reva NXR
check out –