Skoda has officially revealed the Skoda Citigo Small car official details, specifications and pictures of 5 door production ready model. The car has not been modified for Indian conditions as yet, but the same will take place close to its planned launch around the year 2014. The Skoda Citigo small car for India is based on the popular Volkswagen UP small car and will be placed in India under the small car Skoda Fabia which is the smallest hatchback in Indian portfolio of Skoda cars. The Citigo will be in the price segment of Maruti Wagon R and Hyundai i10 both of which are stars in the segment of Rs. 3 to Rs. 4.5 Lakhs as of now. The 5 door production model revealed in Europe is a 3.56 meters long car with a smaller than 1.2 litre petrol engine which makes it fall in the small car excise bracket in India. Also with its production plants in India, Skoda will localize it heavily to take the cost advantage in its favour before launching it in Indian market.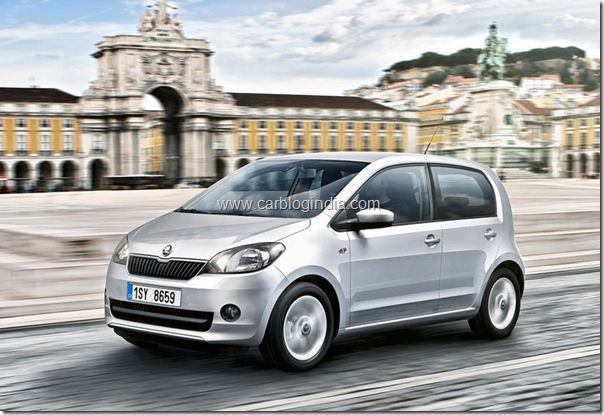 image- Skoda Citigo Small Car India
Skoda Citigo Small Car India Features and Specifications
Skoda Citigo is compact in size and roomy on the interiors because of intelligent packaging of the car. The dimensions of the Skoda Citigo are:
Length = 3563mm
Width = 1645 mm
Height = 1478 mm
Wheelbase = 2420 mm
image  – Skoda Citigo Small Car India Dimensions
Skoda Citigo 5 Door Introduction Video Trailer
video – Skoda Citigo 5 Door Video Trailer
In term of styling and visual appeal, the Citigo compact car is a mix of subtle elegance with modern styling, this clever design attracts youngsters and mature buyers alike and thus finds a larger buyer base. The seat height, glass placement and overall visibility from inside of Citigo is high making it an easy to drive car coupled with superior handling characteristics of Skoda. With a lucrative price tag, high mileage and spacious interiors, Citigo is a value for money offering by Skoda.
image – Skoda Citigo Interiors
In terms of Interior design, the Citigo has a clear layout of cabin, dual tone dashboard design, use of gadgetry and features, use of small storage spaces, hooks to hang bags and purse, placement of net in the boot for keeping luggage safe etc. are small but intelligent interior features which make Citigo a desirable car. Besides being a small car, Citigo offers considerable boot space of 251 litres.
image – Skoda Citigo Boot Space of 251 Litres
Apart from being loaded with nice features, Citigo has a safety score of 5 Stars on Euro NCAP Crash tests making it one of the safest cars in the price segment. The top trips in European Citigo even offer the high end emergency automatic braking system found in high end luxury cars for top notch safety of both passengers and pedestrians in a city environment.
Skoda Citigo Engine Specifications
Skoda Citigo comes with a 3 Cylinder 1 Litre petrol engine with peak power between 60 BHP to 75 BHP. Maximum torque of 95 Nm is available between 3,000 and 4,300 rpm. The fuel efficiency of the Skoda Citigo is around 24.3 KMPL as per the European test standards. The Engine has been tuned for higher efficiency and the transmission ratios have been selected to favour low fuel consumption in city driving environment. The engines use materials which reaches optimum operating temperatures quickly to give better fuel efficiency even on short trips.
image – Skoda Citigo Small Car Engine
On the Entertainment front, the car has an in-built infotainment system which includes navigation, telephone, information and entertainment in one place. This is a feature available in the European version and we expect a strip down version to be launched in India to keep the cost under control.
Skoda Citigo Small Car India Official Image Gallery
Click to enlarge a picture:
We will keep you updates on the developments of the Skoda Citigo in India. As per the recently revealed roadmap of Skoda in India, the Citigo should see an Indian launch by 2014. But it may happen sooner too depending on how Skoda Citigo performs in the European markets as well as how Indian Automobile Industry grows in the time to come. To get latest updates on Citigo, you can like our official Facebook Page and sign up for our free email newsletter.
check out more-
Join us for FREE NEWS Updates on our Whatsapp Community or our official telegram channel.