This video unravels a Tata dealership fraud from back in 2019 with a Tiago owner. The news about frauds and scams from Tata Motors dealerships has been happening and reported for a long time now. Many customers today complain about the poor and frustrating service experience. The ownership experience of Tata cars has been terrible for a whole bunch of people. Now, we understand that a few problems can occur with every carmaker, but the news of Tata Motors taking their customers for granted and cheating them has surfaced multiple times now. It is time we become vocal about it and force Tata to take some action against such dealerships or not buy a Tata car at all. Here are the details of this incident from 2019.
Also read: 4 Upcoming Tata CNG Cars – Tiago, Tigor, Altroz & Nexon
Tata Dealership Fraud with Tiago Owner
The Tiago owner seemed really frustrated in the video and he mentions that he is not left with any other option. He has contacted Tata Motors and dealership a million times but got no satisfactory response to his complaints. He reveals a number of scams and frauds that were committed by the Tata dealership. To start off, the invoice for the car that the owner purchased carried a wrong date. This, in itself, is very suspicious. Thereafter, the quotation mentions numerous price tags for various things which the salesman initially agreed to waive off. The biggest lie that the dealership told was that the Tiago was 2 months old when actually the hatchback was 9 months old. The owner only came to know about this when he asked for Form 21 which is the sales form of the vehicle.
Also read: Now A Tata Tiago (4-star NCAP) Tries to Test Build Quality of Brick Wall!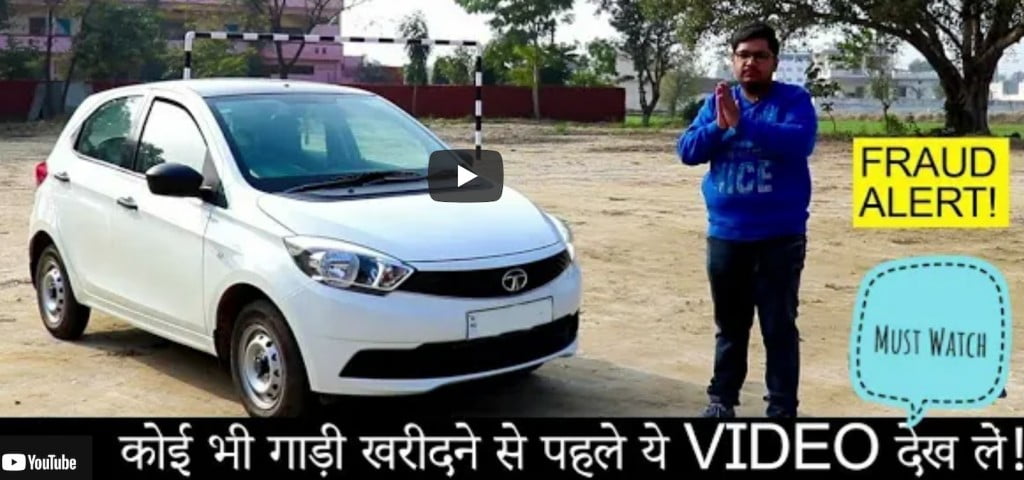 In addition to this, there were possession tax scams where the dealership charged the owner Rs 1,360 which otherwise costs a mere Rs 160. There was a fraud in the amount of insurance charged by the dealership as well. The documents of the insurance policy clearly state that the premium was around Rs 21,000 whereas the quotation mentions a sum of around Rs 31,000. When the Tiago owner confronted the dealership personnel, they offer him free service and a few oils worth Rs 5,000. When everything seemed to be going out of hand for the dealer, he assured that the difference in the amount will be compensated after talking to the MD. However, it was not to be as the MD informed the. Tiago owner that his car was 9 months old. We urge all our readers to be careful of such dealership fraud, especially with Tata Motors.
Also read: Mahindra Scorpio STRUGGLES Uphill Even As Tata Tiago Flies Thru