Recently, we reported about the massive fraud that one Gagandeep Singh Kochar faced from a dealer of Tata Motors. Gagandeep, who is an owner of a top-end Tata Safari, has faced issues with his vehicle right from the beginning of his ownership and in spite of several attempts, the homegrown carmaker has pretty much failed to rectify the issues. Further adding insult to the injury is the fraudulent dealer, who took the aggrieved customer for a ride multiple times. While it doesn't look like his issues have been resolved by Tata Motors, he now looks keen to purchase an MG Gloster.
Also Read- Ford Aspire (3-star NCAP) Tests Build Quality of Maruti Dzire (2-star NCAåP)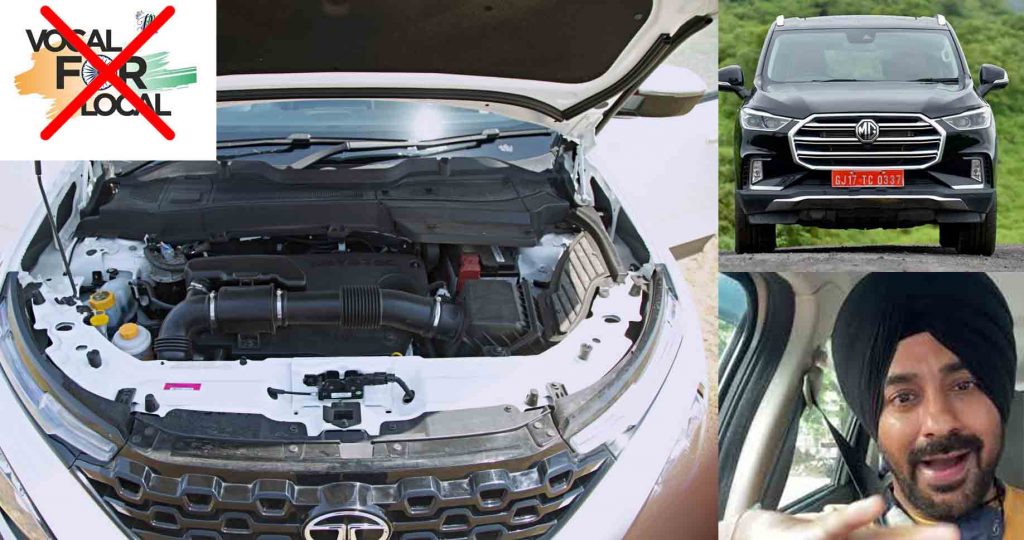 This issue first came to light in early September, just a week after we reported another incident wherein a dealer-level fraud compelled a Tata Safari buyer to cancel his purchase and wait for the Mahindra XUV700 instead. Gagandeep had purchased a Tata Safari XZA+ but troubles started when he was delivered a different car from the one he was shown during PDI (Pre-Delivery Inspection). This car even had extra miles on the odo but he was told that this has happened as the earlier car was already sold to someone else and was mistakenly shown to him. To avoid creating a ruckus, Gagandeep agreed to take delivery of the vehicle even though he wasn't provided with the second key.
The troubles didn't end here as soon, the car started having multiple issues, ranging from engine malfunctions and power steering failure. The Safari even faced any vibrations and broke down on road multiple times. The several trips to service centre during lockdown led to change of wiring as well as various sensors. The condition was so bad that Gagandeep managed to drive only 600 km, while the car had clocked over 800 km in hands of service centre employees for test drive purposes. Finally, it was agreed that Tata Motors would replace the Safari as the car can't be fixed. The same was given in writing but after more than 60 days, the replacement car didn't reach the owner.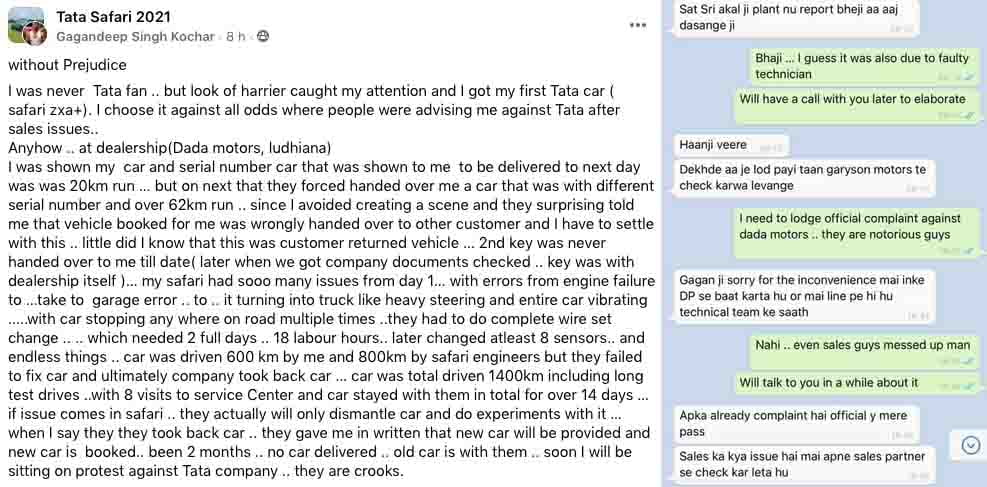 Next, officials from Tata Motors visited Gagandeep and accepted all the mistakes. However, the lawyers of the carmaker prepared an affidavit that had no mention of any sort of apology and even created pressure on the owner to get all the content on his issue removed from the internet. However, while he agreed to remove all the posts and videos he created, he stated that he can't guarantee that no content would be generated by others.

Gagandeep remarked – "How can I act as cyber police and keep sending notices to people who reproduce my video or screenshot of my tweets?" Also, Gagandeep was asked to make small payments to another dealership from where he was to get a new car. Hence, he refused to go ahead with the agreement and finally went on a protest outside Tata Motors' office in Chandigarh on 22nd this month. Finally, he has been promised by the senior management that he will be offered a remedy at the earliest. But clearly, Gagandeep has gone through enough and has given up on Safari as well as Tata Motors. Hence, through a post on social media, it has been revealed that he is keen on purchasing an MG Gloster. While we understand that a car from any manufacturer can face some niggles but the Tata Safari in this case is not just a lemon but the carmaker even failed to ensure that the customer is not harassed even further. There's a clear push for 'vocal for local' but such instances are sure to push car buyers away from buying an Indian vehicle.