How would you like to see an 800 CC Small car from German auto giant Volkswagen in India. As per a report by InAutoNews, Volkswagen is working on s small car based on Volkswagen Up powered by a fuel efficient 800 CC Engine for markets like India, Brazil and Chine and the car is scheduled for 2103 launch. Indian small car market is almost dominated by the Maruti Alto which sells like no other car and has had no competition until recently with the introduction of Hyundai Eon which is powered by a 814 CC Petrol engine. But the Alto's sales are still not badly hurt by Hyundai Eon as yet because the pricing of the Eon are higher than Alto and for a small car segment, pricing is a crucial factor. (Also read – Hyundai Eon Vs Maruti Alto – Detailed Comparison). Considering the pricing issue with Eon, Hyundai has recently added new variants which are much better in value for money compared to the variants lunched in the beginning and also brought LPG variant to compete against the Maruti Alto CNG. Well coming back to Volkswagen Up 800 CC Small Car for India, it does make a lot of sense as at present the smallest car VW India has to offer is Volkswagen Polo which is doing good in sales but it does not compete with the largest selling 800 CC Segment dominated undisputedly by the Alto.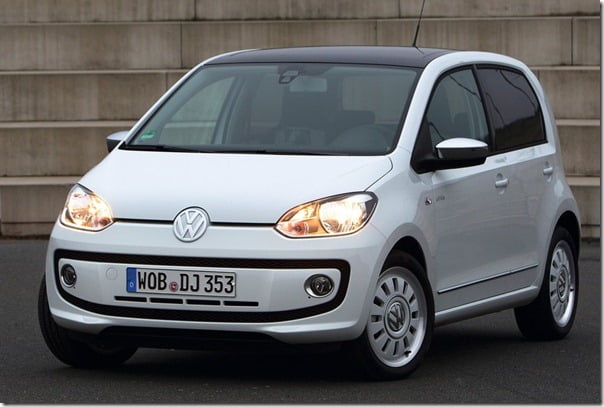 image – Volkswagen Up Small Car
It is interesting to notice that Skoda Citigo small car which is also based on the Volkswagen UP Platform is expected to Debut in India in coming few years with a small 1 Litre Engine(click here for pictures and details). We expected if the Volkswagen UP comes with an 800 CC Engine, it will be quite frugal and may deliver a mileage of close to 25 KMPL on petrol. With a no-frills base variant of 800 CC Petrol Engine car, the pricing can be as low as Rs. 2.5 Lakhs which will directly compete with the Alto and Eon head on with German perfection on build quality, robustness and sharp handling which Volkswagen cars are renowned for.
We will keep a close watch on the same and will bring you any updates which arrive on this car. To get the latest updates from us, do sign up for our free email newsletter and like our official Facebook Page also.
via – inautonews
check out related stories –