Indian Automobile industry on a whole is facing some slowdown because of the rising petrol prices, interest rates, inflation and other such factors. What this phenomenon has done to the Indian auto industry is that some of the small car buyers who want a in-budget commuting option have rather opted for a two-wheeler instead of a small car because of the running cost involved as the fuel prices are sky-rocketing. The dim mood of Car sales have supported a good mood in two wheeler sales in India. Along with the above mentioned effect, the new and more fuel efficient two wheelers and better technology has attracted more buyers to opt for two wheelers. Yamaha India, one of the most popular two wheelers brand in India, have registered a strong growth of 26.8 % in the month of October 2011 compared to the same month last year.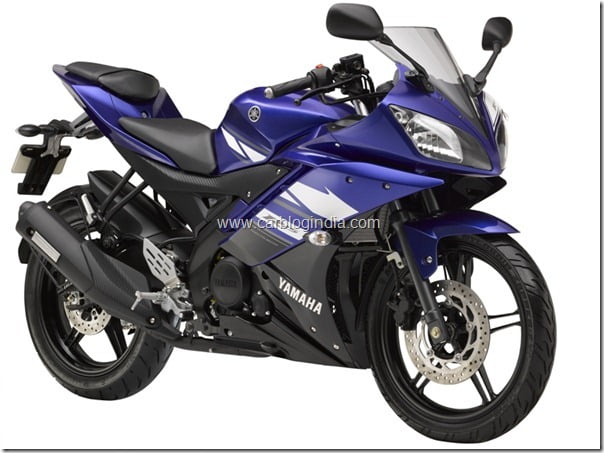 image- Yamaha R15 Version 2.0
Yamaha India sold 47,240 units in October 2011 as against 37,251 units sold in October 2010. In domestic markets, the company sold 38,229 units in October 2011 as compared to 31,791 units sold in the same month last year, a growth of 20.3%. The export figures stood at 9,011 units in October 2011 while 5,460 motorcycles were exported in October 2010, a growth of 65%.
Commenting on the occasion, Mr. Jun Nakata, Director-Sales & Marketing, India Yamaha Motor said, "We have established a firm foothold within 150cc+ segment in the Indian motorcycle market with the R15 version 2.0, FZ series & SZ series gaining much traction and getting accolades from our esteemed customers. The new R15 has been very well received in the market with bookings superseding the supply. The festive season has also played a vital role in catapulting sales for Yamaha this month. We are confident that the momentum will sustain in the long run and help us in redefining our sales graph."
check out more-
Yamaha R15 Version 2.0 New Model Vs Yamaha R15 Old Model