Updated On 12 March 2015
Renault India has officially launched the updated 2015 Renault Duster new model for India. The new Renault Duster 2015 gets improvements on the inside more than outside, owing to which the SUV gets more safety features, more comfort features and also better fuel mileage. The improvements include better engine tuning for improved acceleration and low end torque which in turns improves the drivability. New comfort features on the Duster include- arm rest, gear shift indicator, new multi-information display with service reminders. It also has ECO mode indicator, cruise control, speed limiter. The instrument cluster design has also been refreshed. For improved safety there are speed sensing door locks, the dashboard now has soft touch plastic, there is new fabric for seats and the NVH levels have also been improved for lower noise in the cabin.
The fuel mileage has also improved with the new 110 PS model with an ARAI rated mileage of 19.64 KMPL and the 85 PS model gets 19.87 KMPL for mileage on diesel. The ECO mode also helps to improve mileage by 10%. The diesel engine options are still the same as before but now they come with an improved tuning and new electrical systems. The petrol engine is 1.6 litre K4M engine with peak power of 104 PS and peak torque of 148 Nm.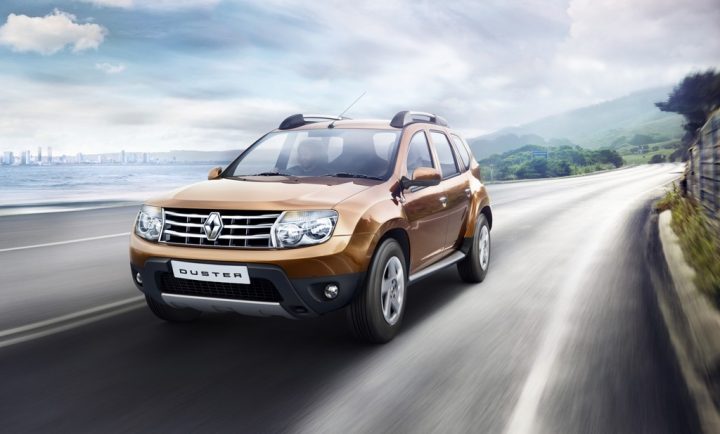 2015 Renault Duster Price
New Renault Duster has been priced starting Rs. 8.30 Lakhs ex-showroom Delhi. Detailed price list for all variants ex-showroom Delhi are as below:
Duster RXE Petrol is priced at Rs. 8.30 Lakhs
Duster RXL Petrol is priced at Rs. 9.63 Lakhs
Duster RXL Plus Diesel is priced at Rs. 10.80 Lakhs
Duster RXL Option Diesel variant is priced at Rs. 11.39 Lakhs
Duster RXZ Plus Diesel is priced at Rs. 12.38 Lakhs
Duster RXZ Option Diesel variant is priced at Rs. 12.43 Lakhs
Duster RXL AWD Diesel model is priced at Rs. 12.40 Lakhs
Duster RXZ AWD Diesel variant is priced at Rs. 13.55 Lakhs
New features gallery:
2015 Renault Duster Brochure
Updated on 11 Dec 2014
2015 Renault Duster India Spec model has been spotted. Could be launched in early 2015
Thanks to the images you see here, it has come to light that the boffins at Renault India are almost ready with the first batch of the updated Duster. The 2015 Renault Duster India-spec model will boast of several minor changes and features addition, all of which should come together to bestow the popular SUV with a touch of more premium-ness.  The images you see here are of the diesel 85 PS variant, but in all likelihood, even the 110 PS has gone under the scalpel and should be out with the less powerful variants. Ir rumours are to be believed, the 2015 Duster, apart from carrying a set of new features, would also boast of a better NVH (Noise, Vibrations, Harshness) package for the engine bay and improved rubber seals for the doors. It maybe noted that these updates are being carried over from the recently introduced Duster AWD variant.
2015 Renault Duster India Launch
While there is no official word on the launch of the updated model, it is highly likely that updated model will be introduced early next year. Our guess is that the updated model will silently slip into market and won't be touted as an 'all-new' model by the marketing experts at Renault.
New Features and Equipment
Akin to the NVH package, the upcoming Duster variants borrow in plenty from the Duster AWD flagship. The car gets a meatier steering wheel, a new audio control stalk that is mounted on the steering wheel, a white-backlit digital multi-information display in the instrument binnacle and a new hue for the beige insert for the dashboard.
From the looks of it, the 2015 Duster will boast of better fit and finish than the current model. Also, the car maker has said to have made improvement in the paint quality after 'Made in India' Dacia Duster was criticized for rest issues in export markets.
2015 Renault Duster Images
Stay tuned to CarBlogIndia for more Renault Duster 2015 launch details and images.
via Gaadi