It is always fascinating to witness Anand Mahindra on social media as he is one of the most followed Indian businessmen on Twitter.
Anand Mahindra applauds the traffic situation in Mizoram. There have been tons of posts on social media platforms from the North-Eastern state of Mizoram for a long time now. It is home to breathtaking natural beauty, mountains, valleys, rivers, and kind and law-abiding citizens. That has been showcased on multiple occasions by various people who have visited the state or heard about it on the internet. This latest image from Mizoram has been going viral garnering respect and love from all over the country. Here are the details.
You may also like: Anand Mahindra Reacts to Australian Fan of XUV700
Anand Mahindra Applauds Mizoram for its Traffic Situation
This image has been shared by various netizens on social media. Apparently, even the billionaire business, Anand Mahindra stumbled upon it on the internet. It shows a traffic jam on one lane of the road. However, what is impressive and almost unbelievable is the fact that not even a single person is coming on the adjacent empty lane. In other parts of the country, people would cut the line and drive in the opposite lane. But the discipline people are patiently waiting for the traffic to clear up without jumping lanes.
You may also like: A Look at Anand Mahindra's SUV Collection on His 68th Birthday
Social media users were quick to take this image and share it with the world. Needless to say, it received massive praise from the netizens. Even Anand Mahindra commented, "What a terrific pic; Not even one vehicle straying over the road marker. Inspirational, with a strong message: it's up to US to improve the quality of our lives. Play by the rules… A big shoutout to Mizoram." This represents his admiration for this practice by the people of Mizoram. This post has been receiving warmth from people from across the country.
You may also like: Anand Mahindra Reacts to Funny Review of XUV700 by a RJ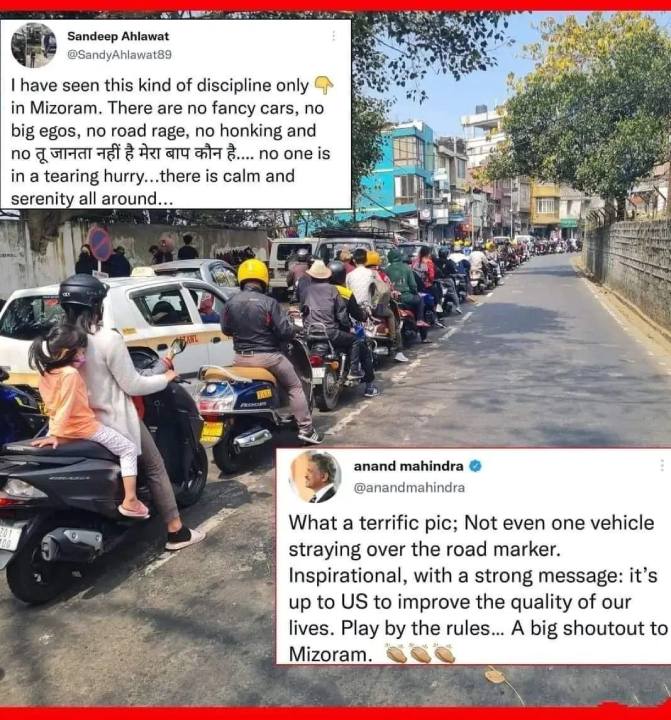 You may also like: Anand Mahindra Reacts to Pic of PM Modi in a Bolero Jungle Safari Vehicle
What We Think
Most road accidents happen in India due to our negligence for the traffic regulations. As a result, we lose thousands of lives each year that are reported. It is high time we start adhering to these traffic laws vehemently so that unfortunate incidents could be avoided at all costs. Mizoram acts as a perfect example for people to learn from. The humble and law-abiding people are an inspiration to a whole lot of people who know that the traffic condition could get better and wish to contribute. Let us pledge to be responsible citizens and ensure that our roads become safer than they are at the moment.
Join us for FREE NEWS Updates on our Whatsapp Community or our official telegram channel.