Here is a video of Kia Seltos diesel 6th service at 40,000 km with the entire cost. Seltos is one of the most favourite mid-size SUVs in the country after its elder sibling, the Hyundai Creta. It is the product that established Kia as a prominent brand in the country. The subsequent products like Sonet and Carnival ensured that Kia becomes the fastest carmaker in India to reach 3,00,000 sales. Many people are drawn towards its modern interiors and cabin feel. There are not a lot of 40,000 km or 6th service experiences of the Seltos online. Hence, this video could be useful to all those who want to know what it might cost and also for those who are looking to buy Seltos for the future. Let us get into the details of it.
Also read: MG Astor vs Hyundai Creta vs Kia Seltos Comparison – Specs, Features & Dimension!
Seltos Diesel Service Cost at 40,000 km / 6th service
The YouTuber starts by letting the viewers know about the overall experience he has had with his Seltos. He is getting ready to go for the 6th service of the Seltos diesel. Before the service starts, he tells that he doesn't face any particular issues with his SUV but there is a problem with fit and finish near the fog lamp housing. The service includes an air filter, oil filter and diesel filter replacements. The diesel filter is recommended by the carmaker after 40,000 km. The oil and air filter are part of regular service. Apart from that, the regular washing was there from inside and out. The executives at the workshop also suggested the owner of the Seltos to go for the underbody coating to protect the car from environmental elements. However, he strongly feels that there is no need for that.
Also read: How About This Kia Seltos 'Dark Edition' Modification?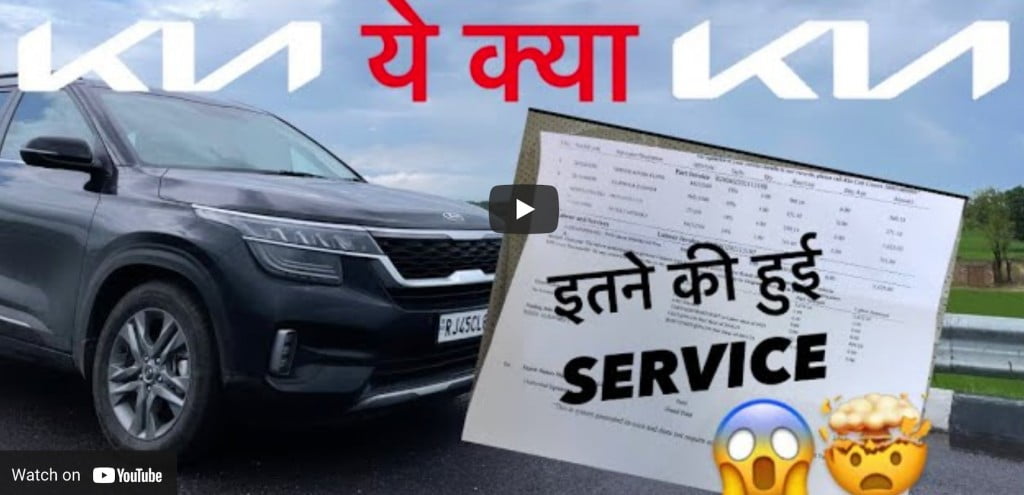 After the entire process, the total was around Rs 6,500. This is extremely affordable considering the fact that it is a diesel SUV and after 40,000 km. This is a great piece of information for those who are looking to buy the Seltos. The YouTuber also suggests not to go for the petrol powertrain in the Seltos. He tells that many customers are getting mileage of around 7 km and the prices of petrol are already over Rs 100 in most of the cities and even Rs 110 in some cities. This was the service cost of the Seltos diesel after 40,000 km.
Also read: Kia Seltos X-Line vs GTX+ Price & Features Comparison!
Join our official telegram channel for free latest updates and follow us on Google News here.