Datsun Go airbag model will be launched in August at a premium of INR 15,000
The Indian subsidiary of Nissan has launched an airbag model of its budget-end Datsun Go hatchback and Datsun Go+ MPV dubbed the Datsun Go T(O) and Datsun Go+ T(O). The Go hatchback and MPV will get a driver side airbag and the production of this model has commenced at the manufacturer's Oragadam plant near Chennai. It maybe noted that the Datsun Go has received a lot of flak for fairing miserably in the Global NCAP tests and while this move comes less than a year after the Go's poor crash test results, the manufacturer has insisted that the move to offer the Datsun Go airbag variant doesn't come on the back of below satisfactory NCAP ratings. Instead, the manufacturer goes on to say that the launch of the Datsun Go Airbag model was planned right at the inception of the Go project.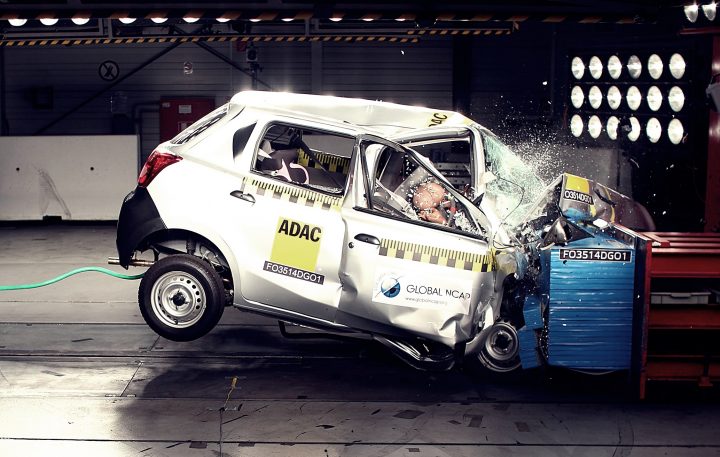 Launch
The Datsun Go airbag model will be available for purchase through dealerships across the country in August 2015.
Price
Prices for the Datsun Go airbag model are around INR 15,000 extra over the standard Go T trim.
Datsun Go T(O): INR 4,19,912
Datsun Go+ T(O): INR 4,81,319
all prices ex-showroom, New Delhi
The Datsun Go airbag model will be offered with a new top-end T(O) trim level which will be placed above the T trim level. It was back in November last year when the Go scored a zero in the NCAP crash tests and there was a huge outcry on this dismal crash performance by this budget-end model. The findings from the crash test led to FIA (Federation Internationale de l'Automobile) directing the manufacturer to stop the sales of the vehicle. While the lack of airbags has been cited as one of the reasons for poor crash test performance, the testing authorities have shown deep concerns over the car's poor structural rigidity.
Datsun Go Video Review
Now, it seems like Datsun has made amends to a certain extent by offering a driver-side airbag, which is sure to make the hatchback safer by some margin. However, the car's structural rigidity will continue to remain a matter of concern.
For the latest news on cars and bikes and their reviews, like us on Facebook or follow us on Twitter
Stay tuned to Car Blog India for details on the Datsun Go airbag model and other new from the automotive world.