It was in June, 2015 when renowned Italian two-wheeler marque, Ducati, commenced its second innings in the Indian bike market by launching the Ducati India Private Limited. With the launch of their Indian subsidiary, the manufacturer also inaugurated two new sales and service outlets- one each in Mumbai and Gurgaon. And now, it has emerged that in just two month since the beginning of its operations, Ducati has delivered its 100th motorcycle in Mumbai! Ducati India has garnered a great response for the Diavel and the Scrambler. Next, Ducati India plans to launch a new showroom in Bengaluru by October this year. Also, the manufacturer has plans of launching dealerships in Pune, Hyderabad, Kolkata, Chennai, Cochin, Chandigarh, Indore, Jaipur and Goa. Ducati India Pvt. Ltd is the youngest of 12 official subsidiaries owned worldwide by Ducati.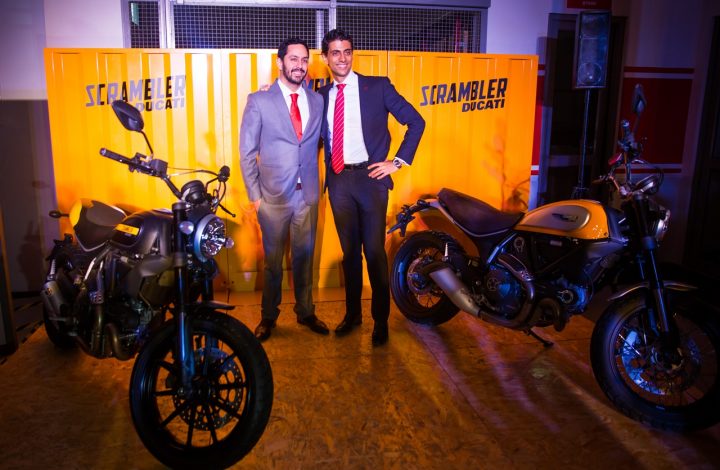 Updated Ducati India price list  –
Hypermotard – Rs 10.10 lacs
Hypermotard SP – Rs 19.20 lacs
Hyperstrada – Rs 11.10 lacs
Monster 795 – Rs 7.08 lacs
Monster 796 S2R – Rs 8.09 lacs
Monster 796 Corse Stripe – Rs 8.09 lacs
Monster 821 Dark – Rs 9.09 lacs
Monster 821 – Rs 9.59 lacs
Monster 1200 – Rs 19.95 lacs
Monster 1200 S – Rs 24.43 lacs
Monster 1200 S Stripe – Rs 25.83 lacs
899 Panigale – Rs 13.11 lacs
1299 Panigale – Rs 32.57 lacs
1299 Panigale S – Rs 40.16 lacs
Panigale R – 46.75 lacs
Diavel – Rs 13.92 lacs
Diavel Carbon – Rs 17.54 lacs
Diavel Titanium – Rs 37.30 lacs
Scrambler  – Rs 6.77 lacs
(Prices ex-showroom, Delhi)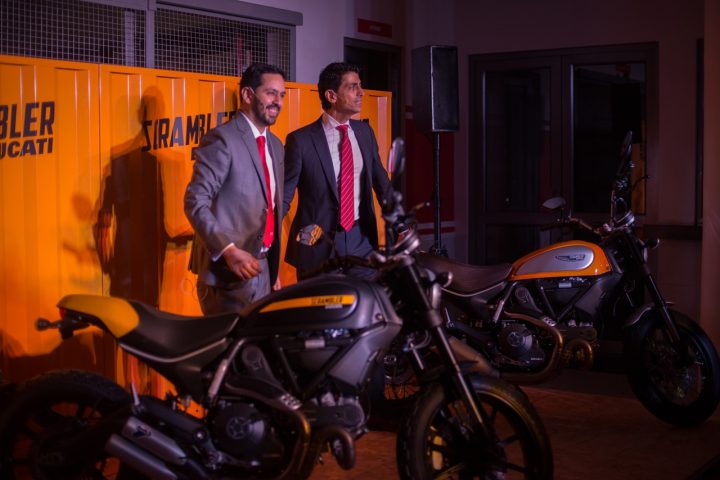 During a press conference, Mr. Pierfrancesco Scalzo (Ducati Asia General Manager – Sales and Marketing) spoke about the brand's history, its Italian heritage and current range, while Mr. Ravi Avalur (Ducati India Pvt. Ltd Managing Director) presented plans for India's network, confirmed the opening of a new dealership in UB City, Bangalore in October 2015 and unveiled the the two new Scrambler variants.
Remarking on Ducati's official entry to India, Pierfrancesco Scalzo said:. "In 2013 we began our groundwork in India and our belief in the market has been reaffirmed. This has been possible with great partners such as AMP, Infinity and VST. I have travelled extensively across the length and breadth of India, met Ducatisti, felt their passion and know that we will be successful in this country. Ducati will provide the same high standards of service in India as we do everywhere else in the world."
"We introduced the Scrambler Icon in June and were overwhelmed with the positive response from our customers," said Ravi Avalur. Now, we're proud to unveil the Scrambler Classic and Full Throttle and are confident that motorcyclists will love these versatile machines also. Of the two new Scrambler variants introduced, the Classic is aimed at those who appreciate attention to detail and 1970s style, but who don't want to compromise on riding pleasure and functionality. The Full Throttle version, inspired by the flat track world, is destined for those who want a motorcycle perfect for every-day use and with a distinctive racing style."
Stay tuned to Car Blog India for more updates from Ducati India.