After Wagon R and SX4, Suzuki is polishing the outer features of another machine Ertiga at Indonesia. Maruti Ertiga was launched in India in the year 2012. At the time of launch Maruti had put it in category of LUV that is Lifestyle Utility Vehicle. This LUV/MPV of Maruti Suzuki is seven sitters and has three rows. Like all other Maruti cars its best feature is less requirement of maintenance. Suzuki Ertiga is available in both diesel and petrol variants. In India six models of the car are available – Lxi, VXi, ZXi, LDi, VDi and Zdi. Suzuki Ertiga was initially designed keeping in mind the taste and requirement of the Indian customer, later on changes were made according to other countries. Recently,Suzuki has slightly refreshed the model in Indonesia giving it a slightly premium look on the outside and some feature improvements on the inside.
Ertiga is popular in Indonesia also as in India. In 2013 Suzuki is launching three models of Ertiga in Indonesia – GA, GL and GX. For this purpose, Suzuki has done a little make over to its two models GL and GX for the Indonesian market. The front grill of Ertiga which has a honeycomb mesh design is now a very sober three horizontal chrome stripes. The car is fitted with an advance blower with its fan at front and middle row.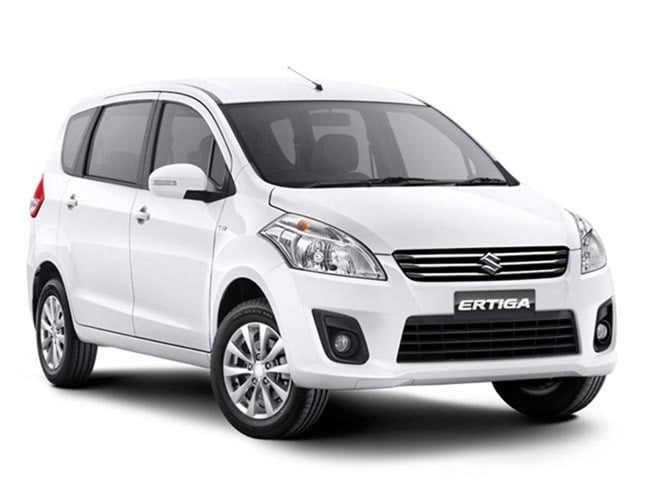 This is first of its kind for the Indonesian car market. This feature is already available in the models of Ertiga in India. The GA model of Ertiga will have single A/C vent as a marketing strategy to keep the starting price attractive. The GX model is priced the highest of the three. But not just a hefty label is attached to it, it comes with a number of advance features like dual airbags, ABS, side impact beam and engine immobilizer. The GL model is available with engine immobilizer and side impact beam. We are not sure if Maruti will bring this facelift to India as the car is already clocking great numbers and Maruti seems in no Hurry to update its looks in India.
Interestingly, Mazda will also be coming up with its own rebadged Ertiga called as Mazda VX-1 in Indonesia which has been spied recently. The recent refresh of the Ertiga in Indonesia will also help it look distinct from the VX-1 from Mazda. We will keep you posted on the developments, stay tuned to Car Blog India for latest updates.