This is the first-ever Renault Kiger with 17-inch alloys. Tyres and alloys modification is on a rise these days. Many people for aftermarket modifications to their brand new cars to make them look unique and more desirable. This industry has seen tremendous growth in recent times. People are getting more and more passionate about their automobiles which has given a boost to this sector of the industry. Renault Kiger is a popular compact SUV that boasts of being the most affordable product in the segment. People already have enough reasons to buy it. But this modification of equipping the Renault Kiger with massive 17-inch alloys takes its desirability quotient to another level altogether. Here are the details.
Also read: Olympics Silver Medalist Saikhom Mirabai Receives A Brand New Renault Kiger!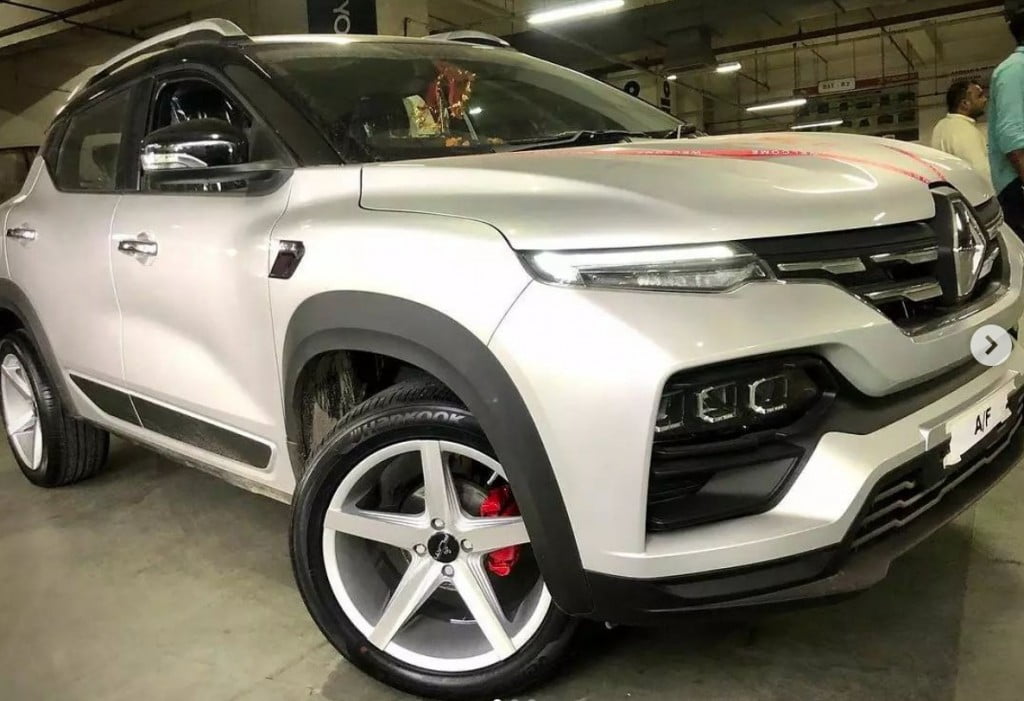 Renault Kiger with 17-inch Alloys
The images show a silver-coloured Renault Kiger sporting silver-finished 5-spoke alloy wheels. These are chunky 17-inchers which makes the car stand out. The rotors inside are finished in red paint which accentuates the sporty element of the compact SUV. The large wheel arches are filled nicely with these upsized tyres. The ground clearance seems to have improved as well. But the looks of it, it feels like the tyres are also low profile units. This ensures better traction and great handling by virtue of being broader than the stock tyres. The downside to these tyres is that the ride quality is compromised a lot. You will be able to feel the potholes and undulations of the road considerably. That is the reason these tyres are not found on budget cars with regular inspection systems.
Also read: Hyundai i20 vs Renault Kiger – Clash Of Segments – Features, Prices, Specs Comparison!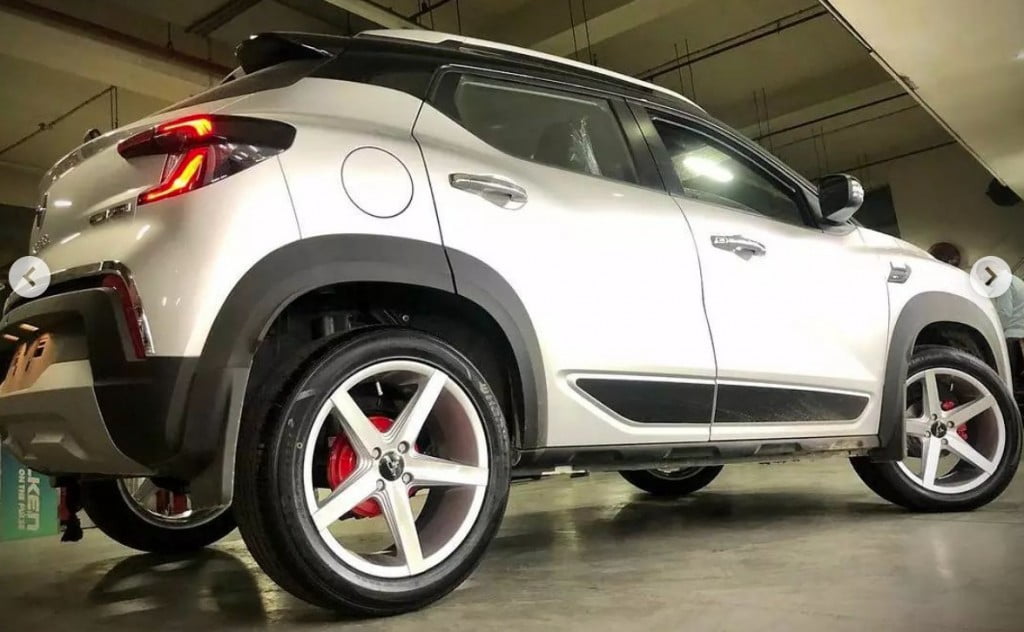 Specs
The Renault Kiger comes with only a petrol-powered engine option in two states of tune. There is a 1.0-litre naturally aspirated unit making 71 hp and 96 Nm and a 1.0-litre turbo petrol unit making 99 hp and 160 Nm. These engines come with either a 5-speed manual, 5-speed AMT or a CVT automatic transmission. The prices of the Kiger range between Rs 5.64 lakh and Rs 10.09 lakh, ex-showroom. The direct rivalry comes from its sibling in the form of Nissan Magnite. However, the price tag makes it a worthy alternative to the likes of hatchbacks and premium hatchbacks in the market as well.
Also read: 10 Compact SUVs Under Rs 10 Lakh With The Largest Boot Space Comparison!
Image Source: Platialloys