Tata Harrier is a robust and bold SUV but doesn't get a 4WD system. Nevertheless, it doesn't stop the SUV to take on harsh challenges.
In this short video clip, an FWD Tata Harrier is seen easily gliding on snow. Harrier became an instant hit among car buyers ever since its launch back in 2019. After that, competitors like the MG Hector and Mahindra XUV700 arrived. But the sales of the Harrier are still decent. This is due to the people taking a liking to the build quality, premium cabin feel and bold looks. Now, this YouTube Shorts clip also highlights its capabilities in snowy conditions.
You may also like: WATCH Tata Harrier Roll Forward Automatically on Magnetic Hill in Ladakh
You may also like: Tata Harrier Facelift Looks Snazzier in Latest Illustration
FWD Tata Harrier in Snow
The video clip combines a few scenarios starting with snow. A Harrier with an HR registration plate is seen basking in the snow. As such, there are no issues with the vehicle as it glides over it with ease. Then the video transitions to the SUV moving confidently on the mountainous roads. Harrier has always been applauded for being a rugged SUV that can take on almost any terrain. It doesn't have a 4×4 drivetrain which prevents people from taking it on extreme off-road adventures, but it is capable of conquering mild off-tarmac excursions.
You may also like: Tata Harrier Rolls Over 4 Times at High Speed, Driver Safe
Nevertheless, we would advise you not to get yourself in such a situation demanding too much from your SUV. Officially, it is not meant for off-roading adventures. Also, it is never a good idea to take any vehicle off-roading when it doesn't possess 4×4 or AWD capabilities. Hence, one must not lose the sense of logic amidst the adrenaline rush to go on an adventure. Safety must always be the priority.
You may also like: 5 Advantages of Tata Harrier Over Mahindra Scorpio N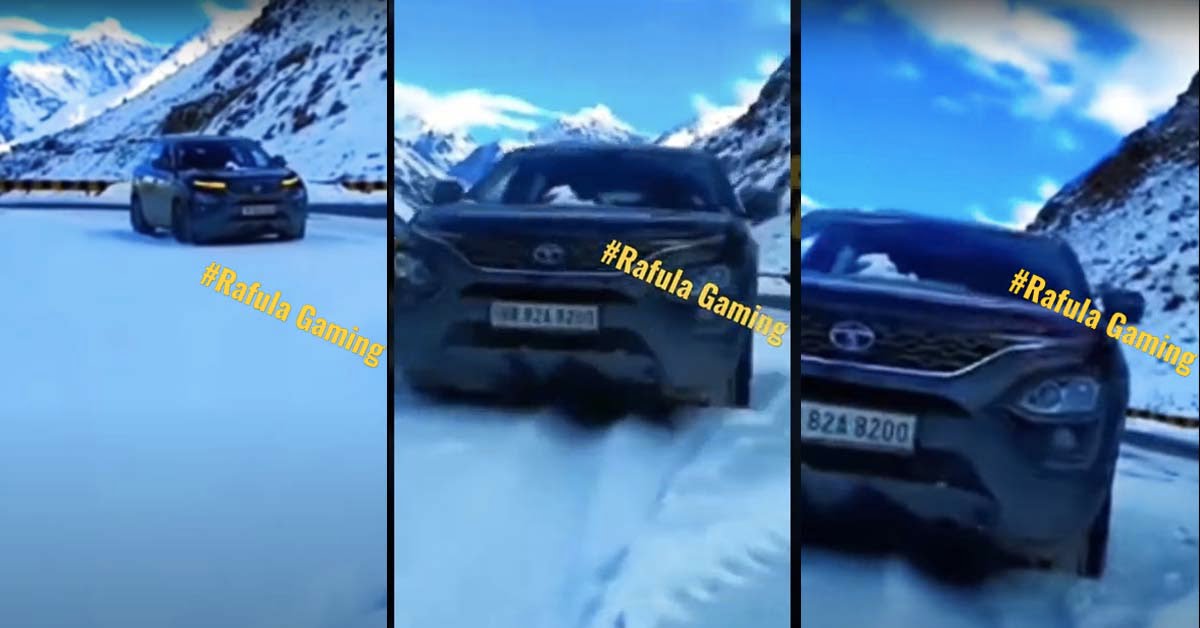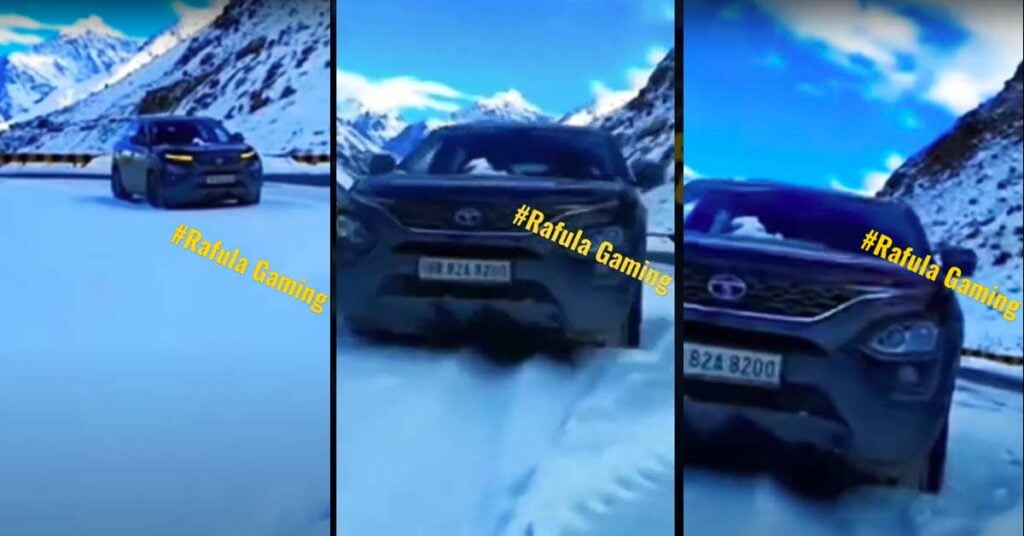 Specs
The regular Tata Harrier comes with a 2.0-litre diesel engine that belts out 170 PS and 350 Nm of peak power and torque respectively. The transmission duties are carried out by either a 6-speed manual or an automatic gearbox. The prices of the Harrier range between Rs 14.70 lakh and Rs 21.90 lakh, ex-showroom. Harrier is due for a facelift for quite a while now. We might finally witness an updated Harrier soon, especially after stiff competition from the rivals making the segment very exciting and competitive.