Hyundai Motor India Ltd, one of the most popular car manufacturers in the country and the largest car exporter in India, is observing Road Safety Week with Safe Move Campaign across its service network. Last year, Hyundai launched 'Safe Move-Road Safety' Awareness Films. This Hyundai Corporate Social Responsibility (CSR) program was introduced with a focus on bringing behavioral change among car users. The key communication focuses on Safe Driving habits related to Use of Seat Belts, Over Speeding, Drunk Driving, and Mobile phones usage while driving. Hyundai Motor Group CSR constitutes four major classifications – "Safe Move, Green Move, Happy Move and Easy Move". Among these, Safe Move is a key pillar of Hyundai's CSR program on Traffic Safety Campaign. Read on to find more about the latest Hyundai Corporate Social Responsibility initiative.
Hyundai Road Safety Awareness Program
This will be week-long engagement camp from Jan 11-17 that will be conducted at all Hyundai Workshops across India, alongside outreach camps near Residential colonies, Office Parking's, Malls, Colleges and Petrol Pumps. They will also reach out to all 7 Million Hyundai owners through text messages. As part of this program, HMIL will run education sessions at all dealer workshops with an objective to bring 'Behavioural Change' in their driving habits and will also use this as an opportunity to demonstrate the safety features of the vehicles.  
Apart from the Road Safety Education, customers will get Free 20-point safety checkup of their cars, Free Top Wash and 5% discount on safety related parts and labour. Hyundai will also encourage children to paint and present a slogan on safety while customers will take a road safety pledge which will be shared via social networking sites.
Safe Move – #BeTheBetterGuy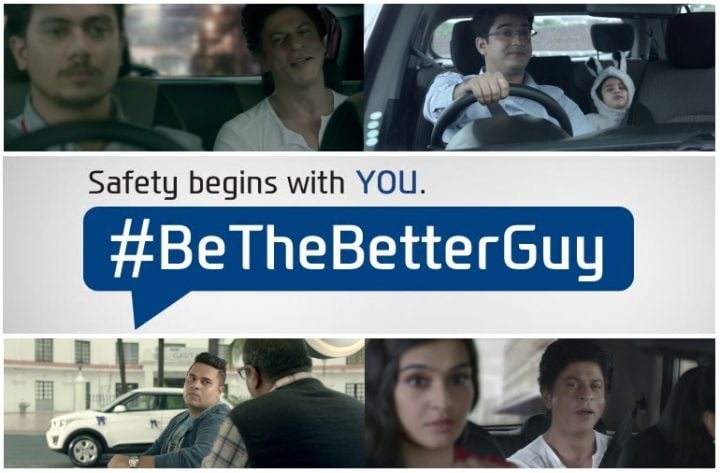 As part of the campaign, Hyundai India will release four films each focusing on a different cause of road accidents. The messages in these films revolve around creating innovative content, emphasizing on to 'Be The Better Guy' in an adverse situation related to road safety and Behavioural Change
Mobile phones usage while driving
Other short films will be released in the coming days. They will be uploaded to their official YouTube channel.
Commenting on the release of the video, Mr. YK Koo, Managing Director and CEO, Hyundai Motor India Ltd. said, "Hyundai Motor India is a Caring Brand, we want all the drivers to realize the importance of safe and responsible driving. We are confident that with these films, Safe Move Campaign will become a Social Movement with people's participation for a better future."
Last year in December Hyundai India launched the 'Safe Move – Traffic Safety Campaign'. The Safe Move official Traffic Safety Campaign educates the children on the Traffic Safety. This initiative has both online and offline engagement channels. The Robocar Poli animation series along with a message from Honorable Minister of Road Transport & Highways and Shipping Mr. Nitin Gadkari and Hyundai Corporate Brand Ambassador Mr. Shah Rukh Khan was aired on Hungama TV channel. The 26 episode series is available in English, Hindi and Tamil languages. Along with the TV airing, special School Contact and RWA (Residential Welfare Association) programs have been designed to reach out and spread the Traffic Safety message across the multiple cities in India. The School and RWA Contact Program were initially activated in 5 major cities – Delhi, Mumbai, Chennai, Kolkata, and Ahmedabad. Hyundai will target 10 cities by the end of this year.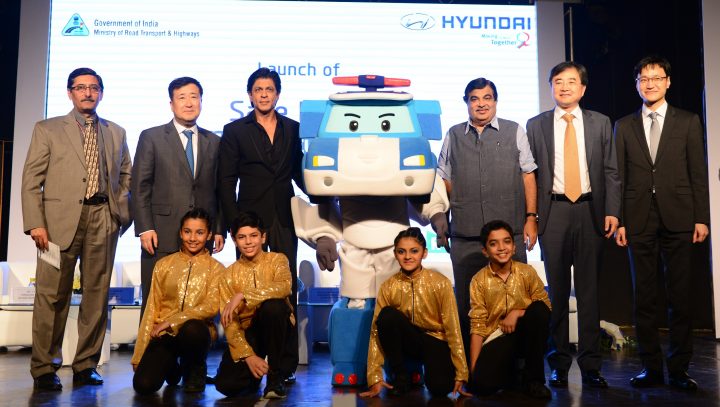 Stay tuned to Car Blog India for more on this Hyundai Corporate Social Responsibility initiative.