The Indian Car sales annual report states that the car sales growth in Indian market are touching the lowest mark in last 12 years. The reports also showed the growing inclination of Indian consumer towards utility vehicles as compared to cars. The month of March itself registered delivery of 5 lakh utility vehicles.
The total car sales during the financial year 2012-13 dipped by 6.7% with sales of 18.95 lakh vehicles. Such low growth figures have been attained by the market after a period of almost 12 years. Last dip in car sales was reported in the 2001 with a decline of 7.7%. Some of the major factors responsible for this mundane attitude of market are sluggish economy, high interest rates, and rapidly rising fuel prices. The car sales in the month of March fell by 23 % on a year-on-year basis.
The only silver lining of the cloud is the sales of utility vehicles that has helped some auto majors to stand the storm. This segment has registered a growth of 52 percent with 5.53 lakh units that were sold in the total period of 12 months. This growth has helped in keeping a hope alive that other segments too sooner recover and show similar kind of growth.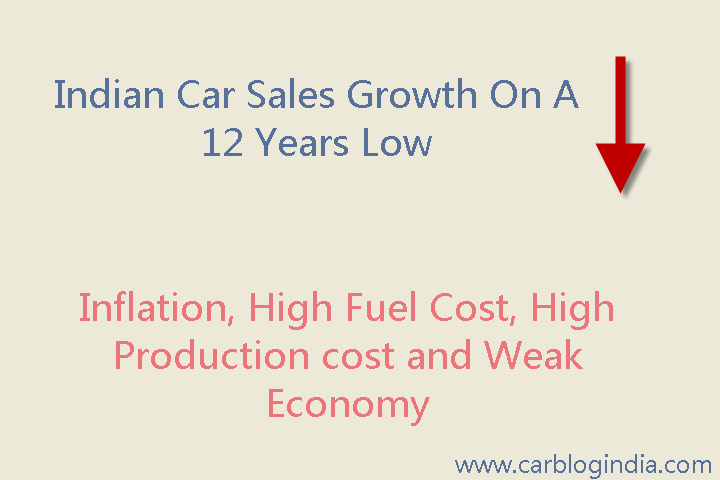 This hope has been strengthened by SIAM forecast, it has stated in its annual forecast that the passenger car segment along with utility cars segment may take a rise of 5-7 percent in the crowning month of financial year 2013-14.
As the SIAM president, S. Sandilya, stated that "After a tough year, we are optimistic for the future. Automotive is directly linked to the economy and going by the recent initiatives of the government to spend more, we are expecting demand to pick up and translate into improved sales in the coming months."
SIAM also expects the states and municipal government to spare higher amounts for the JNNURM project under which they plan to purchase around 10, 000 new buses. They also believe that if families are benefited with direct cash or monetary privileges, it will help in raising demand.
Trade figures of Mahindra and Mahindra grew by 27 percent during the financial year that ended on 31st March, 2013. Some of the main segments that helped in achieving these figures were crossovers and utility vehicles. The chief executive of Mahindra, P N Shah, said that it was the increase in demand for off roaders and utility vehicles that Mahindra was able to outdo most of its competitors. He further added that they are expecting the growth rates to go higher during the Fy'14 as they possess exactly the kind of products that are required to sustain in the Indian automotive market.
It was the same demand for utility vehicles that helped the French car manufacturer Renault in trading over 40, 000 compact SUVs in the market since its launch 9 months ago. Duster took over others like Skoda Auto, Fiat India in no time and reached at a higher position.
Join us for FREE NEWS Updates on our Whatsapp Community or our official telegram channel.