The Mahindra XUV700 continues to break national records by acing the Speed Endurance Challenge. It is a unique test where the vehicle is driven for 24 hours stopping only for quick refuelling and driver changes. The test was conducted at the Mahindra SUV Proving Track (MSPT). While completing this gruelling test, the XUV700 broke around 80 additional records. The mid-size SUV was driven for 24 hours with an average speed range of 170-180 km/h. There were 4 XUVs in total with all the four engine-gearbox combinations. This includes petrol and diesel engines with manual and automatic gearboxes. The petrol manual was able to clock 4232 km, the petrol automatic did 4155 km, the diesel automatic achieved 4256 km and the diesel manual led the race by completing 4384 km.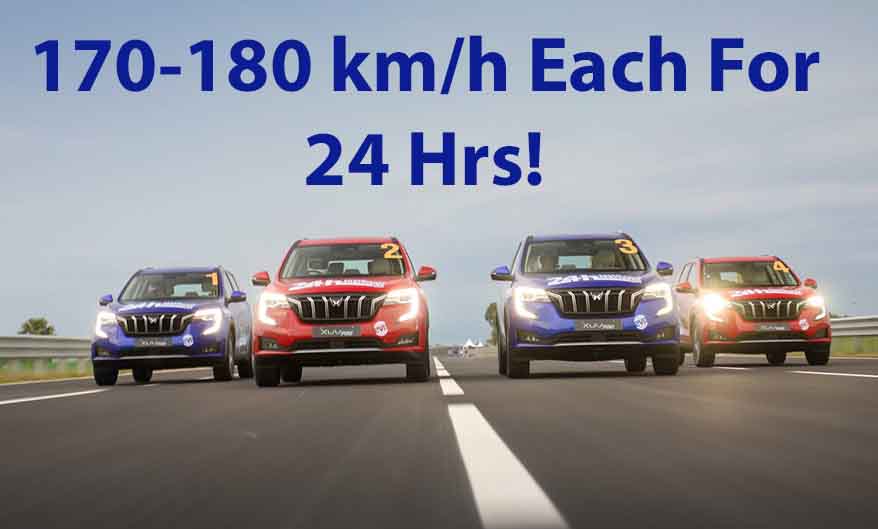 Also read: Hyundai Creta Tests 'Build Quality' of Fibre Tailgate of Mahindra XUV700!
Mahindra XUV700 – National Speed Endurance Challenge
The Mahindra XUV700 has become extremely popular right from the word go. Within the first 3 hours of opening, the SUV received over 50,000 bookings which is a landmark in itself. As a matter of fact, Mahindra is likely to face tough situations due to the semiconductor issues which might affect the production process. The launch of the XUV700 was already affected in the first place due to the very same reason. Hence, it is going to be challenging times ahead for the Indian auto giant but then again, it is a great problem to have. With products like Thar and XUV700, the manufacturing facilities will see to it that the capacities are utilized to the full effect. Afterall, it takes time to manufacture the XUV700 which has the capability to ace the national speed endurance challenge.
Also read: How About a Bug Deflector For Mahindra XUV700?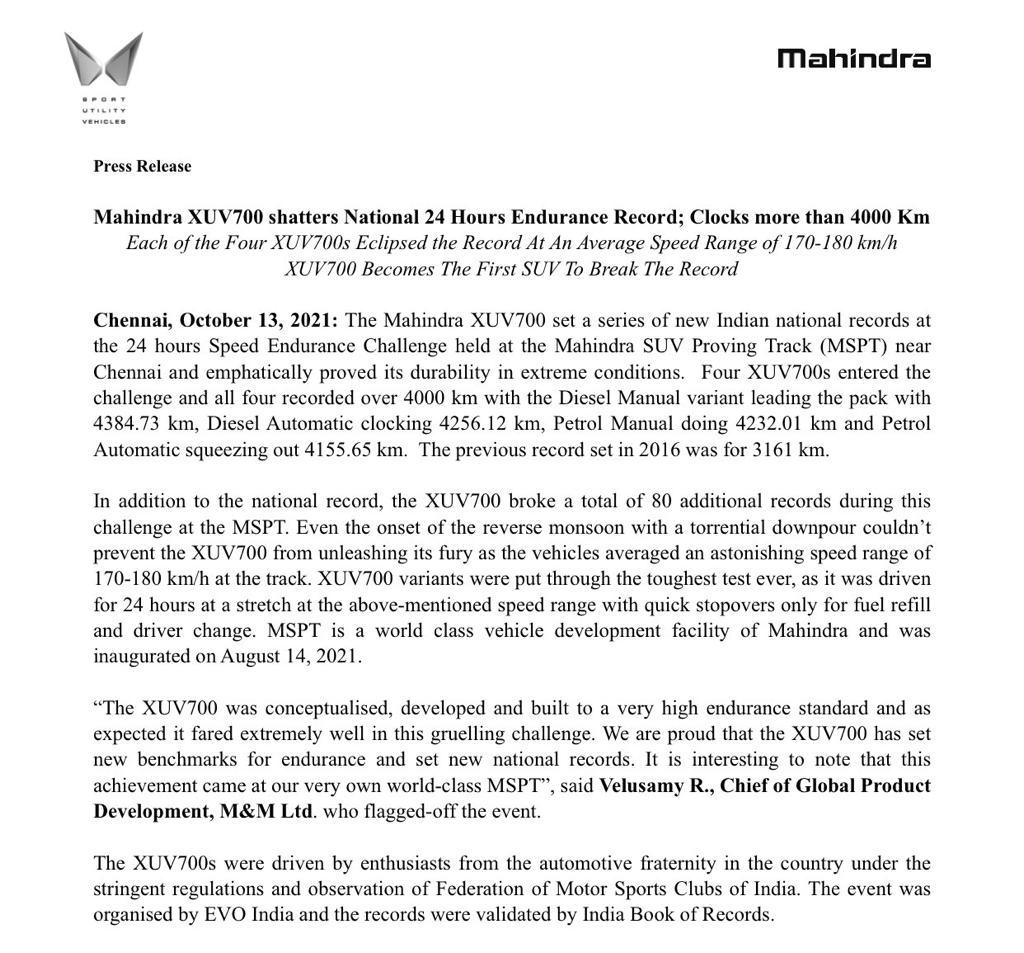 Specs
The Mahindra XUV700 comes with both petrol and diesel engine options. The former is a 2.0-litre turbocharged unit that churns out a maximum power of 200 PS and a peak torque of 380 Nm. Meanwhile, the Diesel engine is available in multiple states of tune. The lower versions get 155 PS and 360 Nm, while the higher positioned models benefit from 185 PS and 420 Nm. In fact, the same engine will put out 450 Nm with an automatic transmission. Speaking of the transmission options, both the petrol and Diesel engine variants will be available with 6-speed manual and automatic transmission choices. After the price hike, the XUV700 ranges from Rs 12.49 lakh to Rs 22.99 lakh, ex-showroom. The top trim comes with a diesel automatic and All-Wheel-Drive configuration.
Also read: Pakistani Couple Reacts To Top 7 Reasons To Buy Mahindra XUV700!
Join our official telegram channel for free latest updates and follow us on Google News here.