It is not every day that one gets to witness a drag race between two 7-seater mid-size SUVs. Check out the video of this race to see who came out on top.
This is one of the very few instances to share a video of the drag race between Mahindra XUV700 and Tata Safari. Now, these are the two direct rivals in our market and feature in the 7-seat mid-size SUV segment. Also, it is a rivalry between the two Indian auto giants in Tata and Mahindra. The Safari has been around for quite a while and is an extended version of the Harrier. On the other hand, XUV700 is the newest arrival in the segment and has taken the market by storm. It replaces the XUV500 and has already bagged north of 70,000 bookings within a month of launch. But, what happens when these two go toe-to-toe in a drag race? Let us find out!
XUV700 & Safari Drag Race
The video starts with the two drivers parking the SUVs side by side. They decide to begin the race in the sportiest drive modes that both the SUVs offer. Also, they switch off the AC so that the performance could be judged solely on the basis of the raw power that each engine has to offer. In the first attempt, the XUV700 took some time to launch. It could be the fault of the driver as well. However, within a few seconds, it caught the Safari and overtook it quite effortlessly. The drivers decided to switch the cars for the second attempt. This time around, the launch was almost perfect. The XUV700 remained ahead from the beginning until the very end. This could be attributed to the higher power and torque figures of the XUV700 in comparison to the Safari.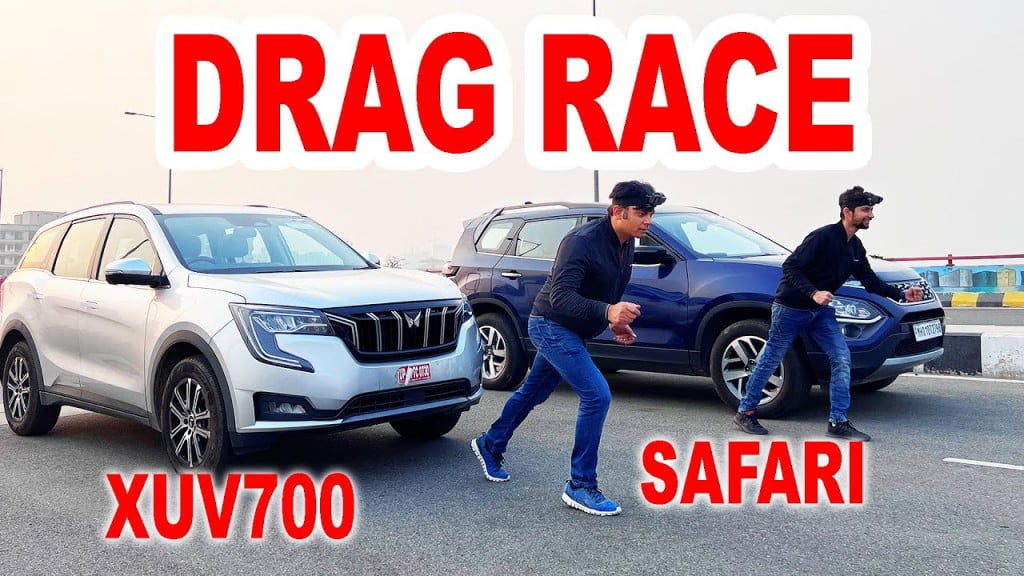 Specs
Tata Safari comes with the 2.0-litre Kryotec diesel engine making 170 PS and 350 Nm of peak power and torque respectively. There is the option of either a 6-speed manual or an automatic gearbox. The diesel engine of the XUV700 is a 2.2-litre unit producing 185 PS and 420 Nm (420 Nm in automatic version). The transmission options include either a 6-speed manual or automatic gearbox. The higher power and torque in the XUV700 are also reflected in the performance in this drag race.
Join our official telegram channel for free latest updates and follow us on Google News here.