The new Mahindra Thar and Ford Endeavour are poles apart in most aspects. However, a drag race is something that brings them close and here's a video that shows some interesting results

The second-generation Thar has been one of the most successful product launches in recent memory in India. Demands are off the charts, with Mahindra having to increase production by 50% to meet them. Even then, if you book a Mahindra Thar now, chances are that it is not getting delivered anytime before next year. The 2020 Thar is an all-new model that is based on a completely different platform and gets new powertrain options. Unlike its beloved predecessor which was a hardcore off-roader, the new one comes with modern creature comforts and features that make it a genuine daily driver, without compromising on its off-road capabilities. Today we came across this video of a second-generation Thar going against a Ford Endeavour in a drag race.
Also Read: New Mahindra Thar Waiting Period Now Exceeds 12 Months!
The video has been uploaded by HEAT 17 on YouTube. The format is a quarter-mile drag race with 2 runs to get an accurate representation. Both vehicles have their traction controls on while the Mahindra Thar is in RWD mode compared to the Ford Endeavour's AWD mode. The first run sees the Thar taking the lead off the start and never relinquishing it, with the Endeavour taking around half a second more to complete the run. The results stay the same for the second and final run as well, the Thar winning comfortably after taking the lead quickly at the start.
The result can be a little surprising for some, given the Ford Endeavour makes higher peak figures of 170 PS/420 Nm compared to the Mahindra Thar's 130 PS/320 Nm. The Endeavour weighs just over 2.4 tonnes, which is over 650 kilos more than the Thar's 1.75 tonnes. This means the Mahindra even with a lower power figure has a better power-to-weight ratio, which enables it to win comfortably against the Ford.
Also read: 2020 Mahindra Thar receives a 4-star safety rating at the Global NCAP!
Prices for the new Mahindra Thar range between Rs 12.10 lakh – Rs 14.15 lakh, ex-showroom. Mahindra has discontinued the launch base variants as there wasn't enough demand. The new Thar comes with 2 engine options, a 2.2-litre turbo-diesel, and a 2-litre turbo-petrol. The oil-burner makes 130 PS/320 Nm of peak figures while the petrol makes 150 PS/320 Nm of max figures. Transmission options for both the powertrains are a 6-speed manual and a 6-speed automatic with a low range box. You also get a transfer case and a mechanically locking centre differential for proper off-roading.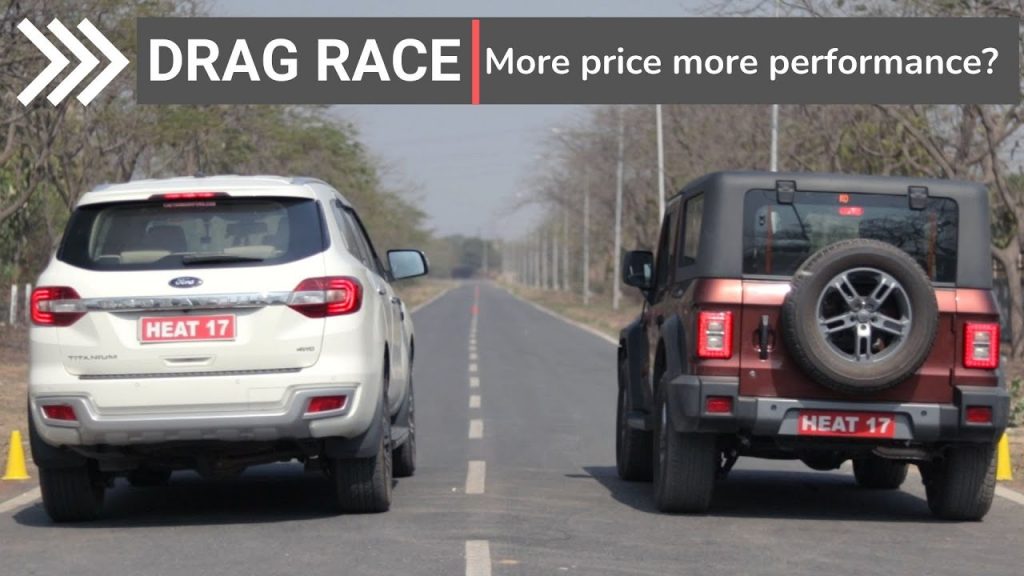 Also read: Check out the performance of 2020 Mahindra Thar in snow – Video!
Prices for the Ford Endeavour range from Rs 29.99 lakh for the base variant to Rs 36.25 lakh for the flagship Sport variant, ex-showroom. It comes with a 2-litre turbo-diesel unit that makes 170 PS/420 Nm of peak figures and is mated to a 10-speed torque converter automatic transmission.
For the latest car news, stay tuned to CarBlogIndia!