Yamaha India Motorcycles, the Indian subsidiary of the Japanese two-wheeler giant, plans to launch the Yamaha R15 V3 in India. The version 3.0 replaces the Version 2.0 in the entry-level performance segment of the Indian motorcycle market. The R15 V3.0 is already on sale in certain South Asian markets, such as those of Indonesia and Malaysia. At the first glance, the upcoming new Yamaha motorcycle in India looks like a slightly smaller YZF-R6. In comparison to the R15 V2.0, the new model looks considerably more attractive. But there's definitely more to the new model. It also gets better specs and more features than the current model. Hence, here, in this post, we compare the new and old model in this new Yamaha R15 V3 vs old R15 V2 comparison to give you a good idea of how different these two are.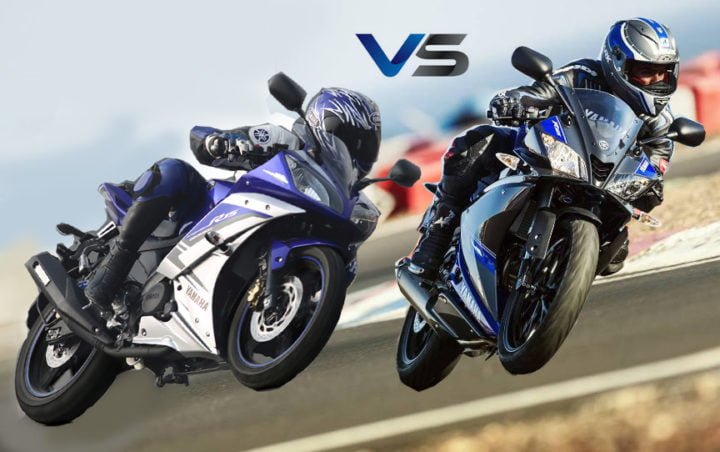 Also See – Upcoming Yamaha Bikes in India | Yamaha at Auto Expo 2018
New Yamaha R15 V3 vs Old R15 Price
| | | |
| --- | --- | --- |
| | New R15 V3 | Old R15 V2 |
| Price (ex-showroom) | Rs. 1.35 Lakh* | Rs. 1.18 Lakh** |
*expected
Currently, the Yamaha R15 has an ex-showroom price of Rs 1.18 lakh in New Delhi. This makes the full-fairing bike the most expensive model in its class. However, there are very good chances that the V3.0 will cost even more and have an ex-showroom price tag of Rs 1.35 lakh. That said, the additional features and better specifications will help the product make up for the increase in price.
New Yamaha R15 V3 vs Old R15 Specifications
| | | |
| --- | --- | --- |
| | New R15 V3 | Old R15 V2 |
| Engine | 155cc, single-cylinder, fuel-injected, liquid-cooled | 149cc, single-cylinder, fuel-injected, liquid-cooled |
| Max. Power | 19.31 PS | 17 PS |
| Peak Torque | 14.7 Nm | 15 Nm |
| Transmission | 6-Speed Manual | 6-Speed Manual |
| Front Suspension | USDs | Conventional Telescopic Forks |
| Rear Suspension | Monoshock | Monoshock |
The full-fairing 150cc supersports motorcycle is currently powered by a 149cc, single-cylinder, liquid-cooled, 4-stroke engine that boasts SOHC technology. The motor outputs a maximum power of 17 PS along with a peak torque of 15 Nm. The engine comes mated to a 6-speed manual transmission. In comparison, the new V3.0 comes with a 155cc motor that benefits from forged piston and lighter DiASil (Direct Aluminium Silicon) cylinder. The new engine is capable of producing as much as 2.31 PS more but its peak torque is rated at 0.3 Nm lower.
Even the new engine comes mated to a 6-speed manual transmission. The model on sale in Indonesia comes with a slipper clutch and soft compound tyres from Pirelli. The India-spec version will likely offer MRF rubber to keep costs in check.
New Yamaha R15 V3 vs Old R15 Mileage
| | | |
| --- | --- | --- |
| | New R15 V3 | Old R15 V2 |
| Average Mileage | 37 KMPL | 38 KMPL |
In spite of a substantial increase in power, the mileage won't have a huge difference. This is because the new engine has more modern internals that makes it slightly more efficient. We are pretty sure that the new model will be able to offer a fuel efficiency of around 37 kmpl. In comparison, the V2 offers around 38 KMPL. As you can see, the difference in the mileage figures will be still almost negligible, which means prospective buyers won't have much of an issue with the fuel efficiency of the V3.
New Yamaha R15 V3 vs Old R15 V2 Top Speed
| | | |
| --- | --- | --- |
| | 2017 Yamaha R15 V3 | Yamaha R15 V2 |
| Top Speed | 135 KMPH* | 130 KMPH |
*expected
The new Yamaha R15 V3 will come with a more powerful and a slightly bigger engine. Hence, it all translates into a higher top speed. We are pretty sure that the new motorcycle will have a top whack of around 135 KMPH. The V2 can hit a maximum velocity of roughly 130 KMPH. Please note that we are talking about true top speed figures here.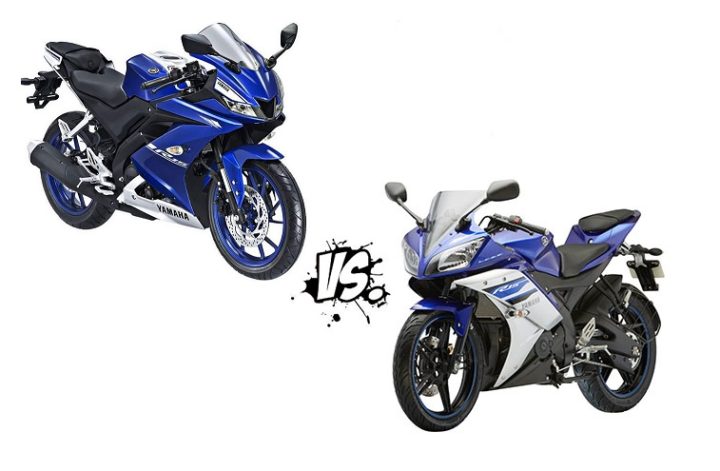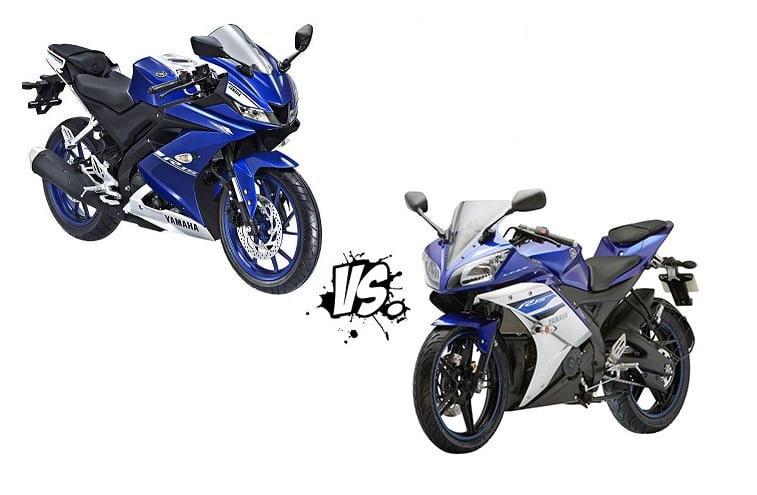 New Yamaha R15 V3 vs Old R15 V2 Features
The new 2017 Yamaha YZF R15 V3.0 will offer much more features than the old R15 V2. Here is a list of all the features that the new R15 offers-
Twin LED Headlamps
Fairing-mounted Rear View Mirrors
Upside Down Front Forks
Tank Protector
Body Decals
Aircraft-type Fuel Filler Cap
Split Seats
Rear Mono-suspension
Digital Speedo Console
Clip-ons Handlebar
Alloy Foot-pegs
LED Taillight
Alloy Wheels
Tubeless Tyres
Front Disc Brake
Rear Disc Brake
Sporty Rear Registration Plate Bracket
Slipper Clutch
New Yamaha R15 V3 vs Old R15 V2 Dimensions
| | | |
| --- | --- | --- |
| Dimension | New R15 V3.0 | Old R15 V2.0 |
| Length | 1,990 mm | 1,970 mm |
| Width | 725 mm | 670 mm |
| Height | 1,135 mm | 1,200 mm |
| Wheelbase | 1,325 mm | 1,345 mm |
| Fuel Tank | 11-litres | 12-litres |
The new model R15 measures 1,990 mm in length, 725 mm in width, and 1,135 mm in width. The Old R15 measures 1,970 mm in length, 670 mm in width, and 1070 mm in height.  The new model has a shorter wheelbase (by 20 mm). It also gets a slightly smaller fuel tank. If you compare the fuel tank capacities, the new model has a 1-litre smaller tank.
New Yamaha R15 V3 vs Old R15 V2 Design
The new version of Yamaha's 150cc supersports bike looks a lot like a smaller YZF-R6. Also, it looks sportier than the R15 V2. It gets many new body panels, which, along with the new USDs, make the V3.0 look like a bigger machine. Also, the new paint options and decals make the bike look more attractive. The 'pièce de résistance', however, are those stylish LED headlamps. The R15 V3.0 also gets a new speedo and a better riding position. While the R15 V2.0 received a lot of flak for its very uncomfortable pillion seat, the V3.0 isn't likely to face this issue. At first glance, the new 2017 Yamaha R15 V3 seems to bear a resemblance with the Honda CBR600RR. However, a closer look reveals the bike actually takes some design cues from YZF R125 and YZF R6. Basically, all this is definitely a lot fresher than the mini-me R1 looks of the V2.0.
New Yamaha R15 V3 vs Old R15 Verdict
Price- Yes, the V3.0 will be considerably costlier than the V2.0. However, the new model will make up for the increase in price by offering more features.
Specifications- The new model offers more power, a better suspension, and basically, overall better specs.
Mileage- The V2.0 will offer only slightly higher mileage.
Top Speed- The new motorcycle is slightly faster than the version 2.0.
Design- Well, design is a highly subjective area. That said, we do note that the new motorcycle looks a lot like a baby YZF-R6. It looks more matured and definitely more modern than the V2.
So, what do you say about our new Yamaha R15 v3 vs old R15 v2 comparison? Do you have some more parameters where you want us to compare the two motorcycles? Let us know by commenting below.
Join our official telegram channel for free latest updates and follow us on Google News here.