Here is an old Ford Endeavour that looks like a wannabe Bronco. Bronco has made headlines in the international market for being a modern off-roading SUV with all the credentials. In the American markets, it is a direct rival to the legendary Jeep Wrangler. India didn't get the Bronco but the off-roading community has come up with an exciting way to get as close to it as possible. These images represent some off-roading enthusiasts and Ford fans who have tried their level best to make this age-old Endeavour into something like a Bronco. Whether they have failed or succeeded in doing that could be up for discussion. We are here to discuss the unique design elements of this Endeavour in a bid to look like a Bronco.
Also read: First-Ever Ford Endeavour With XXL-Size 28-Inchers – This is IT!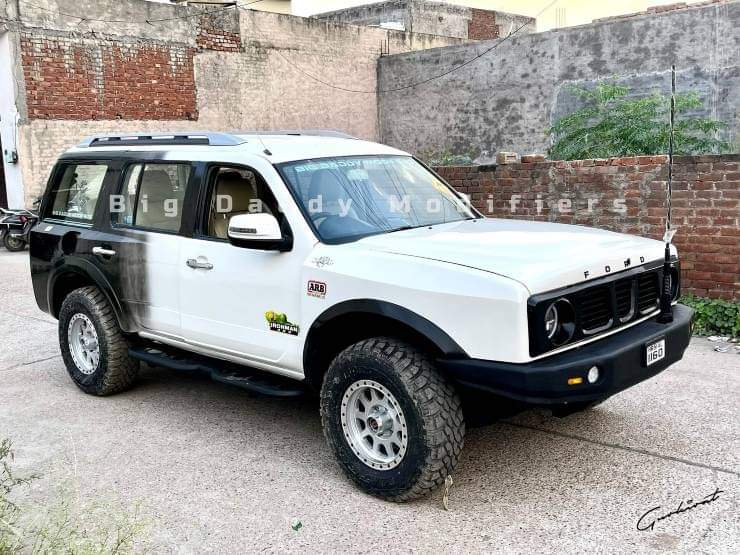 Ford Endeavour – A Wannabe Bronco
The front fascia of this Endeavour has been modified quite a bit to ensure some resemblance with the Bronco. Although, not much has been altered here. The overall silhouette remains that of an Endeavour itself. There has been a paint job and some cosmetic tweaks to make it look unique. The front grille has been blacked out completely to give it a retro look. The headlamps are round just like in hardcore off-roading SUVs. The bumper is cut from the sides to ensure a great approach angle. Moving to the sides, there are chunky wheel arches. The wheels are sporty with high profile tyres and off-road-oriented treads. There are roof rails and side steps for eased ingress and egress. The rear overhang is long signifying the size of the vehicle. Endeavour is a 7-seater SUV with a third row.
Also read: Ford Endeavour X Expedition Mashup – Looks Great, No?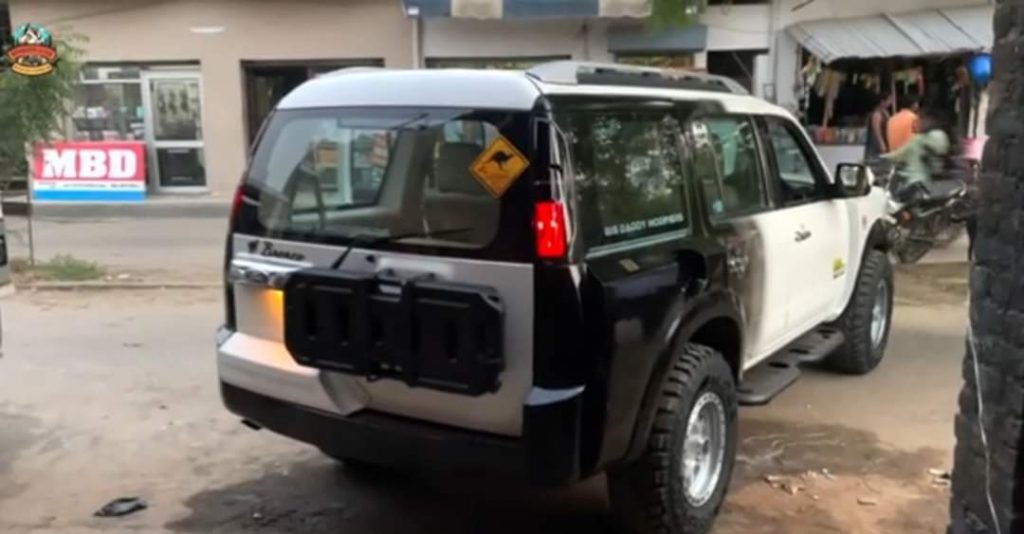 The rear of the SUV also witnesses some unique paint schemes. From the C-pillar and the area behind it, the owner has painted the SUV black. The paint is a bit light at the front but gets darker as one goes towards the rear. The boot door has space to mount the spare wheel. This was a prominent feature of the Endeavour for a long time. The bumper is short at the rear too to ensure a high departure angle. The vertical taillamps remind us of the old-gen Endeavour. Hence, we leave it up to you to decide if this looks anything like a Bronco or not, but this is surely one of the more unique modified Ford Endeavours in the country.
Also read: Ford Bronco vs Jeep Wrangler Drag Race: One Of Them Gets Annihilated!
Join our official telegram channel for free latest updates and follow us on Google News here.