Porsche AG has been a legend among the handful of sportscar manufacturers across the globe. The company, which is now under the Volkswagen umbrella, has given the motoring world some of the most exciting performance cars we've ever seen. Its models, like the 911, enjoy a cult status among car aficionados. Around the start of this millennium, in 2002, the company came up with the
Cayenne
– A model that combined the opulence and practicality of a luxury SUV with the thoroughbred sportscar characteristics of a two-door performance car. In 2014, buoyed by the success of the Cayenne, the company came up with the
Macan
. Available with a set of engines and a long list of customization options, both these SUVs are known to be tarmac scorchers. But what about their off-road credentials? Recently, we took a Macan and a Cayenne off the beaten tarmac to put them through the real SUV test. Here's our report of this off-road drive.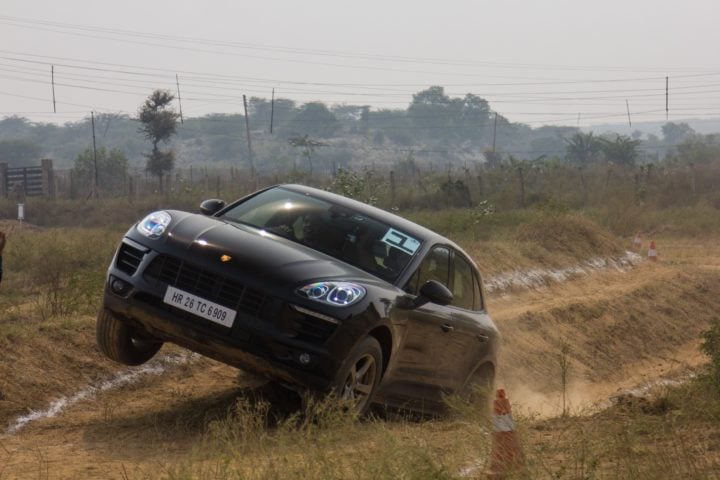 The Macan and Cayenne were taken to a pre-designed off-road track with several hurdles that only the most hardcore off-roaders dare to tackle. Both the Porsche models that we were driving offer the hardware required to overcome such obstacles – Both the models offer 4×4, ride height adjustment, hill descent control, high approach and departure angles, and powerful engines.
We started our drive on the excellent multi-lane roads near the company's dealership on Golf Course Road, Gurgaon. The initial few kilometres gave us an opportunity to revisit the high-speed poise that is a characteristic of every Porsche on sale today. Soon thereafter, we increased the ride height and dialed in the off-road mode to experience some off-road action in the Macan and the Cayenne.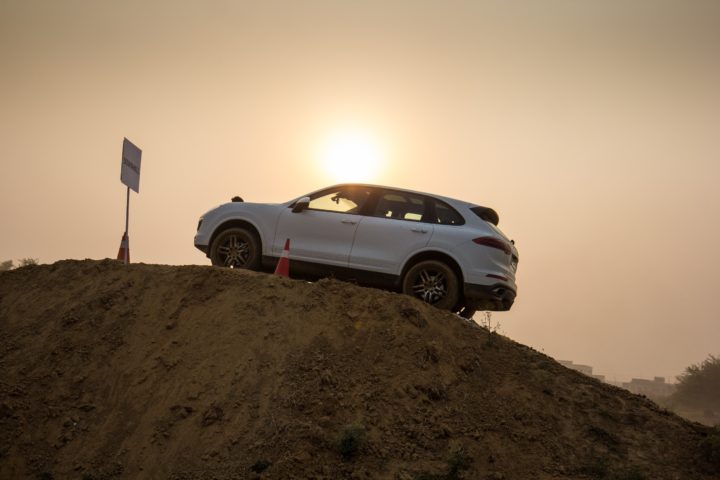 We started off by driving through a handful of craters that were deep enough to swallow a Tata Nano (or two)! At a speed of around 10 KMPH, both the SUVs effortlessly sailed through all the craters that the track had on offer. Up next was a steep incline which, quite frankly, looked intimidating. With Hill Descent Control switched on, both the SUVs made short work of the inclines, as the 4×4 mechanism, together with grunty engines, helped the two models get the better of the hurdle. We also encountered few rather treacherous slopes, which these Porsches dealt with quite an aplomb.
By then, I was reassured of the off-road capabilities of these two models. Come to think of it, both the Macan and the Cayenne 'flew past' most of the hurdles like nobody's business. These two also tackled some slush and treacherous pathways. Thanks to all the off-road hardware, together with powerful engines, the two SUVs had an aura of invincibility in such challenging conditions.
We clocked multiple laps of the off-road track and every time, the Cayenne and the Macan seemed to mock at me for the slight doubt I had in the off-road capabilities of these luxuey SUVs. The Macan and the Cayenne are fast, fun, and very focused on the tarmac, but guess what, both of them feel entirely at home even off the road!
Editor Rating

Rated 5 stars

Spectacular
---
Porsche Macan and Cayenne Off Road Drive Experience in Gurgaon

Reviewed by:

Published on:

Last modified:
---