Renault, the renowned French carmaker giant, came up with the 'DeZir' concept at the Auto Expo 2012. Back then, the electric car concept enthralled the audience with its ultra-modern looks and high-tech wizardry. Now, it has come to light that the company could be contemplating bringing back the electric car concept to India. The Renault DeZir India showcase is likely to now happen at the Delhi Auto Expo 2018, which will be held in the first-half of February 2018. This futuristic concept made its public debut over half-a-decade ago at the 2010 Paris Motor Show. Thanks to a sudden wave of interest in electric cars for India, the DeZir, in all probability, will successfully capture enough attention due to all the fervour.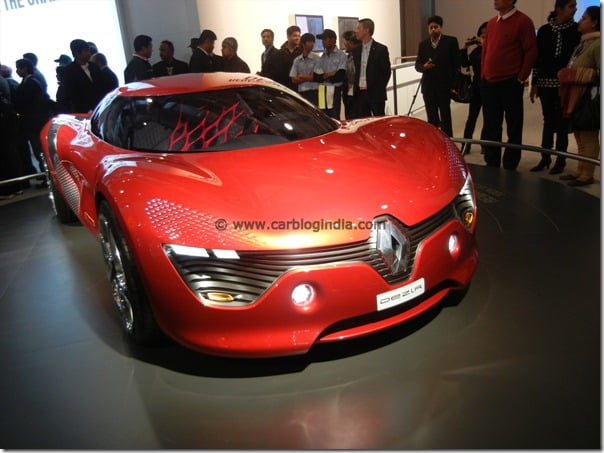 Also See- Upcoming Cars at Auto Expo 2018 | Renault at Auto Expo 2018
This beautiful concept is basically a two-seater, two-door performance coupe that measures around 4.2-metres in length. The company claims that this car has a really low coefficient of drag of just 0.25. Currently, chances of the Renault DeZir India launch look bleak. However, this sporty electric vehicle will help the manufacturer gauge the response of show-goers towards electric cars. Other than bringing the DeZir to the show, the manufacturer will also showcase a new MPV concept, special variants of Captur and Kwid, and probably one of its model from the world of motorsports.
Powering the DeZir concept electric is an electric motor mounted that is mounted in the mid-rear of the car. The supercar-like mid-rear mounting of the powerplant ensures optimal weight distribution between the front and the rear axles. The electric motor for the Dezir is the same as the one that powers many production-ready Renault electric cars. The motor gets its juice from a 24 kWh lithium-ion battery that offers a range of up to 100 miles (160 KMs). This design study has a 0-100 kmph timing of less than 5 seconds along with a top speed of 180 kmph.
Renault DeZir India Launch Date
Well, the company seems to have no plans of launching this electric car in India. At least, not anytime soon. This is merely a concept at the moment and this car is yet to enter production in any market across the globe. Hence, it might be a bit too early to speculate on a launch date for India. This alluring design study will be put on display at the 2018 Delhi motor show to gauge public interest in electric cars. Based on the findings, the company might then start planning to launch one of its mainstream cars in India.
Renault DeZir Price in India
Again, it might be a bit too early to speculate on a price tag for this electric car. However, considering that it's a two-door, two-seater electric coupe aimed at the sportscar-end of the market, the DeZir will cost around Rs 45-50 lakh if it ever goes into production.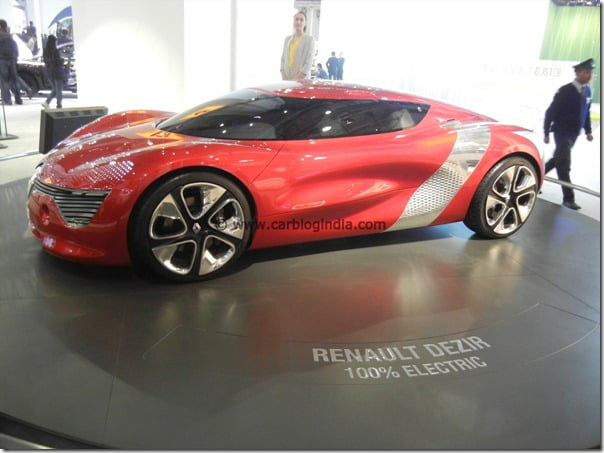 Renault DeZir Electric Car Specifications
| | |
| --- | --- |
| Motor | Electric synchronous motor with rotor coil |
| Power | 110 kW / 150 BHP |
| Torque | 226 Nm |
| Acceleration (0-100 kmph) | 5 seconds |
| Acceleration (0-50 kmph) | 2 seconds |
| Top Speed | 180 kmph |
| Battery | Lithium-ion (24 kW/h) |
| Range | 160 kms |
| Transmission | Rear-wheel drive; Direct, drive, with reducer and forward/reverse inverter |
| Drive | Electric with active differential |
| Wheels | 245/35 R21 |
| Brakes | 356 mm (front and rear) with 6-pistons calliper |
| Kerb Weight | 830 KGs |
| Cd (Coefficient of Drag) | 0.25 |
The 2010 Renault DeZir sports coupe concept enjoys a mid-rear layout. Positioning of the engine closer to the rear axle leads to an optimum weight distribution between the front and rear wheels. The electric motor gets its juice from a 24 kWh Lithium Ion battery. The car enjoys a range of up to 160 kilometres. This is basically the same motor that also powers many other electric cars from Renault. It outputs a maximum power of 147 BHP along with a peak power of 226 Nm. This enough to propel the car from 0 to 100 kmph in less than 5 seconds and a top speed of over 180 kmph.
Renault DeZir Electric Car Design
The DeZir is a two-door, two-seater electric car that is aimed at the performance-end of the market. Thanks to its sporting credentials, the boffins at the French carmaker giant have kept the car's weight really lowe. This has been done by using body panels made out of Kevlar. Also, the car's tubular steel frame chassis draws inspiration from the company's Megane Trophy race car. This electric sports car comes with a full underbody fairing along with a rear diffuser. Both of these features help reduce the coefficient of drag and hence, make the car more aerodynamic. The DeZire has a coefficient of drag of 0.25 Cd. Thanks to being highly aerodynamic, the car can accelerate from 0 to 100 kmph in just about 5 seconds.
"Renault DeZir is a statement of our new formal design language which conveys notions such as movement, sensuality and emotion through ideal proportions, in much the same way as an object whose forms have been honed by nature. The result is a warm, stimulating design that says 'Renault'," explains Axel Breun, Renault's Director of Concept Car and Show Car Design. Fluidity was an overriding theme from the initial preliminary sketches, and was expressed by a blend of simple forms and generous volumes. "My early source of inspiration stemmed from the liquid sensation, wave-like movement and contrasts in light associated with certain rippled surfaces," observes Yann Jarsalle, who was in charge of Renault DeZir's exterior styling. "By directly laying out volumes and not just joining together a number of surfaces by lines, I felt more in tune with the world of sculpture than with that of architecture."
Renault DeZir India – Images
So, are you waiting for the Renault Dezir India launch? Do you think this electric car can revolutionize the sportscar segment? Share your views with us by penning them down in the comments section below.
via ET Auto
Join our official telegram channel for free latest updates and follow us on Google News here.