Renault India, the Indian subsidiary of the popular French auto giant, has come up with a range of new cars for the Auto Expo 2018. The most interesting among these Renault Cars at Auto Expo 2018 is the Renault Zoe E-Sport Concept car that you see in the images here. The Zoe E-Sport is an all-electric car that showcases the company's technological prowess at producing world-class EVs. It may be noted here that the Renault Zoe is already on sale in European markets and has done pretty well on the sales charts. The E-Sport Concept has a peak power of 460 hp and can sprint from zero to 100 kmph in 3.2 seconds.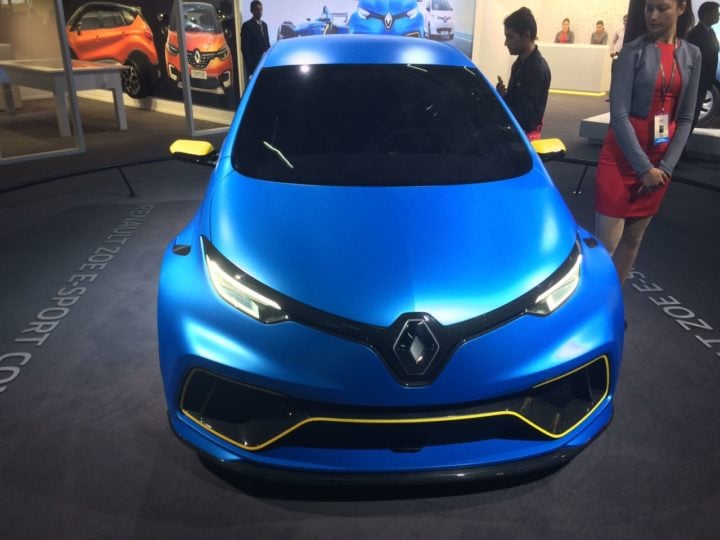 Renault Zoe E-Sport Concept Images
Powering the regular Renault Zoe EV is an electric motor that outputs a maximum power of 92 PS and a peak torque of 225 Nm for the R90 variant and 88 PS and 220 Nm for the Q90 variant. The car gets two battery options – 41 kWh and 22 kWh. With the 41 kWh batter, the car has a range of 403 KMs on the R90 variant and 370 KMs on the Q90 variant. With the 22kWh battery, the R90 has a range of 240 KMs on a single charge.
So, what are your thoughts on the new 2018 Renault Zeo E-Sport concept? Do you think Renault should launch a production-spec version of its popular EV in India? Share your views with us by commenting below. Also, stay tuned to CarBlogIndia for the latest news from the Auto Expo 2018. Also, watch this space for more on the new 2018 Honda Amaze.