While Skoda Slavia seen here has a 1.0-litre turbocharged powerplant outputting 115PS, the new Maruti Baleno has a 1.2-litre 90PS NA engine
Launched recently, the Skoda Slavia and new Maruti Baleno were two of the most hotly anticipated models of this year. Both the cars certainly have a lot going for them but we have just stumbled upon a rather interesting video that shows a drag race between these two new cars. Needless to say, the two vehicles here make for strange bedfellows as they belong to totally different segments and one's much more affordable than the other. However, the hosts you see in the video below do have a pretty valid reason to race these vehicles against each other. Have a look at the drag race before we get into an explanation.
You may also like: Maruti Swift LXi vs Baleno Sigma Comparison – Base Models Compared
You may also like: Skoda Slavia is Longer, Wider and Taller Than Mk1 Octavia
As you would have seen by now, the 2022 Maruti Baleno is smoked pretty badly by the Skoda Slavia in multiple rounds of drag races between the two models. The results aren't completely surprising as the Slavia is a lot more powerful than the Baleno but, frankly, we did hope the the smaller car would fare slightly better owing to the light weight. For reference, the new Baleno is 70kg heavier than the car it replaces and now tips the scales at 920kg. It's powered by a 1.2-litre Dualjet Dual-VVT naturally-aspirated petrol engine that outputs 90PS of maximum power and 113 Nm of peak torque.
On the other hand, the 1.0-litre variant of the Skoda Slavia is propelled by a TSI turbocharged direct-injection petrol engine that outputs a maximum of 115PS of power and 178Nm of torque. It weighs 1278kg, which makes it 358kg heavier. Even then, it has a power-to-weight ratio of 111PS per ton as compared to 102PS per tone figure of the new Maruti Baleno. The difference certainly isn't all that much but in spite of it, the Slavia completely owns the Baleno in every round of drag race. A huge reason for this is the difference in the torque output. The 65Nm torque advantage the Slavia enjoys over the Baleno makes it a lot quicker off the block. And, well, that's exactly why the new hatchback was no match to the latest Czech sedan.
You may also like: New Maruti Baleno Gets PWNED by Old Model In Spite of Unfair Start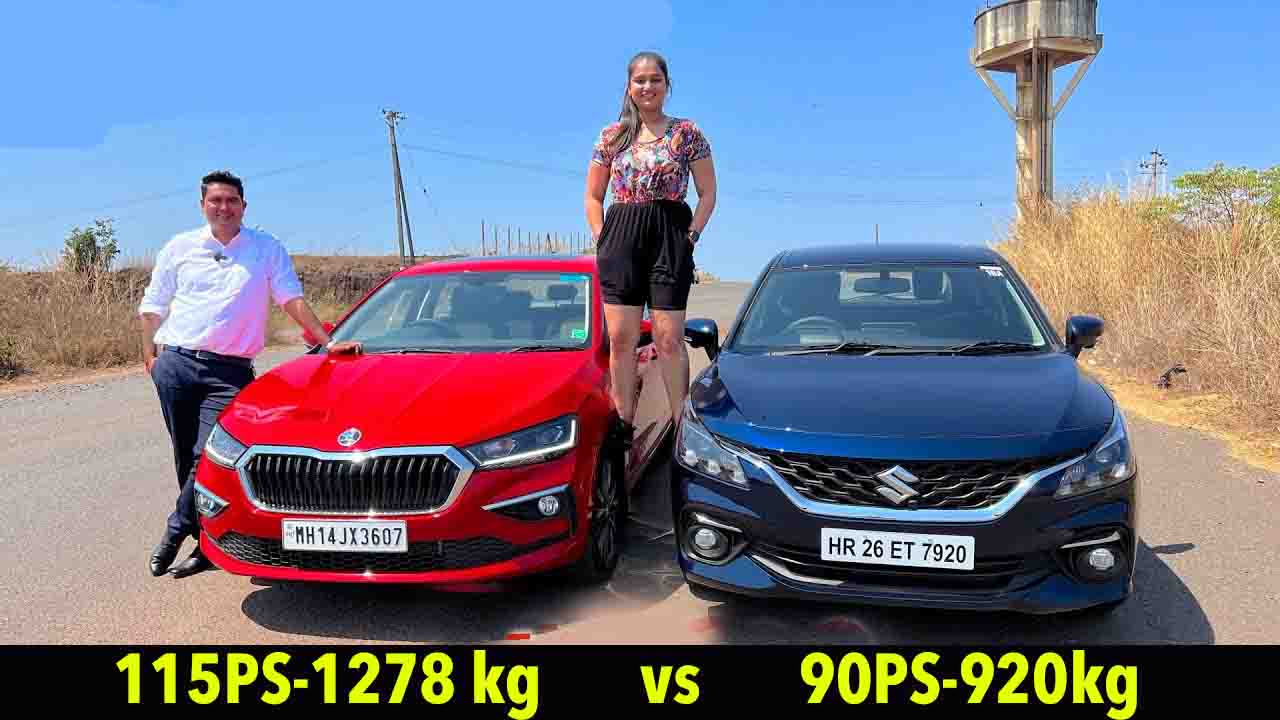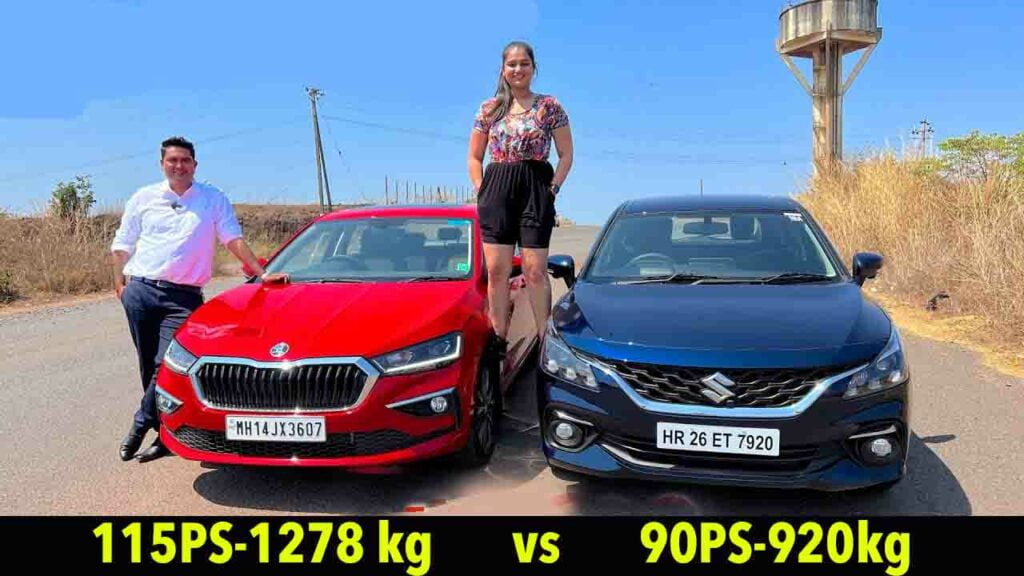 You may also like: Skoda Slavia On Sale With Maintenance Cost Starting 46 Paise/km
Skoda Slavia is currently being sold in a price range of Rs 10.69 lakh to Rs 17.79 lakh (ex-showroom). The new Maruti Baleno, however, is available in a price bracket of Rs 6.35 lakh to Rs 9.49 lakh (ex-showroom). Both the models offer several segment-best traits but quite unsurprisingly, the difference in their performance is in line with the disparity in their prices.
Join us for FREE NEWS Updates on our Whatsapp Community or our official telegram channel.