YouTubers keep performing drag race competitions between popular vehicles and this time around, these are the Hyundai Creta and Skoda Slavia.
The famous YouTuber is known for conducting drag race competitions between popular products against his Hyundai Creta and he has a Skoda Slavia this time around. Now, it may seem like the Slavia, being a sedan, has an advantage over an SUV like Creta due to its body shape. However, the ground reality is quite different. Here are the results of this drag race between vehicles belonging to distinguished segments.
You may also like: Hyundai Creta 1.4 Smokes VW Taigun 1.0 in Drag Race
You may also like: Tata Safari Vs Tata Nexon EV Drag Race – Diesel Engine Vs Electric Motor
Drag Race Hyundai Creta vs Skoda Slavia
In the first attempt, the two vehicles have their ACs turned OFF and the Traction Control has been disengaged. The launches of both the cars are comparable but the turbo of the Creta swiftly propels it ahead in no time. Once in the lead, it gives no chances to the Slavia to catch up. Creta emerges as a clear winner after round 1. For the second round, the AC in the Creta is switched ON but it is kept OFF in Slavia. This time, however, the lag in the Creta is a bit too prominent and the Slavia trounces the SUV convincingly. The sedan remained ahead from the beginning till the end.
You may also like: Skoda Slavia Vs Volkswagen Vento Drag Race Surprises
For the final round, the YouTuber decides to do a rolling acceleration test from 30 km/l. For this, he puts his Creta into manual mode. Right from the start, the Slavia maintained a healthy lead in this round and emerged victorious. The match between these two cars threw up some interesting observations. Using the AC in the Creta deteriorates its performance quite drastically. Even though the engine of the Slavia is 1.0-litre 3-cylinder turbo petrol, it has an impressive power delivery.
You may also like: Mahindra XUV700 Gives BMW X5 Run for Its Money in Drag Race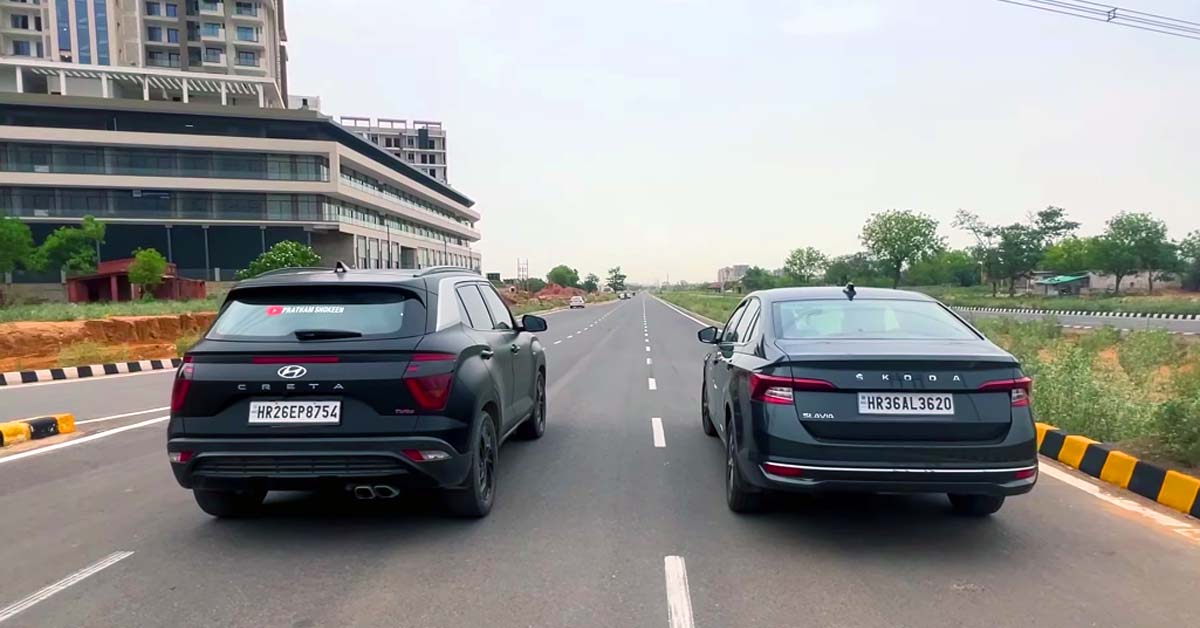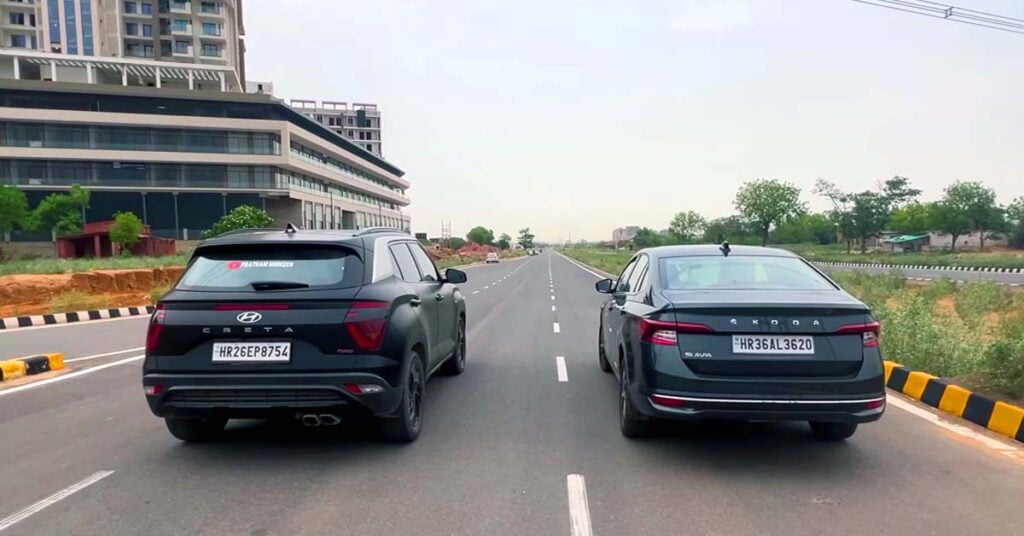 Specs Comparison
For the uninitiated, this Hyundai Creta comes with a 1.4-litre direct-injection turbo petrol engine that develops 140 PS and 242 Nm of peak power and torque. It is mated to a quick-shifting and sporty 7-speed DCT gearbox. On the other hand, the Skoda Slavia comes with a 1.0-litre TSI turbo petrol mill that churns out a decent 115 hp and 178 Nm of peak power and torque. This Slavia has a 6-speed manual gearbox on offer. Let us know if you were surprised by the result or not.
Join us for FREE NEWS Updates on our Whatsapp Community or our official telegram channel.