This video has surfaced on YouTube which comprises of a drag race between Tata Altroz XZ and Honda WR-V. The point to remember here is that these two cars are diesel-powered. This is a drag race that has been performed on a closed stretch of road. We urge all of you to not try such things in the real world. It is too dangerous and the results could be fatal. The Altroz comes with a 1.5-litre diesel unit making 89 hp and 200 Nm. The WR-V comes with a 1.5-litre diesel making 98 hp and 200 Nm of peak power and torque. The Altroz comes with a 5-speed gearbox and the WR-V with a 6-speed unit. Let us check out the details of the drag race between these two capable products.
Also read: Toyota Fortuner vs Kia Seltos Drag Race – Who Will Come Out On Top?
Tata Altroz vs Honda WR-V Drag Race
After finding an empty stretch of road, the YouTuber gets into his Altroz and his friend sits in his Honda WR-V. Both these cars have similar torque figures and the only question left is what effect will the power difference make? The difference of 9 hp is not a lot but for a car in this segment with almost all the other criteria same, it could prove to be decisive. The drag race takes place 3 times to get a fair and consistent result. The first attempt was almost equal as both these cars had a lot of wheel spin at the start. The cars gained speed swiftly and there was no clear winner. The story remained the same in the second attempt too. Having completed the third attempt, there were some conclusions to be drawn.
Also read: Ford Bronco vs Jeep Wrangler Drag Race: One Of Them Gets Annihilated!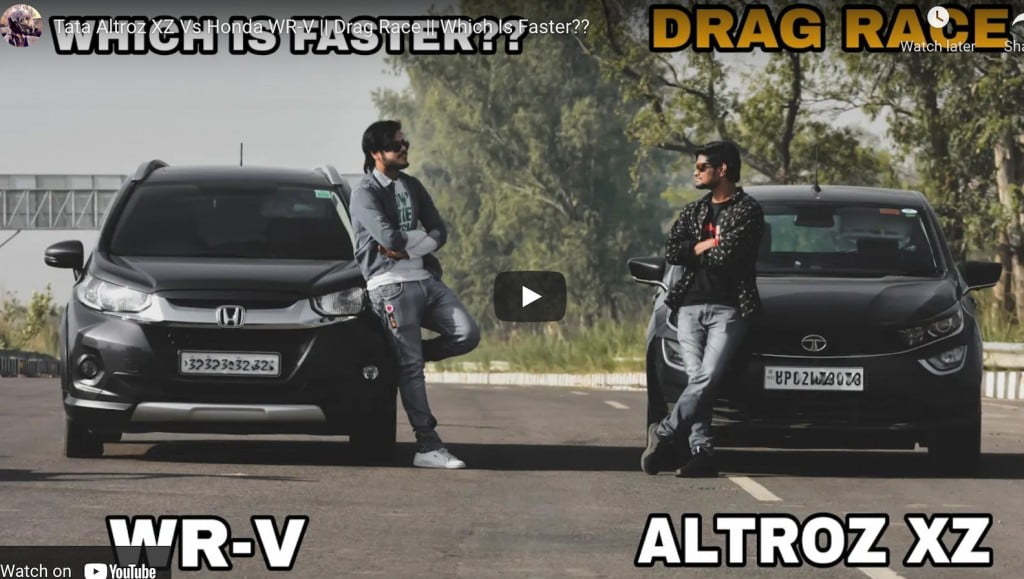 The higher power figure of the WR-V did manage to make a slight difference with the combination of a 6-speed gearbox. This happened almost at the end of the race when the speed numbers were around the 150-160 kmph mark. That is where the extra horsepower and additional gear came into play. However, how often would you clock such numbers on a daily drive? Also, the difference in the prices of the two is quite significant. This is because the Altroz belongs to the premium hatchback segment with the top model costing somewhere around Rs 10 lakh, on road. The WR-V is a compact SUV and the top trim might cost around Rs 13 lakh, on road. The conclusion is that you can buy a relatively cheaper car to get almost the same performance or spend a bit more for a tad bit better performance and a more spacious cabin.
Also read: Kia Sonet Diesel Vs Ford Ecosport Diesel Drag Race – See The Winner
Join our official telegram channel for free latest updates and follow us on Google News here.