A Toyota Fortuner Legender will easily beat the new Mercedes-Benz E-Class on an off-road route but what happens in a drag race?
In a new video, the Toyota Fortuner with a manual transmission competes with the new Mercedes-Benz E-Class. As you can see in the video below, the Toyota Fortuner Legender is not faster than Mercedes. During multiple race attempts, the Mercedes turned out to be an overall winner. While the SUVs are quite powerful, the Merc is a way faster option. It is important to note that YouTubers ensure safety while performing races and you should not try such stunts on roads as it could lead to some dangerous consequences. Tell us what you think of the results in the new Fortuner Legender Vs Mercedes E Class Drag Racing!
The Toyota Fortuner has been one of the most popular SUVs in India for many years now. Since its mid-life facelift's arrival, the premium SUV also comes in a Legender trim level. The top-end features some styling changes and additional equipment over the standard Fortuner. On the other hand, the Mercedes E-Class comes in three variants – Expression, Exclusive, and AMG Line. The AMG Line is limited to the E350d with a diesel powertrain.
A 1991cc four-cylinder petrol engine offers 194bhp and 320Nm torque, respectively. While the E200d's 1,950cc four-cylinder diesel engine produces 192bhp and 400Nm torque, the AMG Line E350d variant with a 2,925cc inline six-cylinder diesel engine delivers 282bhp and 600Nm torque. All three are paired with a 9G-TRONIC automatic transmission.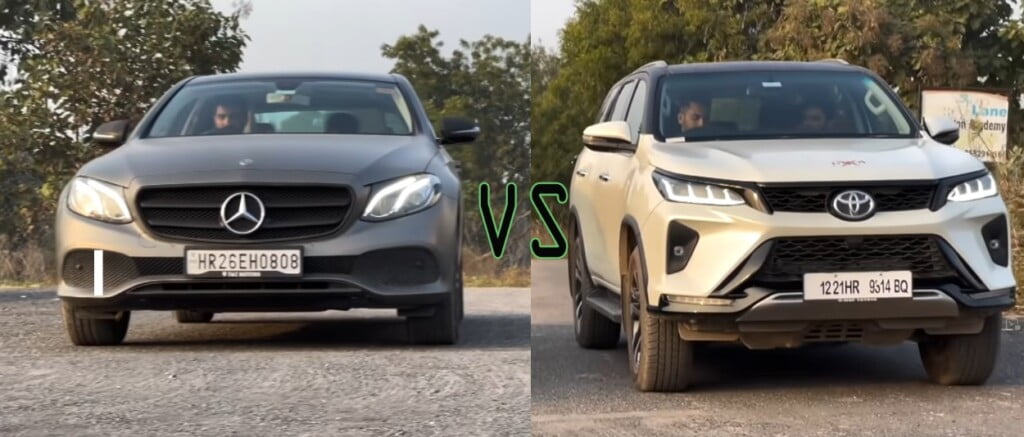 The Toyota Fortuner 4×4 2.8-liter turbo-diesel unit offers 204 PS of peak power and 500 Nm torque (420 Nm on the manual variants). It can be paired with a 6-speed manual gearbox or a 6-speed torque-converter automatic transmission. There is also a petrol version that comes in a rear-wheel-drive configuration. On the other hand, the Fortuner Legender only gets the diesel engine-automatic transmission option in both rear-wheel-drive and four-wheel-drive configurations. It is powered by a 2755 cc engine with an Automatic transmission. It offers 201.15bhp of power and 500Nm of torque. The Toyota Fortuner Diesel 4×4 MT comes with a price tag of Rs 35.89 lakh. The Diesel 4×4 AT costs Rs 38.18 lakh. On the other hand, the Toyota Fortuner Legender diesel 4×2 is priced at Rs 38.61 lakh.
Join our official telegram channel for free latest updates and follow us on Google News here.