FLOW Launched in Two Versions – Single Battery and Dual Battery
Twenty Two Motors Pvt Ltd has introduced the country's first cloud-connected as well as AI enabled electric scooter, the FLOW for Rs 74,740, ex-showroom at the Auto Expo 2018. The company aims to offer wireless connectivity of the electric scooter's owner to the vehicle through cloud connectivity. Pre-bookings of this EV have already commenced and deliveries are expected to begin this year itself.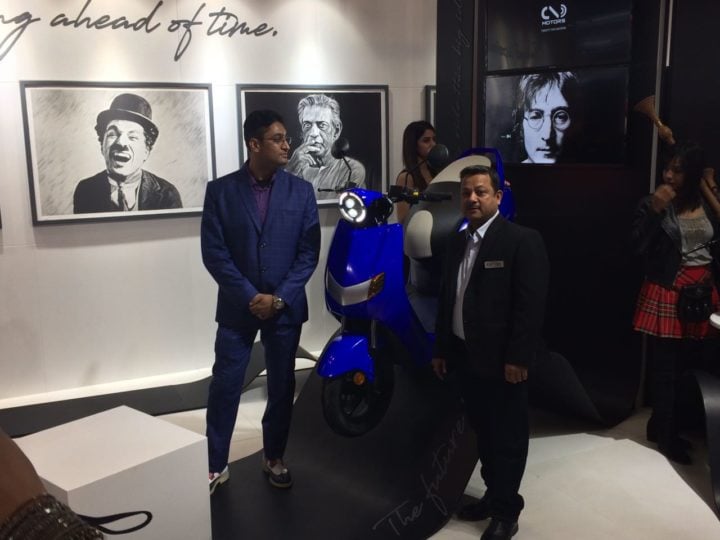 The FLOW has two versions, one with a single battery unit and the other with a dual battery setup. With the single battery setup, this electric scooter has a range of 80 kms while with the dual battery configuration, the range increases to 160km on a single charge. The company is offering a warranty of up to 50,000 kms.
FLOW Electric Scooter – Features
The electric scooter can be charged through any 5 ampere plug and takes five hours to charge completely. Other features in order to enhance battery range is an Electric Braking System or EBS which is essentially a braking energy regeneration system. The energy which is used to slow the vehicle down is used to charge the battery while on the move. A number of other features also include all LED lamps, 24 litre boot space, disc brakes and a lot in the Cloud Connectivity list.
The cloud connectivity features include geofencing which can restrict the vehicle's movement in a geographical boundary set by the user. The owner can also monitor the vehicle's health using a smart app on their phone to assess any service schedules or repairs. In terms of safety, Twenty Two Motors has also provided the FLOW with an SOS mode that sends out the vehicle's location to the numbers registered through the Smart App. Cruise Control, Reverse Mode and Drag Mode are also a part of the standard fitment. Drag Mode enables the EV to move at a slow pace in case of a puncture where the rider can push the vehicle for repair.
FLOW Electric Scooter – Images
So, what do you think of the new FLOW electric scooter?