German Auto giant Volkswagen has showcased a really cool new concept at 2016 Geneva Motor Show in March. Dubbed as the Volkswagen T-Cross Breeze, this new concept previews an upcoming compact SUV. It will be based on the next generation of the highly successful Polo hatchback. This new VW model will be basically a mini SUV based on the next-gen Polo. Its launch in various markets across the globe is likely to take place in 2018. The upcoming Volkswagen Polo SUV will join the VW Tiguan and the VW Touareg in the auto giant's SUV portfolio. As we just said, details on the upcoming model are scarce. However, you can find everything we know about the upcoming Volkswagen Polo SUV, nay, the T-Cross here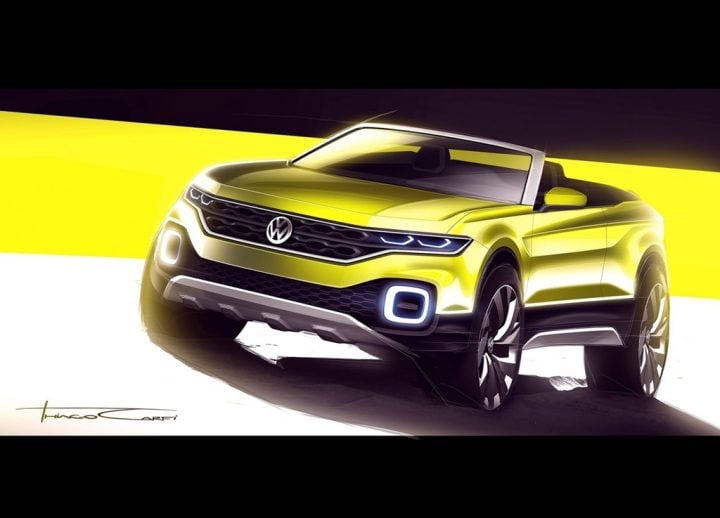 ALSO SEE – Volkswagen Ameo Details | VW Polo Allstar
Volkswagen Polo SUV Launch in India
| | |
| --- | --- |
| Model | Expected Launch Date |
| Volkswagen Polo Based SUV | Early 2018 |
As mentioned above, the Polo based SUV will hit many international markets in 2018. Quite obviously, VW India is yet to issue a statement on the chances of the T-Cross coming our way. Going by the strong growth shown by SUV segments in our market, there are really very good chances that this upcoming Volkswagen Polo SUV is India bound. Currently, the manufacturer's product portfolio for India doesn't contain any SUV model to speak of. The VW Cross Polo pseudo-crossover that is available here got a rather cold response from the car buying lot. However, all this could set to change with the advent of the upcoming Volkswagen Polo SUV, which in our guess should be here by 2019.
Volkswagen Polo SUV Price in India
| | |
| --- | --- |
| Model | Estimated ex-showroom price |
| Volkswagen Polo SUV Base Model | Rs. 8.00 lakh |
| Volkswagen Polo SUV Top Model | Rs. 12.00 lakh |
We do agree that it is almost too early to speculate on this model's price. But going by the size and specifications, easily expect the Polo-based SUV to retail for roughly INR 8 lakhs in India. In India, the Polo SUV, in all chances, will rival models like the Maruti Suzuki Vitara Brezza and the Ford EcoSport. Internationally, this model will compete with the Nissan Juke, Renault Captur and Mazda CX3.
"The T-Cross Breeze reflects the new start of our brand", says VW's design head Klaus Bischoff. "We want to stir enthusiasm for 'New Volkswagen'," he added. The new concept comes painted in 'Summer Green Metallic' paint and the design highlights of the upcoming Volkswagen Polo SUV are some distinctive features such as rounded- square fog lamps and a pair of sleek headlights.
Volkswagen T-Cross Breeze/Polo SUV Specifications
In most markets, the Polo based SUV will be sold with a four-wheel drive system. This will be possible only because of the next generation Polo's MQB architecture. This model will also get a choice of manual and dual-clutch automatic transmissions. Engine options for this compact SUV could include the excellent turbocharged motors available on the current Polo. These motors, which currently deliver around 105 PS of max. power, are expected to be retuned to deliver up to 110 PS.
Other than the above the above two engines, the Polo SUV could also get engines ranging fro 1.0 to 1.8 litre.
Dimensions – The SUV is 4133 mm long, 1798 mm wide, 1563 mm tall, and has a wheelbase of 2565 mm. Its boot volume is nearly 300 liters. Transmission options include 5 speed manual, 6 speed manual and 7 speed dual clutch automatic gearboxes.
Volkswagen Polo SUV India – Design
The upcoming model will stand out amongst other VW models by possessing a very strong and an almost unique visual identity. In comparison to the next generation Polo, which is due in 2017, the Polo based SUV will look a lot more rugged. It won't share many styling cues with its hatchback cousin. Even the interior won't be really similar. VW has already hinted that the car's cabin will be almost entirely button- and switch-free. All this means that controls for the air conditioner and audio system could be gesture-based. Or, at least, have a touchscreen interface with voice commands. The images here show that the Polo-based SUV will have a commanding stance. The upcoming model could also feature a full-width front grille and distinctive wheel arches.
Volkswagen T-Cross Breeze Images
Basically, the production-spec T Cross will provide VW with a much stronger representation than that provided by the Cross Polo, which boasted of almost the same exterior and the interior as the regular 5 door Polo. VW design boss Klaus Bischoff is heading the design team of the T Cross.
Volkswagen earlier came up with the Taigun concept to preview an even smaller SUV. Based on the Up! city car, this project is said to have been put on hold on the basis of costs involved and the potential profitability. The manufacturer has been busy exploring how this project could now lead to a vehicle that can be sold as a well priced, rugged vehicle in markets like the Brazil and the EcoSport. Talking about the upcoming Polo-based and Golf-based SUVs, Volkswagen has said,"We will position production versions of the T Cross and T Roc underneath the Tiguan and Touareg in a part of the market that is currently experiencing large growth for SUV models, including Europe."
Stay tuned to Car Blog India for more on the Volkswagen Polo SUV 2018 India launch, price, specifications and other details.