Here is the first full exhaust system on the new Yamaha R15M. The R15 is an extremely popular motorcycle in India, especially among the bike enthusiasts in this segment. The looks of the R15M don't let you know the specifications it is carrying under its heart. It is an affordable option for passionate riders to taste the performance aspect of small-capacity engine bikes. Yamaha R15M has caused quite a stir in the market ever since its launch recently. The R15 V4 has also been launched with the R15M and the two bikes carry the same engine but with a slightly different target audience. Today, let us take a look at this crazy full system exhaust installation on the Yamaha R15M.
Also read: WATCH Yamaha R15M VS R15 V3 in Drag Race! – Video
Exhaust System of Yamaha R15M
The YouTuber recently bought himself the Yamaha R15. He has been wanting to modify the exhaust for a long time. The exhaust system he wanted was not available but now, the exhausts have been delivered and he decides to install it on his R15M right away. This exhaust is part carbon fibre and part aluminium. The exhaust pipes have also been supplied as a part of the exhaust system. The pipes look premium quality too. He takes the bike to a professional to get the exhaust swapped. The process involves swapping the exhaust systems and diagnosing if the new exhaust is working properly.
Also read: Yamaha R15 V4 vs R15 M – Spec, Prices, Design Comparison!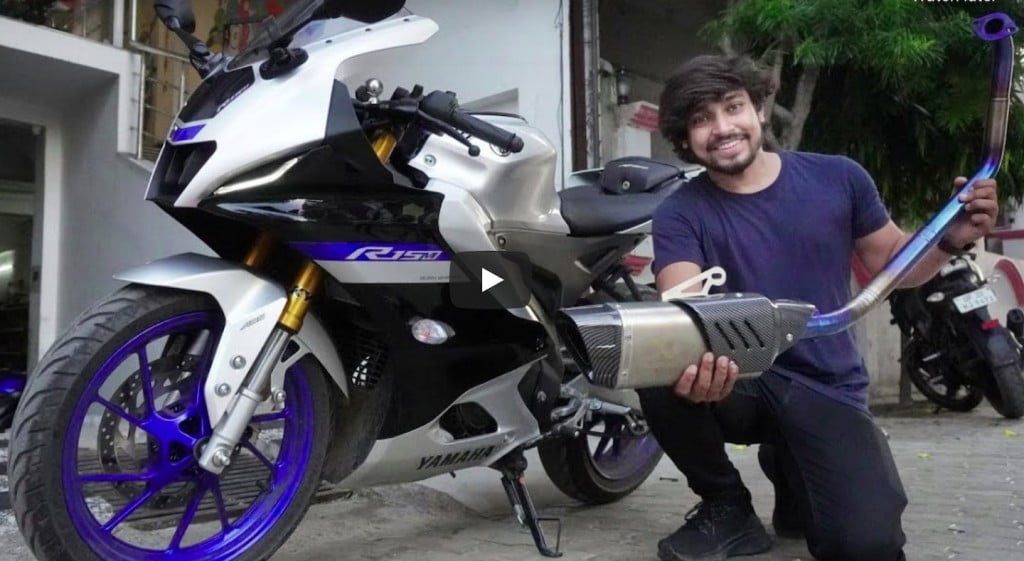 It is essential to check the engine parameters after installing a new exhaust system. Many people simply slap on the new part and don't calibrate the bike accordingly. You must remember that the bike company had calibrated and tuned the engine performance according to a particular exhaust system. Changing it means that the engine parameters might also get affected. Hence, the mechanic connects the device with the bike to check if all the engine parameters are behaving in an ideal manner. If there are some errors, the engine has to be tuned to compensate for that error. If you don't do that, the engine components will suffer in the long run. The biker experienced a change in acceleration and overall performance after installing this exhaust system.
Also read: Yamaha FZ-X Launched With Connected Tech- Top Features, Price, Specs And Details
Join our official telegram channel for free latest updates and follow us on Google News here.