Mahindra launched its flagship SUV XUV500 in 2011 and the vehicle received an amazing response. During its initial sales period, the SUV commanded long waiting periods. Buyers loved the overall styling and feature-loaded nature of the vehicle which made it feel very different when compared to other SUVs from Mahindra and its competitors. The XUV500 has averaged a monthly sale of 3,200 units this year which makes it India best's selling SUV in the 10+ lakh rupees category. Sales are marginally better compared to the same period last year where the XUV registered an average of 3,158 units.The Indian automaker recently launched the W4 variant of the XUV500 which competes with the Ford EcoSport, Renault Duster and Nissan Terrano. Now, the Mahindra XUV500 Sportz Special Edition has launched to attract even more customers, only 100 units of the SUv will be sold. Details below:
Price
This variant is based on the top-of-the line W8 2WD variant with a price bump of about Rs 25,000. The Mahindra XUV500 Sportz Special Edition is priced at Rs. 13.85 Lakh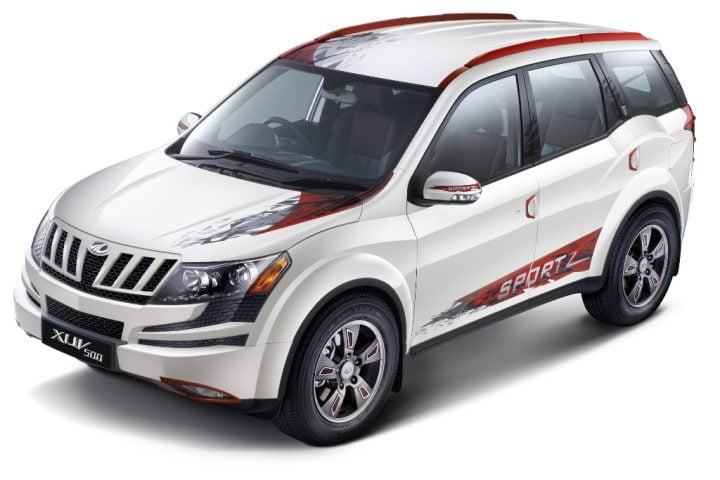 Special Edition XUV500 ?
The Mahindra XUV500 Sportz special edition model comes with slight cosmetic enhancements to make it all the more appealing. The XUV500 Sportz is not a facelift, it is merely a sticker job to the current vehicle. The XUV500 Sportz boasts of:
Decals on the bonnet, roof, ORVM covers, doors
Painted roof-rails
Painted door handles
New alloy wheel inserts
Fog lamp accent
New dual-tone seat upholstery, and trim
Redesigned rear arm rest
Reverse camera as standard
Apart from these changes, the XUv500 Sportz retains all the features and underpinnings of the 2WD XUV500 W8 variant.
Our take:
Before we really get down to making our call, lets see what Mahindra is up to. Mahindra and Mahindra, is aiming to become one of the top global manufacturers by 2024. It is now revealed that under this plan, the company's new facility in the US, called Mahindra North American Technical Centre, is working on a new four-wheeler platform.
Mahindra has been actively entering new countries each year apart from the U.S, they are present in over 100 countries. The new platform is being designed for global markets but it is yet not clear as to on which vehicle or in which segment these new platforms will be making their way. Mahindra North American Technical Center in Michigan was inaugurated earlier this month on May 13.
Mahindra is currently working on new engines, new platforms and new facelifts of existing cars. The next 3 years will see Mahindra launch many new products in the Indian automotive market which will help them compete with the new-age SUVs. Mahindra is also working in association with their South Korean company, SsangYong to produce more powerful and efficient engines. Also on the cards are two more variants of this high selling SUV- a hybrid and an automatic. However, neither of these are likely to be launched this year.
With so much happening for the Indian automobile giant, one wonders why they would want to pull off a stunt which unashamedly looks like riding the popularity wave of the XUV500. The XUV has caught on in the Indian markets because of its distinctive styling, the features, the not so rustic interiors and sensible pricing, the last time Mahindra generated such enthusiasm with an SUV was with the Scorpio (which is still doing well today). As written above the XUV500 Sportz is merely a sticker job, and these fail to excite us. Mahindra is on a quest to be a global power by 2024, keeping that in mind they need to ask themselves are minor launches like these really required? That said, we are sure that the 1000 units will be lapped up by eager customers pretty fast.
What do you think about the XUV500 Sportz ? let us know through the comment section below.