A Maruti WagonR owner restores his 11-year old car for his dad. Car restoration is something that not a lot of people from the modern generation are really interested in. However, for a whole bunch of people, their cars hold immense value and emotions. This persuades them to spend money on restoring the old car and not buying a new one. Most of the time, such cars are gifts from parents or a remembrance of an old memory which is almost impossible to give up. This detailed video takes you through the intensive process of car restoration in a step-by-step manner. Let us take a look at that in detail.
Also read: Maruti WagonR Blown Away by Wind – Real or Fake?
WagonR Owner Restores His 11-year Old Car
The enthusiast drove for 7 hours to the workshop where the restoration happens. He says that his dad likes this WagonR and has a strong bond and an emotional connection with the hatchback. Therefore, it is for him that he is planning to restore the car. He has no plans of buying a new car. The process starts with removing the door panels along with the entire dashboard and steering column. The roof liner is also taken off exposing the surface entirely. Then the paint of the car had to be redone which is why the scrubbing is done. After cleaning the surface thoroughly and removing all impurities from the body, the painting process takes place. The colour of the paint remains almost the same but with the ceramic coating the shine on the body is tremendously enhanced.
Also read: Maruti WagonR Vs Baleno Drag Race – The Result Will Shock You!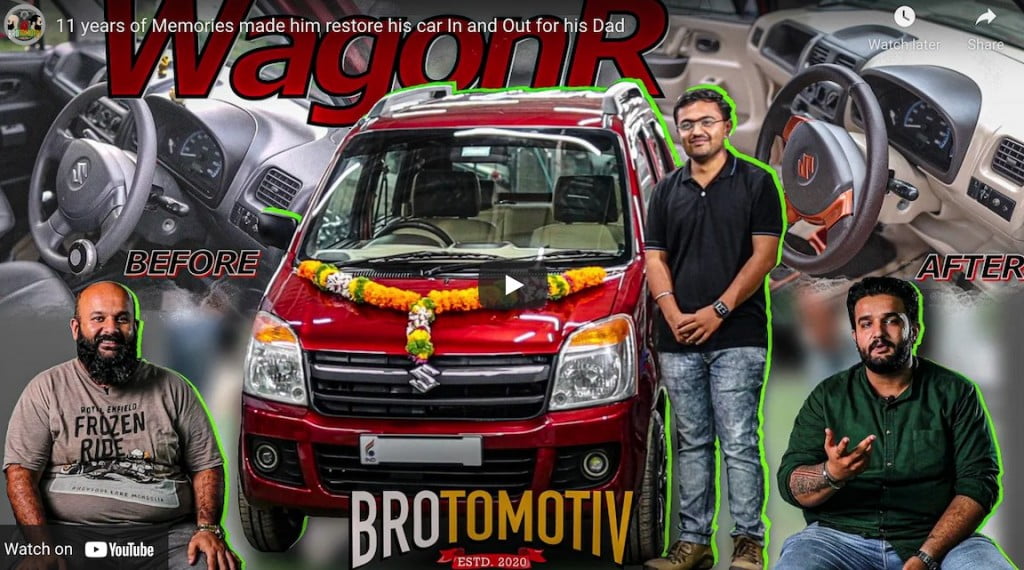 Coming to the interiors, the entire landscape has been modified. The grey interior scheme is replaced by a beige and black theme. The seats are restored with more comfortable upholstery. It is also extended to the door pads, inside of the boot lid and roof. The dashboard has also been finished in beige and black combination. The steering has been given a copper insert which makes it look ultra cool. The alloy wheels have been painted black and the brake calipers are copper in colour. The headlamps look crystal clear with a projector lamps and LED DRLs with sequential indicator lights.
Also read: Watch Maruti WagonR LXi Being Modified To ZXi In Rs 33,333!
Join our official telegram channel for free latest updates and follow us on Google News here.