Here is a video from a YouTuber showing a modified Maruti WagonR from LXi to ZXi for just Rs 33,333. The trend of car modifications is riding high these days. So many car shops have been established to carry out various degrees of modifications to the car. However, one must be aware of the fact that car modifications, outside the ones provided by the carmaker, are illegal in India. So, make sure to check what is allowed and what not before going for an all-out modification of your car. This is a perfect example of how to convert an LXi variant of the Maruti WagonR to a ZXi. Let us see what upgrades were required for this endeavour.
Also read: Maruti WagonR Blown Away by Wind – Real or Fake?
Maruti WagonR Modified From LXi to ZXi
The video shows detailed upgrades on the hatchback along with the prices of each component added. The components are all genuine spare parts from Maruti Suzuki and are also used by the brand itself for the higher trim. To start with, the car seat covers have meed changed according to the exterior paint shade of the car. The covers are from Top Gear which provides regular seat covers for the WagonR too. In combination with that, it also provides 7D floor mats and lamination. Then the ORVMs have been upgraded too. The LXi comes with manual ORVMs but this version has been installed with electronic ORVMs with open/close with locking and unlocking the car. The steering wheel has also been upgraded and it has functions like a three-spoke design with audio controls.
Also read: Maruti WagonR Vs Baleno Drag Race – The Result Will Shock You!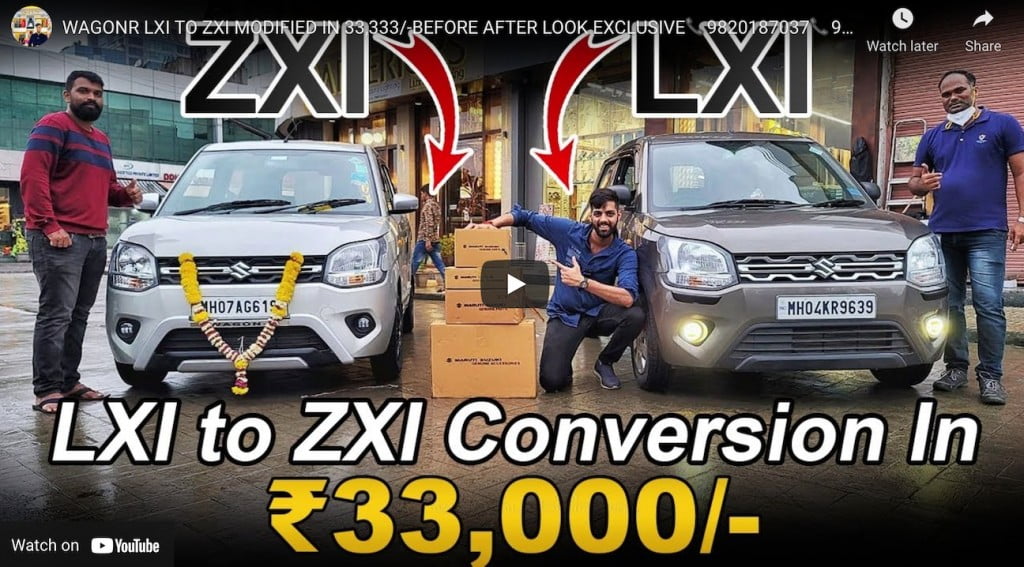 There is also an additional infotainment system display added to the centre console with Apple CarPlay, Navigation, 2GB RAM and 16/32GB storage and many more features. The display is crisp and sharp. This WagonR also gets a Blaupunkt reverse parking camera with guidelines. On the outside, there are quite a few detailing updates too. There are chrome highlights and inserts of the side cladding, window line, sun visors and on the boot lid. Then the fog lamps have been converted to LED units and the wheels covers give the impression of alloy wheels. According to the YouTuber, most of these modified elements from LXi to ZXi of WagonR will be as affordable as Rs 33,333 even with genuine Maruti spare parts.
Also read: Electric Maruti WagonR Will Not Be Available For Private Buyers – Report