Updated on 13th October 2014
The Audi Q3 facelift will be revealed or launched for International markets including India by December 2014. Dr. Ulrich Hackenberg, member of the Board of Management of Audi AG and head of Audi's Technical Development in an interview with Indian Autos Blog said, " I think we're having the facelift in November-December (of 2014)."
Audi Q3 RS variant has also been spotted testing along with the camouflaged Audi Q3. Cosmetic changes will be similar to the standard Q3 and engine will be carried over from the current model.
Audi Q3 RS Gallery
Updated on 21st June 2014
You would expect a facelift from the Audi Q3 after it has been on the roads for almost a couple of years. So it comes as little surprise that an Audi Q3 in full camouflage was spotted being tested this week. The new version of the compact crossover is expected to make its first appearance at the 2015 Geneva Motor Show. While looking at the Spy-Shots itself we do not expect any drastic changes, we put forward our list of tweaks to expect from the upcoming 2015 AUDI Q3 facelift.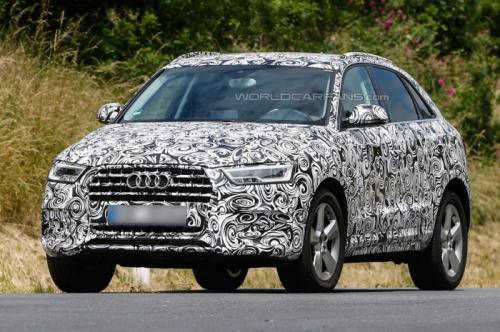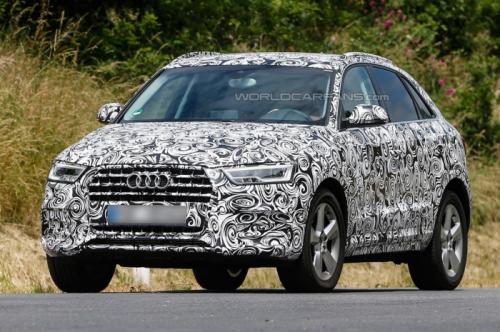 Expected Upgrades:
While the spy shots give very little away we expect the following changes to make their way in the new Audi Q3.
Exteriors:
Here are the changes hidden underneath that layer of hypnotic graphics.
Tweaked set of headlamps.
New set of Front grille.
New Two pipe exhaust.
The bumper has also undergone certain changes, but we cannot be very specific in description as of now.

Interiors:
In the Interiors of the new 2015 AUDI Q3 facelift expect:
A full black dashboard
Door panels
Steering Wheel and upholstery get chrome highlights
Silver highlights the  AC vents and air-controls
LED lights under the seat and inside door panels
Utility features like: Music System, Navigation support and Automatic climate control are also on board

Engine:
Now this update is expected to be at the Geneva Motor Show in 2015, so keeping that in mind we do not expect any major changes to the engine let alone a new one.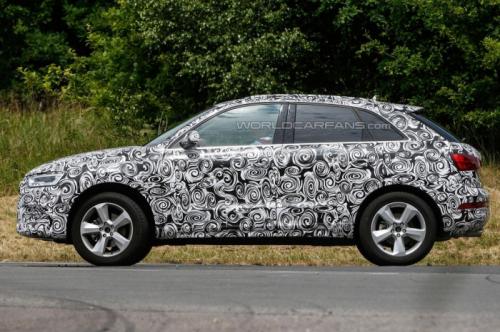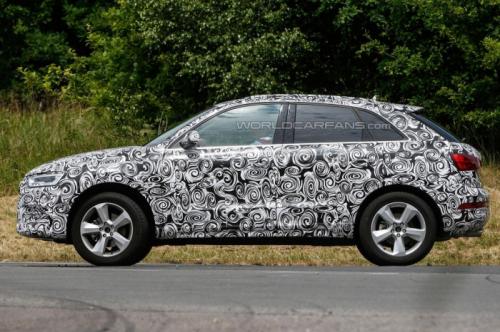 In India the Q3 is available with two engine and transmission options. A 2.0-litre TFSI petrol engine producing 208bhp and 300Nm of torque mated to a seven-speed automatic gearbox powering all four wheels. The diesel engine is a 2.0-litre unit that is available with two power options of 140bhp/320Nm of torque and 174bhp/380Nm of torque. A six-speed manual transmission and a seven-speed autobox are mated to this engine and are available in front-wheel-drive and all-wheel-drive versions respectively.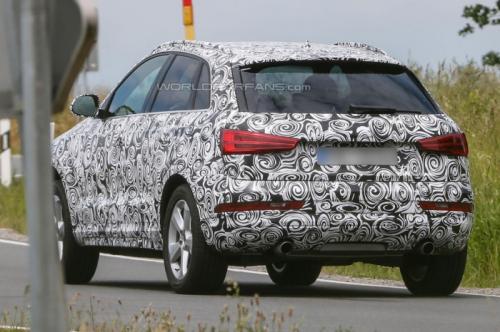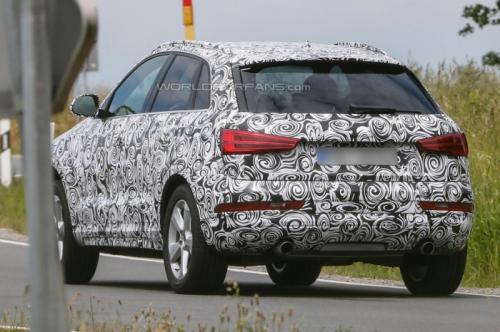 Expected Launch Date:
After its debut in the Geneva Motor Show, expect the New Audi Q3 to make its way to India in six to eight months.
We will keep you informed on more about the expected 2015 Audi Q3 facelift as it happens, but that said this is hardly going to be a major update with almost no new features or designing incorporated. So don't get your hopes too high on seeing a drastically evolved Q3 and we would definitely not suggest you trade in your existing Q3 for this one, just as yet.
Image Courtesy: World Car Fans