German autuomaker, Bavarian Motor Works(BMW), has really set stage on fire today by the launch of  2015 New Mini Cooper in India. BMW launched new generation of Mini Cooper cars in completely new avatar in India today.  The 3-door and 5-door versions will be available in diesel powered Cooper D variant in India. The premium quality and high end entirely new technology as well as refined engines have made new Mini more efficient, athletic and expressive. It is for the first time that Mini has introduced Mini 5 door with new body variant. With its evolutionary design and innovative technology, Mini is ready to conquer the Indian streets. Both the Cooper D 3-door and Cooper D 5-door cars are powered by a 1.5-litre diesel engine which makes new Mini faster and lighter on fuel. It churns out 114 hp of maximum power and 270 Nm of peak torque.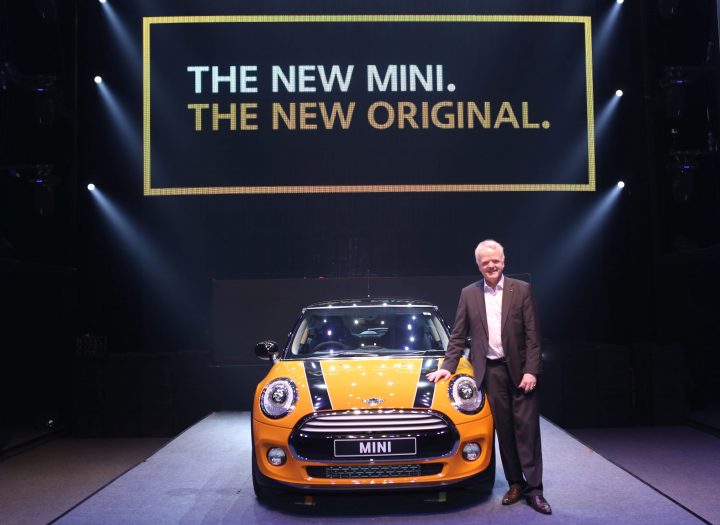 Specifications Of 2015 New Mini Cooper
As compared to the predecessor model, the length, width, height and wheelbase of the 3-door hatchback has increased by 98 mm, 44 mm and 7 mm, 28 mm respectively making it more spacious from inside. It makes the  dimensions of 3-door Mini as 3821 mm in length, 1727 mm in width,  1414 mm in height with 2495 mm wheelbase. While the 5-door Mini is  4,005mm long, 1,727mm wide, 1,425mm in height with a 2,567mm wheelbase. 5-door Mini Wheelbase is larger by 72 mm as compared to the new  3-door.
The 3-door Mini will be available with two engine options- Diesel engine- Cooper D 3-door and Petrol engine- Cooper S 3-door . The 5-door Mini is offered in a single variant in India-the Cooper D 5-door.
Cooper D 3-door and  the Cooper D 5-door are powered by 1.5-liter three-cylinder diesel engine which churns out 114 hp and 270 Nm of torque. Both the cars have  a top speed of 200 kmph and achieve 0-100 kmph in 9.2 seconds with fuel efficiency of 25.6 km/l.  Transmission will be taken care by improved six speed automatic gearbox. Cooper D 5-door gives more legroom as compared to 3 door.
The Cooper S is powered by a four-cylinder 2.0-liter petrol engine producing 192 hp and 280 Nm of torque. It has a top-speed of 233 km/h, achieving 0-100 km/h in 6.7 seconds with an average of  18.2 km/l.
Mr. Philipp von Sahr, President, BMW Group India said, "MINI is an inspiration for trend-setters and creative spirits the world over. And with the latest generation of MINI, we want to amplify the excitement once again. To ensure the new generation of MINI is as successful as its predecessors, we have made just subtle modifications to its design. But beneath the outer skin is a brand-new car with an absolutely revamped interior stacked with state-of-the-art technologies seen for the first time in a small car."
As safety equipments, it comprises of- passenger airbags in the front and rear, 3-point seat belts, crash sensor, Dynamic Stability Control, Anti-lock Braking System and Run-flat indicator.
The New Mini will be available in eleven colour options- two non-metallic colours – Pepper White, Volcano Orange; and nine metallic hues – Moonwalk Grey, Blazing Red, Electric Blue, British Racing Green, Iced Chocolate, Thunder Grey, Deep Blue, White Silver and Midnight Black.
Price & Availability
All new 2015 Mini Cooper be available in India at a starting price of Rs 31.85 lakh (ex-showroom) for the 3-door diesel variant and  Rs 35.20 lakh (ex-showroom) for the 5-door . Mini's 3-door and 5-door diesel cars are available in BMW dealerships in India starting from today. Both Mini's will come as CBU (Completely Built-Up) unit in India. These cars are expected to be more in demand in India because of the presence of diesel engines. The new MINI Cooper S 3-door will be available at Mini dealerships across India  in the first quarter of 2015.