The next generation 2016 BMW 7 Series has been spotted undisguised. India Launch in early 2016
The next generation 2016 BMW 7 Series has been spotted again and this time around, the upcoming model has been caught sans camouflage, thereby revealing its exterior design and styling elements. The next gen 7'er hs been codenamed as G11 and could make its public debut either at the 2015 Geneva Motor Show in March, or the Frankfurt Motor Show in September. While there are no concrete information on the 2016 BMW 7 Series India launch, we believe that it is most likely to happen early next year.  Once launched here, the updated 7'er will rival the likes of Mercedes S Class, Audi A8 and Jaguar XJ. Here, on this page, we have all the available details and latest spy images of the 2016 7'er.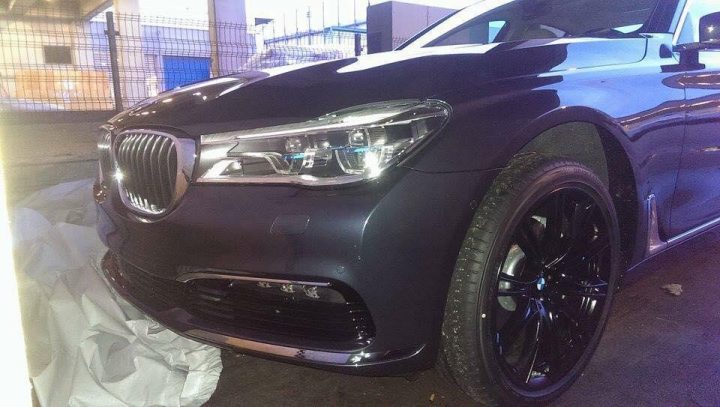 2016 BMW 7 Series Images
As revealed by these images, the next generation 7 Series sedan gets a large BMW kidney grille, along with a pair of new laser headlamps that extend all the way till the grille. It maybe noted that BMW laser headlights made their public debut on the BMW i8 hybrid supercar (Read about BMW i8 India launch) and the next gen 7 becomes the second bimmer to get them. The upcoming model also gets a 6-Series-like lower section of the front bumper and overall, the car's front-end does look more premium than the current model's fascia.
In side profile, the next gen model looks much like the current car. However, akin to the new X6 and X4, it gets chiseled taillights and some chrome at the rear-end. Inside the cabin, similarities with the current car continues and the upcoming gen 7-Series gets a similar leather-trimmed dashboard and trims. It also gets a similar looking infotainment system, probably with a slightly larger screen. Among the many features of the next 7'er are –
Bower & Wilkins audio system
Touchscreen interface for the iDrive
Wireless charging
Engine options are currently unknown but European media has previously stated that BMW might come up with a new variant that will be powered by a low-displacement four-cylinder engine. Other variants will get inline six-cylinder, V8, and V12 engine options. The V12 engine here should displace 6.6-litres and enjoy a maximum power of around 600 bhp. Also on offer would be 2-litre and 3-litre diesel engines, along with a plug-in hybrid.
The next 7'er is likely to get an extra-long wheelbase variant, which should find itself slotted between std. model and the Rolls Royce Ghost. The same model will also compete with the new Mercedes-Maybach.
Stay tuned to CarBlogIndia for more on the 2016 BMW 7 Series
via BimmerFest