A camouflaged Mercedes-Benz, said to be the 2016 C63 AMG, was snapped recently while cruising in Europe. Just as the standard C-Class is a shrink-wrapped version of the S-class, the C63 AMG will look like a scaled-down version of S63 AMG. After a long look at the front and rear, one can chalk out the similarities between the two viz. gaping front air intakes, LED headlamps, and an integrated rear diffuser housing quad AMG exhaust tips. Among the other features of the spied 2016 Mercedes-Benz C63 AMG were new slim-spoke wheels, spoiler at the trunk, bulky brake discs. 
The car will make its debut during the first quarter of next year with a price more or less $60,000 which comes out to Rs. 35 Lakhs but that is without the taxes and duties. The current model is priced around Rs. 78 Lakh in India and we expect the new model to cost a bit more when launched.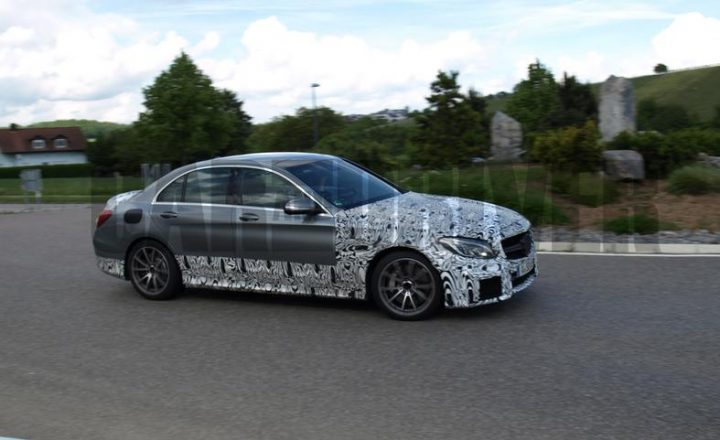 According to the source, the platform of the car is based on the latest W205 C-Class. The car is said to have adopted most of its architecture from E-Class and S-Class sedans. The initial releases of the vehicle will be carrying a rear-wheel drive, but a 4MATIC all-wheel drive model could come out soon after its launch. The spies couldn't get any nearer to the car, else we could have given you some details about the interiors. But you can bank on your instincts and expect that it will pack aggressive sports seats, a flat-bottom steering wheel, and sundry upgraded materials.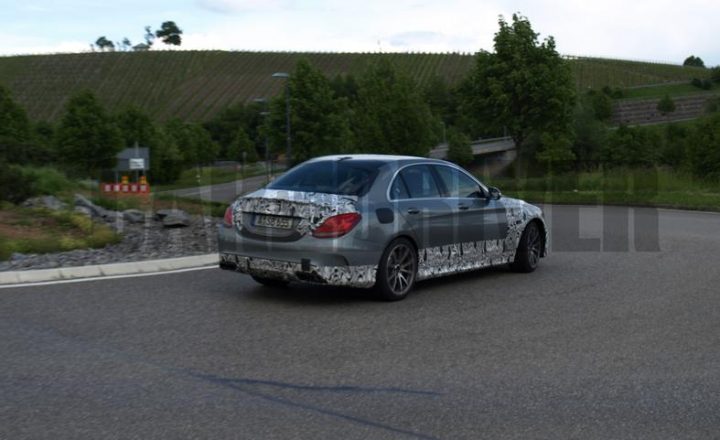 The 2014 Mercedes-Benz C63 AMG is equipped with a 6.3-liter naturally-aspirated AMG V8 engine. However, the 2016 model is speculated by the report to have a biturbo 4.0-liter V8 engine. The new engine will probably raise the output of the car from 457 to 500 BHP, putting some distance between the hot C63 and the turbocharged inline-six-powered BMW M3 which has 425 BHP. Then, the power will be distributed through its seven-speed Speedshift automatic transmission utilizing a multi-plate clutch instead of a torque converter.
The C63 AMG is Mercedes-Benz's answer to the new BMW M3 and M4 siblings, which have been launched just recently. Chances are that it may be built as a coupe and possibly a convertible for America, a new wagon version for Europe, and a Black Series model too. Expect only the sedan variant to make its way to India. Since the test mule is already out, we expect a sighting at the 2014 Paris Motor Show as well.
We will keep you posted on further developments, until then do let us know what you think of the Mercedes-Benz C63 AMG.
Pic Courtesy: caranddriver.com