Here is a video of a drag race between Royal Enfield Classic 350 and Jawa 42 bikes. Both these bikes are no-nonsense bikes with a ton of practicality and no modern frills. As a matter of fact, the entire look is that of an old-school motorcycle with prominent rounded headlamps and a basic instrument cluster. While the Jawa 42 is much stronger on paper in terms of power and torque, we shall see how this translates on road in real-world conditions. Let us get into this drag race comparison. But before we do, we urge the readers not to try something like this unless the conditions are controlled and you are an expert bike racer.
Also read: WATCH Latest Royal Enfield Classic 350 vs Last-gen Model In A Classic Drag Race!
Classic 350 Jawa 42 Drage Race
The YouTuber and his friend get on the bikes and rev up the engines. On the count of three (honks), the riders begin the race. Unsurprisingly, the power advantage of the Jawa 42 shows from the very start. The bike zooms past the Classic 350, never to be seen before the end of the race. However, it must also be mentioned that the Classic 350 has a limiter that restricts its top speed at 120 kmph, while Jawa 42 can cross that mark. According to the rider, he was able to hit around 125 kmph. That also would make the distance between the bikes seem much at the end. To make things fair, the riders exchanged the bikes to compensate for body weight and driving mannerisms. However, the result was still the same. The power advantage of around 6 PS is visible on the road too.
Also read: Here's A Good Look At All Accessories of New Royal Enfield Classic 350
Specs
The Jawa 42 comes with a 293 cc fuel-injected, liquid-cooled single-cylinder engine making 27.33 PS and 27.05 Nm of peak power and torque respectively. It is mated to a 6-speed transmission. The bike is offered in Single Channel ABS, Dual Channel ABS and 42 2.1 variants and the prices range between Rs 1.69 lakh and Rs 1.84 lakh, ex-showroom.
Also read: First-Ever New RE Classic 350 with Aftermarket Loud Silencer – This is it!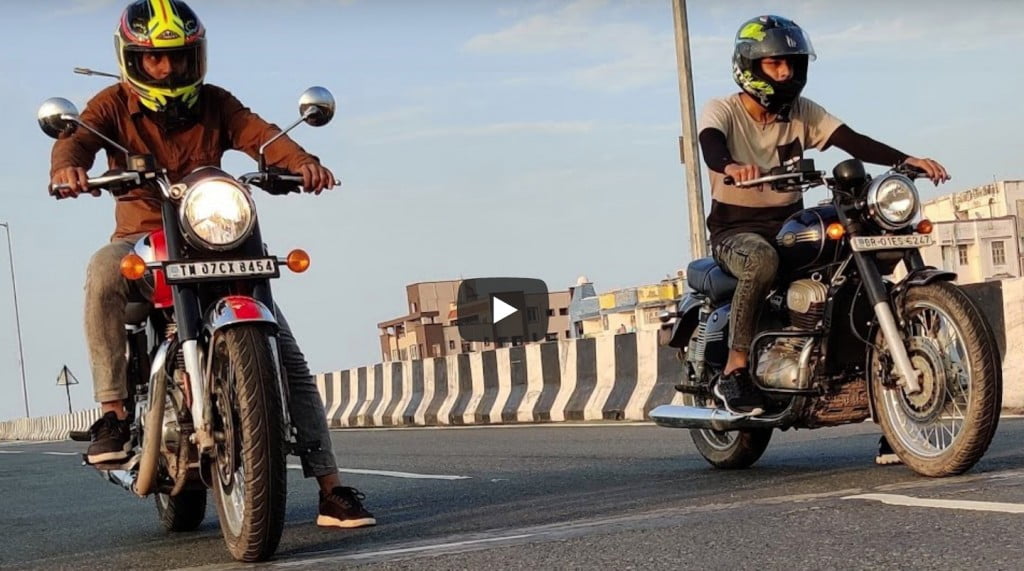 The Classic 350, on the other hand, comes with a 349 cc counterbalanced air-cooled single-cylinder engine that produces 20.2 PS and 27 Nm of peak power and torque respectively. This engine is mated to a 5-speed transmission. It is also offered in Single Channel ABS and Dual Channel ABS variants. The prices of the Royal Enfield Classic 350 range between Rs 1.84 lakh and Rs 2.15 lakh, ex-showroom.
Also read: Check Out These Funky New Colors for the Royal Enfield Classic 350!
Join our official telegram channel for free latest updates and follow us on Google News here.